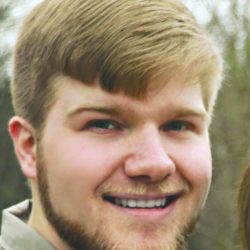 Specht Newspapers, Inc, the parent company of the Minden Press-Herald, has named Joshua Specht editor and publisher of the local newspaper.
"Joshua has proven to be a strong leader, both at the newspaper and in the community," Specht Newspapers President David Specht Jr. said.
"I believe the newspaper is in very good hands."
Joshua is a fourth generation publisher of the Press-Herald, following in the footsteps of David Sr., Art, Bill, and David Jr.
"I am so happy that Joshua decided to plant roots here at the Press-Herald, keeping it in the family," David said.
Joshua was previously the managing editor of the newspaper, guiding the day-to-day news operations, among other duties.
"In this day and age, no one wears just one hat," Joshua said. "Over the years, I have been involved in all aspects of the newspaper, which will help me in this new role."
Joshua has lived in Minden his entire life, and is committed to the growth of the community and the newspaper. "I absolutely love Minden," he said. "I believe the key to our growth is serving our community each and every day."
Joshua plans to bring some new direction to the Press-Herald, while maintaining its core values.
"The world around us is changing, and we will have to adapt to thrive," Joshua said. "However, we cannot lose sight of what we are, a community newspaper."
Joshua and his wife, Sarah have one son, Rylan.