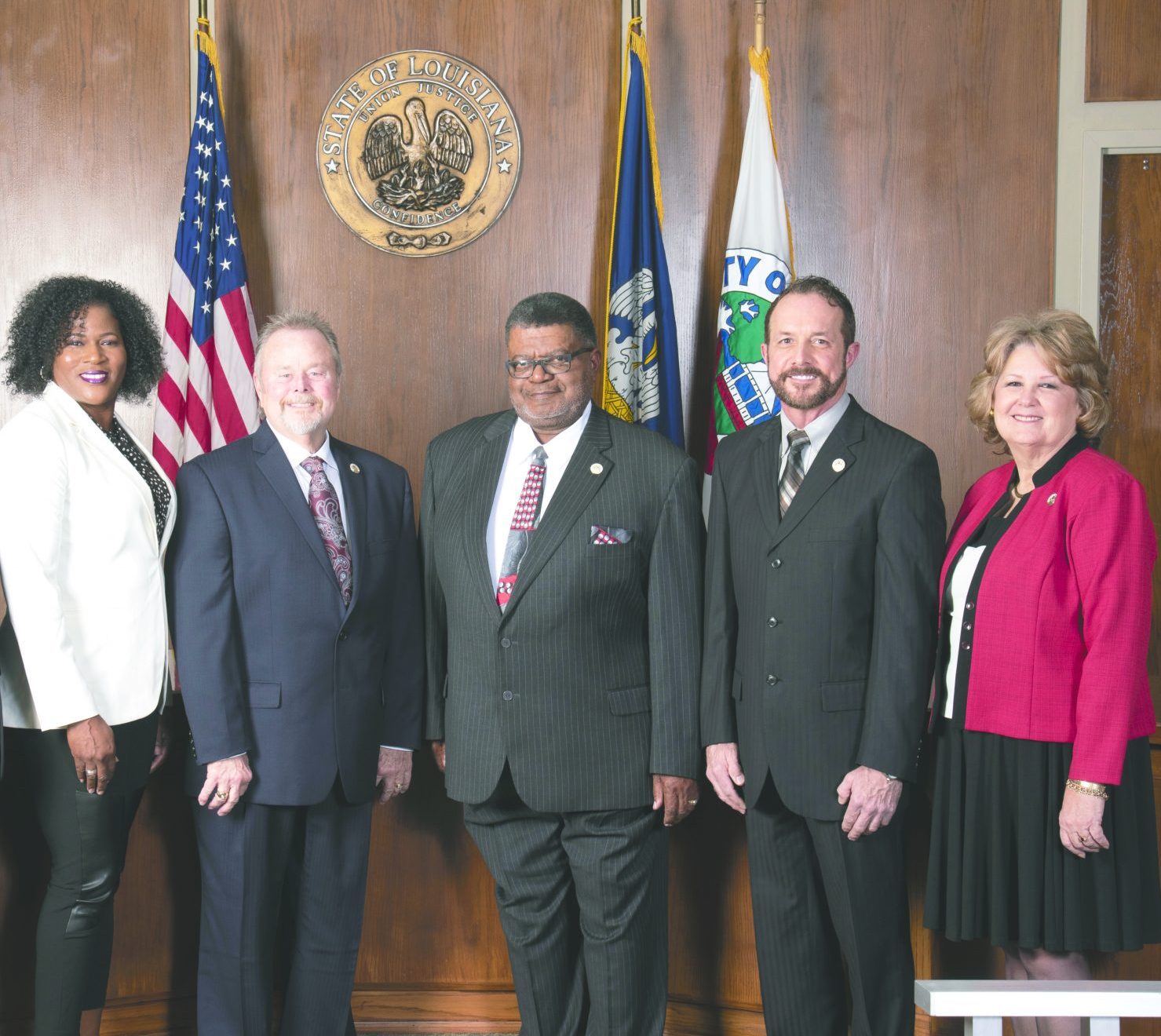 The Minden City Council held its regular monthly meeting Monday night. However, at the beginning of the meeting, a significant amount of time was spent discussing a motion that District A Councilman Herbert Taylor made to add an item to the agenda regarding the removal of the newly erected T.C. Bloxom sign on one of the gates at the REC Center.
This discussion involved most present parties, including the Mayor, Councilmen, and members of the public.
Soon after the motion was made and the floor was open for discussion, citizen Velma Taylor addressed the Mayor and Council with a question. "How did the sign get up on City property? Did the whole Council vote it?" asked Thelma Webster Taylor. "No ma'am they did not," said Mayor Terry Gardner.  "Ok, well, don't[sic] the whole Council supposed to vote on it?" asked Velma. "I went from what previous mayors had done in the past," responded the Gardner.
Gardner went on to name examples of times that donations for erected structures were made to the city through previous administration without the Council's approval, such as Ewell Park and Ewell Recreation Center, the Gazebo that was donated by the Historic Residential District, the donation of the bell to the Garden Club, etc.
"We do have a statute that states anything that erected on city property should have the vote of the council, and just because they did it like that 30 years ago does not mean it was correct. So whatever was done then, we are trying to rectify, so, no, actually, we need to vote on it, and it should of been voted on then," said Councilman Terika Williams-Walker of District B.
Joel Gray, President of the Booster Club that is raising funds for the REC Center, came forward to answer the Council's questions about the booster club and also to voice his concerns about how the indecision on what to do about the T. C. Bloxom sign is affecting the booster club's ability to raise funding.
"From the Booster Club's standpoint, we didn't know about the ordinance. Had the Booster Club known we needed approval, we're 100% willing to work with the Council. I don't want there to be some type of idea that we're not here to work with y'all. Moving forward we'll do whatever the city wants us to do," said Gray,
"I can say that with this incident, we're having trouble now getting sponsorships from different companies. They're not sure if we're going to have their signs approved to go up on the field. I've had people call and ask me if it's going to be an issue with their sponsorship that we've already raised money for. Will we need to refund their money? These kinds of questions need to be addressed. Whatever y'all want us to do, we'll do it. We just want to help the kids and bring people to Minden."
During the discussion, Councilman Walker emphasized that her issue wasn't so much so the signage itself, just the fact that it was erected without the Council's approval.
"The Mayor, Pam, they cannot make a decision solely. It should come before the Council. It's not necessarily that we have a problem with that particular sign being put up, it's the way it was done. We have to do things right. It's the only thing we're asking," said Walker,
"We have ordinances in place, and they seem to be overlooked, they were overlooked, 30, 20, 15 years ago. But now, when you know better you do better, and that's what we're trying to do."
Gray agreed and repeated that he and the Booster Club are willing to do whatever it is the city wants. He also stressed the importance of coming to a decision quickly, as his ability to raise funds for the Booster Club is being impacted by the lack of a firm set of guidelines.
"From the standpoint of the booster club and raising funds, we've got to decide on something. I can't raise funds if I won't be able to tell people if they're actually going to get what they paid for," said Gray.
"You don't have that authority anyway," said Councilman Vincen Bradford of District C.
"Well, I've already promised on the idea that we have, and I'm ok refunding the money. That's ok if y'all don't want the money that we've raised, we can give it back," said Gray.
"That's not what I'm saying," said Bradford.
"I know, what I'm just saying, is going forward I need to know what y'all want me to do so I can do it. We want to work with y'all not against y'all. That was never our intent, we just want for Minden to become a better place," said Gray.
Near the end of the discussion, Councilman Walker recommended that the item be tabled for now, and be brought up again at a workshop meeting where it could be discussed. It was then recommended by Councilman Taylor that they add it to the agenda for the Council Workshop taking place on Wednesday.
When the motion was brought to a vote, Councilmen Bradford, Walker, and Taylor voted in favor, and Councilmen Keith Beard and Pam Bloxom voted against.
More news regarding the City of Minden's December City Council Meeting will be covered in future editions of the Minden Press-Herald, and online at www.press-herald.com.