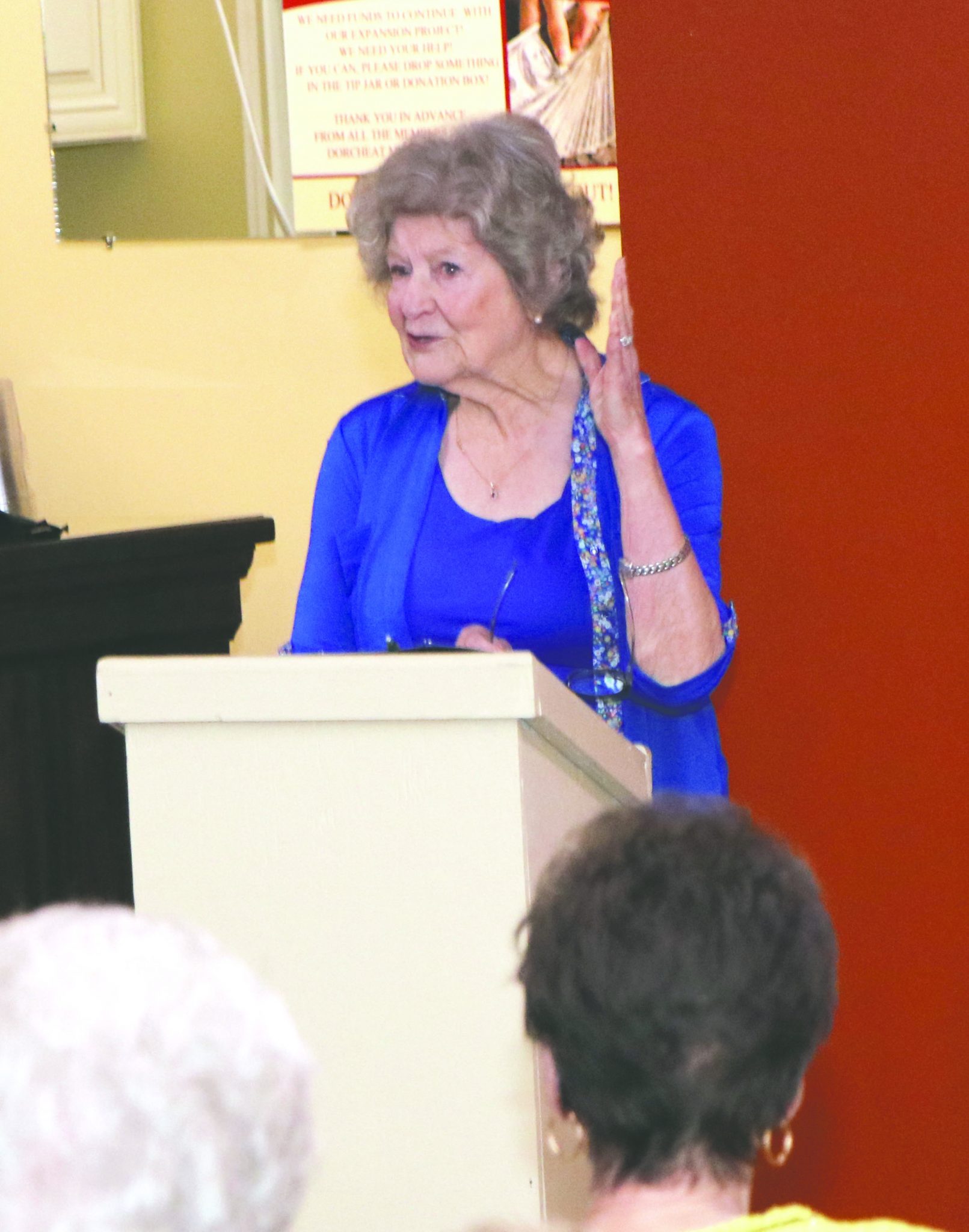 What do an oil boom, a world war, and Minden High School athletes have in common? Turner's Boarding House, according to Mrs. Harol Turner Thompson, former Minden High School Physics teacher and daughter of "Happy" and Azell Turner.
Thompson was the featured speaker at the Docheat Historical Association's Night for the Museum Monday.
Thompson shared much of the colorful history of the Turner family and its two famous boarding houses.
"The Turners are a very strange bunch, and I am one of them," Thompson said.
"My grandmother and grandfather moved here from Claiborne Parish. My grandad graduated from Tech in 1904. His diploma says Accounting and Handwriting."
After a heart attack took the life of her grandfather, Thompson said, "Mom" Turner opened the first boarding house.
"The first boarding house was out of necessity," Thompson said. "Mommy needed to make money."
During the Haynesville oil boom, the men working the oil field needed a place to stay, Thompson said.
Thompson told stories of the opening of the Louisiana Army Ammunition Plant, the rules of the house, and how Turner's became a gathering spot for locals.
Later, she spoke of the more recent iteration of Turner's Boarding House, more a gathering place than a lodging facility, operated by her father, Happy.
Health problems caused Happy to sell his interest in a local restaurant, The Southern Kitchen. But he wasn't out of the cooking business for long.
"He didn't really want to retire, so he decided to have a boarding house again," Thompson said. This time, though, Happy served only one meal a day, and had no boarders, although friends would stay at the house from time to time.
Happy's recipes would become something of a local legend, especially his fried chicken, sausage and bread."
"If he had patented his chicken with honey, the Colonel wouldn't have had a chance," Thompson said. "Dad would get up every morning at the house and make about 200 loaves of bread. Any leftover bread, Mom would make monkey bread."
With its close proximity to Minden High School, Turner's became popular with atheletes, students, teachers, and coaches, even though none were supposed to leave campus for lunch.
"The players would sneak from Minden High to eat there, and the coaches knew," Thompson said.
Former Minden High School Principal Carleton Prothro was in the audience during Monday's event. He echoed Thompson's story.
"Everyone called it Happy Turner's except me. I called it the Minden High School Cafeteria extension," Prothro said.
When officials would go throughout town, looking for truants during the lunch hour, they would visit establishment like McDonalds. "They would say, 'Don't go to Happy Turner's,'" Thompson said. "Because he [Prothro] was afraid he'd find teachers there."
Turner's served lunches until the early 1980s, until Happy's health caused its closure. "Mother was sick. Dad went to pick up the mail and he had what was later called a silent heart attack," Thompson said.
"I put a sign on the door, 'Closed until further notice.'"
Turner's never reopened.
Happy would continue to make bread, sausage and pound cakes for people in the community, Thompson said.
The story of Turner's Boarding House was the 61st oral history given at the museum, according to director Schelley Brown Francis.
"We started these events in 2007," Francis said. "Everything you see is paid for. We don't owe anybody."
Francis said 2018 is the 10-year anniversary of the museum itself and there are plans for expansion, should the funding be available."
"Hopefully, we will be able to make the museum twice the size it is today," Francis said. "It needs to be three times the size. There is a lot of history we have to tell."
The museum accepts donations, both in money and items of historical significance. "Don't throw anything out," she said. "Bring it up here."
"We will take anything from from $1 to $1 million. We appreciate it all."