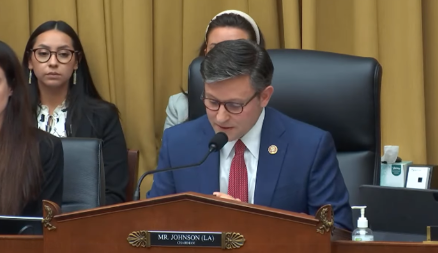 During a Subcommittee on the Constitution and Civil Liberties Hearing, Chairman Johnson laid out the case against the FBI's collusion with the Biden Administration and teachers unions to target concerned parents
WASHINGTON, March 23, 2023 — United States Representative Mike Johnson (LA-04) today chaired the first hearing of the Subcommittee on the Constitution and Civil Liberties for the 118th Congress. Johnson laid out the case – backed by newly uncovered evidence in a Judiciary Committee Report – that the FBI, Biden Administration, and activist teachers unions colluded to target concerned parents exercising their first amendment rights at school board meetings.
Highlights:
"It's clear that the Biden Administration has no tolerance for those with ideological beliefs different from their own. But the Constitution guarantees freedom of speech and thought to all Americans, and that certainly includes the rights of parents over their children's education.
"When did it become the role of the government to decide what children should be taught without informing their parents?
"The vilification of concerned parents by this Administration is a gross assault by the federal government and one that aims to bolster identity politics at the expense of the interests and the goals of parents, simply raising their families.
"From information obtained from the subpoenas, it's clear that the Biden Administration has misused federal law enforcement and counterterrorism resources for political purposes.
"The Biden Administration's goal is clearly to silence the critics of its radical education policies.
"The radical Left has infiltrated nearly every institution in this country, and our education system is one of the most glaring examples.
"Just imagine for a moment, if a Republican president dedicated an entire group of Americans as "terrorists" simply because they disagreed with the Administration. Democrats and the media would go berserk. And yet strangely, when the Biden Administration does this, they all look the other way."
Click here to watch the Congressman's full remarks.

Congressman Johnson is the Vice Chairman of the House Republican Conference, a member of the House Judiciary and Armed Services Committees, and a former constitutional law litigator.