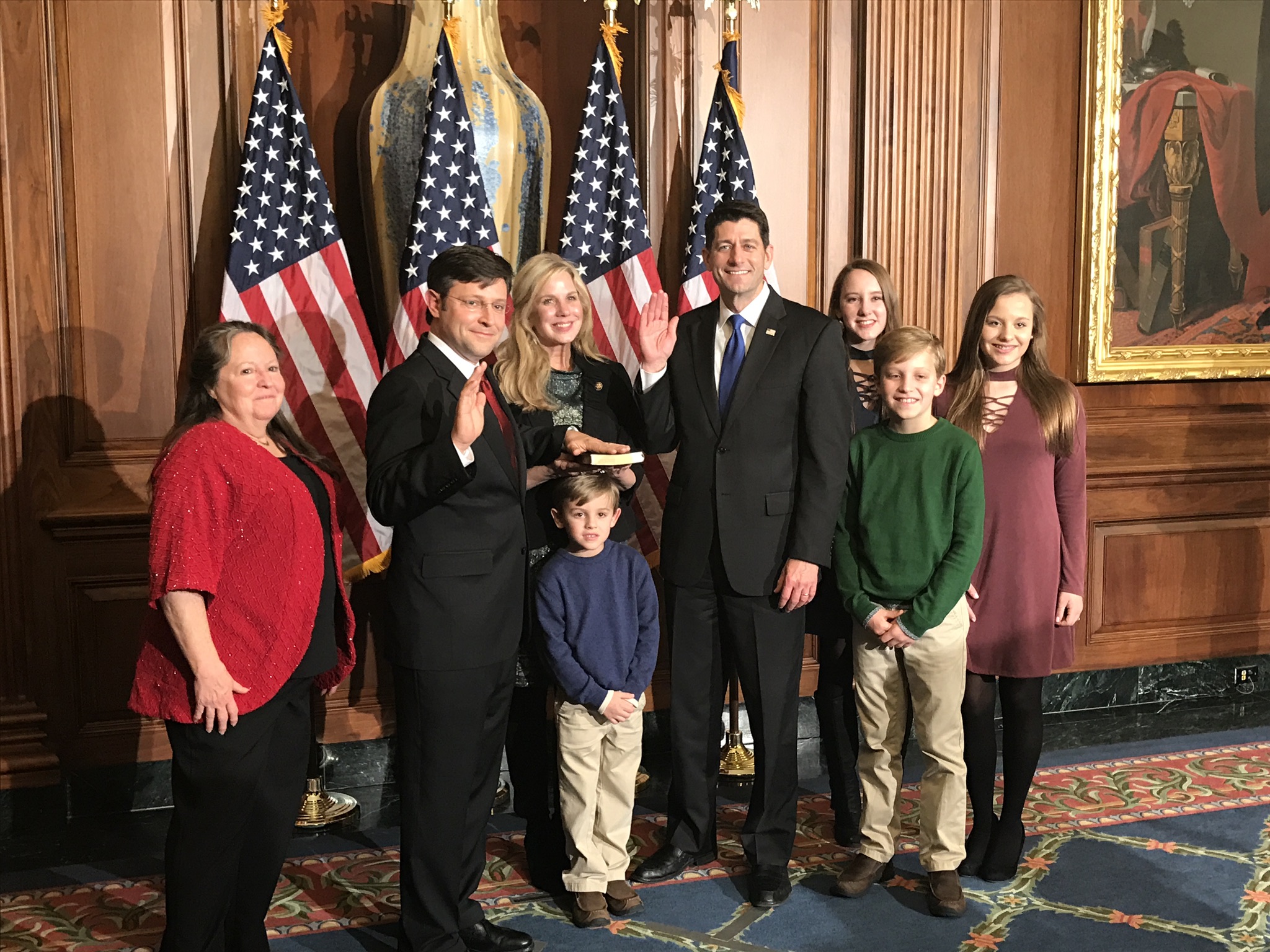 BOSSIER CITY — Newly elected U.S. Congressman Mike Johnson said America is entering a new era in 2017.
"We have the opportunity to get back to some of those principles that have been abandoned recently, particularly under the Obama administration," Johnson said.
Johnson, R-Bossier City, won the 4th District seat by a "landslide" with 65 percent of votes, defeating Democratic lawyer Marshall Jones. Johnson said, statistically, it's the largest margin of victory in at least 50 years for the district.
"It may be in its entire history, but that's as far back as anyone has checked," he added.
Weeks after the election, Johnson is winding down a law practice and boxing up his state legislative office in preparation of opening three congressional offices — one in Washington D.C, one in Shreveport-Bossier and one in the southern part of Dist. 4.
"Everyone keeps asking me how it feels and if it has hit me yet. I can honestly say it really hasn't hit me because I haven't had time to process any of it. There's too much to do," Johnson said, standing in the middle of his office and surrounded by boxes. "The whole month of December was a whirlwind of emotions with the holidays on top of this transition."
His victory was also bittersweet. Johnson lost his father, James Patrick Johnson, to cancer just three days before the election.
"That was a blow to us," he said. "It was not at all how we thought the year would end. My father wanted to be there so badly."
Johnson resigned from the Louisiana House effective Jan. 2. Qualifying for the District 8 seat will be Jan. 11-13. A special election will be held March 25 to pick his replacement.
Johnson said his successor should be "a rock-ribbed conservative." More specifically, it should be someone "who believes and lives out their Christian principles and is willing to fight for those principles and ideals."
"House district 8, which is essentially north Bossier, is one of the most conservative districts in the state, maybe in the country," Johnson said. "I think it needs to be someone that believes in limited government, personal freedom, lower taxes, religious freedom, sanctity of life. All those things matter to the people here and they deserve a champion who will go (to Baton Rouge) and not just talk the talk, but walk the walk."
Those principles are what Johnson stood for during his time in the Louisiana House of Representatives. Although he was only in for less than two years, he feels like he accomplished a lot in a short amount of time.
"I think we advanced the ball for the principles of religious freedom and limited government in opposing many of the tax increases that were proposed in my tenure, and increasing accountability and stewardship to the tax payers," he said. "We did that with a number of legislative instruments, or bills that I was able to pass, but also by playing defense under the Edwards administration in leading many of the efforts to oppose what would have been further growth of government and an increase to our taxes."
But there's still some unfinished business. There are a couple bills Johnson had hoped would pass during his tenure in the House, one being the state government integrity act.
"This was a bill that, during the last regular session, that would have been a game changer in terms of eliminating fraud, waste and abuse of tax payer dollars," he explained. "It's modeled after the federal false claims act, which is a bill signed into law by Ronald Reagan back in the 1980s, and it saved tax payers on a federal level tens of billions of dollars in fraud, waste and abuse."
State Government Integrity Act (HB 987) was the product of countless hours of work by Johnson and the representatives of more than fifty business, industry and good government groups. The legislation was designed to empower whistleblowers across state government to finally help root out millions in fraud each year.
"When I suggested it to leadership and my colleagues in the House, they said it was impossible and there was no way it would pass. They said it had been tried for 20 years and no one was able to get it out of committee," Johnson said. "I didn't know why because it was such a no brainer."
Johnson did, however, get the legislation successfully passed out of the House and by a landslide vote. However, it was killed by the Senate.
"The Governor routed the bill to a senate committee that was hostile against my legislation," he said. "I know it was his order because I was opposed to his tax increases."
Nonetheless, Johnson is looking forward to his next venture. His family will remain in Bossier, a decision they made after much thought and prayer, and Johnson will commute during the week between Bossier and Washington, D.C.
"The benefit to this is that the Congressional schedule is made known in advance," Johnson said.
"I'm going to fly out early in the week and come back at the end of the week when Congress is in session, which is most of the year. There are many young members of Congress who have done this successfully, Paul Ryan being one of them."
Once settled in the nation's capital, Johnson will live, work and sleep in one place. In fact, he's going to live in his congressional office, literally sleeping on a cot in the office.
"When you're in Washington, you work 18-20 hour days sometimes," he said. "This is much more efficient than having to commute."
It's a job that he's ready for, though, and one he is taking seriously.
"I think the expectation level is high among the voters around the country and it should be," Johnson said.
With his family by his side, Johnson was sworn into office Jan. 3 and his new job began immediately.
"It's an exciting time for our country. I think there's tremendous possibility for us to bring about some true reform in government and reducing the size and scope of government, work on the economy and jobs…all things that matter to the people in Louisiana," Johnson said. "I think we have a real opportunity for an American revival. It will be a wild ride in 2017."