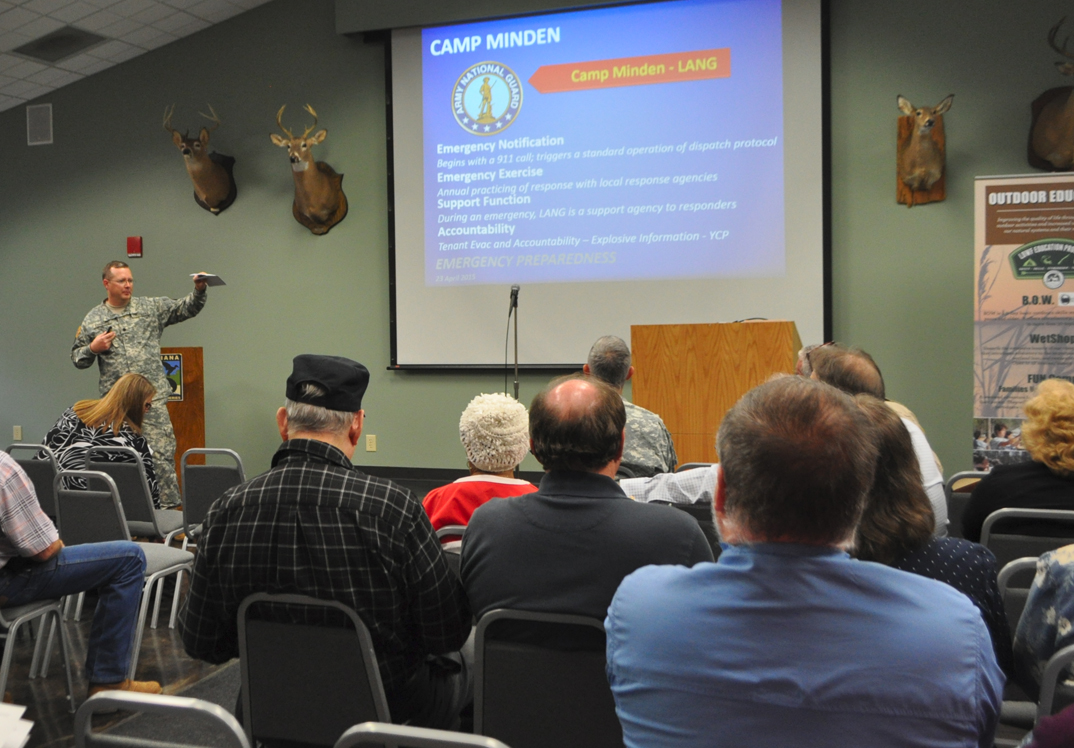 Local, state and federal agencies discussed response preparedness plans with the public at the second in a two-part series of public meetings sponsored by the Environmental Protection Agency.
Representatives from the Webster Parish Sheriff's Office, the Office of Homeland Security, the Louisiana Military Department among others were on hand to talk to attendees about the response structure in the event of an incident during the remediation of millions of pounds of M6 propellant and clean burning igniters at Camp Minden.
Webster Parish Sheriff Gary Sexton says Camp Minden and the Doyline area already experienced a true emergency in 2006 when the Town of Doyline and all
of Camp Minden was evacuated following a series of explosions of TNT at one of the old ammunition lines.
"In 2006, we went through the best training we'll ever get – and that's the real thing," he said.
Col. John Kendall, installation commander at Camp Minden, says a full training exercise will take place in May where all agencies involved will drill on what to do, how to do it and when. He assured attendees the public will be notified through media outlets before the training exercise takes place to alleviate any fears.
Kendall says the Louisiana State Police will take point in implementing response plans for all involved. They will head up a unified command system, which means all other agencies will defer to the state police, State Trooper Jay Hardy said.
One of the main concerns has been evacuating the surrounding areas, including the Doyline schools. Buster Flowers, head of security and transportation for the Webster Parish School Board, says during the entire remediation process, school busses will be stationed at the schools in the event they have to evacuate.
He says everyone at the schools will immediately get on the busses and be transported to a rendezvous point at Lake Bistineau State Park. At that point, a head count will be done to make sure everyone is accounted for. Currently, they are in conversation with the Bienville Parish School System to try to use the Ringgold School complex as an off-site shelter. At that time, parents will be allowed to pick up their children. He emphasized that no one would be allowed to pick up their children at Doyline schools.
Superintendent of Schools Dr. Dan Rawls says once Doyline School is evacuated, the entire school system would be shut down to lend its resources and facilities to the agencies for whatever is needed.
This is because school busses are also used in the evacuation of YCP cadets and staff as well as inmates at Bayou Dorcheat Correctional Center. Sexton says inmates will be evacuated last, certainly not because they are less important, but because it takes more time to secure them and get them off site.
David Faulk, with the Bossier Parish Sheriff's Office, says if an evacuation at Camp Minden occurs, then the Bossier jail would be placed on full lockdown in order to lend its transport vehicles in aiding the evacuation of BDCC.
In an evacuation of Doyline, a call system will be used urging residents to leave. WPSO will also have extra patrol in the area for door to door notifications, Sexton says. Media will also be utilized in getting the word out.
Jenny Reynolds, with Webster's Office of Homeland Security and Emergency Preparedness, talked about the state's Get a Game Plan website where it offers preparedness plans for families, businesses and others in preparation for an evacuation. She says to take stock of what will be needed for several days, such as batteries, flashlights, medication and other things a family will need in the interim.
"To have a family plan is invaluable information," Reynolds said.
Homeland Security Director John Stanley says even with technology, the best thing is to "get to know your neighbors." That will go a long way in helping with an evacuation, because even though the government is there to protect its citizens, it starts at the local level.
Reynolds' office gets a steady flow of information on any incidents occurring throughout the parish, and her job is to make sure information is flowing smoothly up and down the lines of communication. WOHSEP works in a support capacity with all of the agencies.
"The system in place works," Reynolds said. "We're not just up here telling you we have one; it really works."