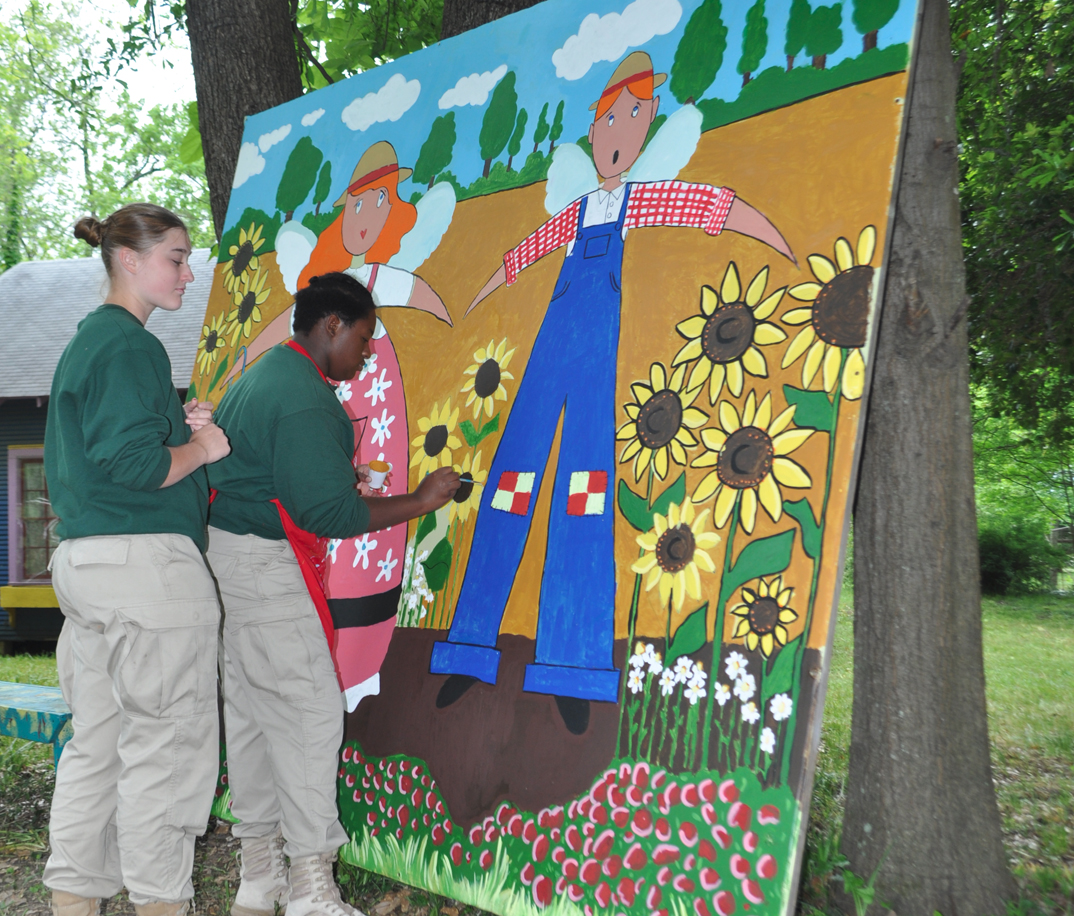 With just a 20 percent chance of rain early Saturday morning, the weather surely won't dampen this year's Spring Arts Festival as it gets underway.
ChickenStock 2015 is set to begin at 10 a.m. with a day full of fun-filled art activities from artwork on display to live music and plenty of art stations for the public to get into the spirit, there is something for everyone. Melissa Downer, ChickenStock chairman, says this event will offer a variety of activities.
"We are so excited to kick off ChickenStock 2015," Downer said. "We have logged in more than 1,000 volunteer hours and Saturday isn't even here yet.
Past festival-goers will find this year's festival a little different. We replaced the Great Talent Search with a larger hands-on museum filled with various art stations for people of all ages to come and create. There will be an area for adults to sit under the big shade trees and enjoy some music by area artists."
"The grounds will be filled with artists, Farmers Market vendors and Madame Junk will be here," Chris Broussard, co-founder and chairman of the event, added. "She's a regional favorite among shabby chic collectors."
Music will be provided by these area artists: Meredith Nelson from 10:15 until 10:45 a.m., Kaerington, Logan Cammack and C.J. Woods from 11 until 11:45 a.m., Abby Reynolds, from noon until 12:30 p.m., Rifle from 1 until 2 p.m., Ben Shirley from 2:30 until 3:30 p.m. and Adrianna Magnano from 3:45 until 4:15 p.m.
For 21 years, Cultural Crossroads has hosted the event, providing children and families of Webster Parish a true art experience. It has also offered children their first real and meaningful taste of the arts.
Thousands of entries were submitted by area children that will be on display at The Farm Saturday. The top 10 have been chosen and an awards ceremony will begin at 3 p.m. in the Children's Hands-On Museum Tent.
Admission is $3 each with children aged 3 and under free. All gate proceeds will benefit the Minden High School Instrument program.
A list of activities is as follows:
Children's art and poetry contest and exhibition (Awards ceremony set for 3 p.m. in the Children's Hands-on Museum tent.)
Children's Hands-on museum
Fine Arts exhibition
Arts and Crafts
Farmers market
Creation stations
Food vendors
Leave Your Mark (Community Art Project will include the installation of personalized ceramic tile hand-painted by the children of Glenbrook School.
As a gift to The Farm, the art students at the school donated their art.)