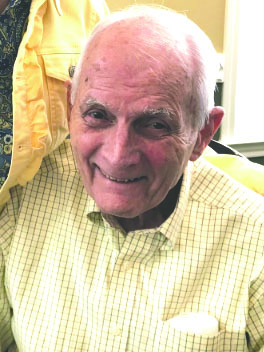 Dick lived his life committed to his family, his friends, and his Lord. He was an extraordinary person who viewed life as a gift and awoke each day thankful to his God for the beauty of creation. Dick strived in life to be kind and fair. He was not driven by prejudice or bias, but weighed his perceptions and decisions through the lens of his understanding of the Gospel.
Dick grew up in Little Rock, AR and spent summers with his grandmother in Benton, AR. He developed deep roots in the area and returned during his retirement years to live there. After college and a two-year stint in the Navy, Dick met a young nurse named Madelyn Cross and they married in May of 1950. While in the Naval Reserves, he was recalled to fight in the Korean War. He volunteered for one of the higher-paying, yet more dangerous jobs, on an aircraft carrier in order to send the extra pay home to his young wife and son.
After leaving the Navy, Dick graduated from the University of Texas in Austin and enrolled in Austin Presbyterian Theological Seminary. Dick's first ministry was as pastor of First Presbyterian Church in Sugarland, TX. This small church began 47 years of serving the Lord as senior pastor and interim pastor across the south in Louisiana, Mississippi, Texas, and Arkansas. These churches included Minden Presbyterian Church, Minden, Louisiana, Northminster Presbyterian Church, Beaumont, TX and First Presbyterian Church, DeRidder, Louisiana, to name a few.
Dick gave wholly of himself to his ministry. He led his church by example and gave freely of his time and energy to follow the words of Jesus in the parable of Matthew 25:
"I was hungry and you gave me food, I was thirsty and you gave me drink, I was a stranger and you clothed me, I was sick and you visited me, I was in prison and you came to me…Truly I say to you, as you did it to one of the least of these, my brothers and sisters, you did it to me."
A natural athlete, Dick enjoyed tennis and basketball and spent much time outdoors where he could commune with God and nature. He learned to love fishing from his father and could spend hours on the lake (if the fish were biting). Some of his favorite pastimes included taking long walks and playing board games and dominoes with his loved ones. And Dick always relished a good southern meal especially ones prepared by Madelyn.
Dick's memory and legacy of love live on in his wife, Madelyn of 69 years, his four children Richard Orr Knott, Jr. (his wife Ginia), Mendy Knott (her partner, Leigh), Cindy Knott, LeAnne Knott Wyatt (her husband Greg), and their families, including five grandchildren and seven great-grandchildren with the promise of more to come.
In lieu of flowers, contributions may be made to the Alzheimer's Dementia Association or the Pickens Center at Faith Presbyterian Hospice, Dallas, TX