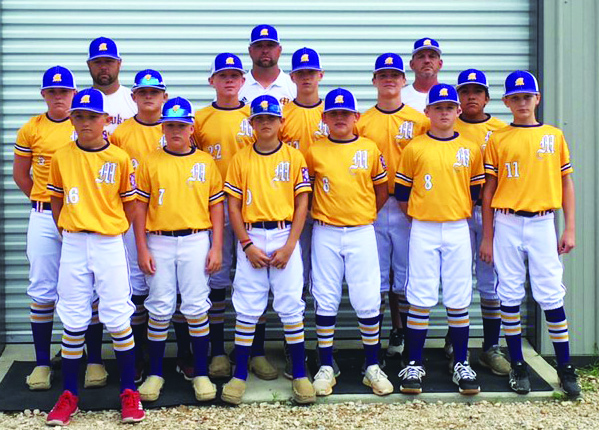 Minden's 12-U All-Star baseball team continued its dominance of the district tournament on Tuesday night, wiping out Bossier 11-0 in four innings.
Reagan Coyle and Spencer Brantley each hit home runs to continue Minden's onslaught of offense. Minden has hit multiple home runs in every game of the district tournament thus far.
Seth Mangrum, Jonathon Dick, Peyton Gray, Easton Sanders, Levi Pope, Bryson Ranger and Hunter Sutton all had hits for Minden, who improved to 3-0 in district and look poised to win the title outright.
"Pitching has been a key so far," Coach Tony Sanders said. "Everybody has been doing their job at the plate."
The 12-U team is doing it on both sides, scoring a ton of runs while not allowing opposing teams to get going at the plate.
"When you don't walk people and throw strikes, you give yourself a chance to beat anyone," Sanders said.
Despite a number of sluggers on the team, Sanders said that Jonathon Dick (nicknamed Jon Jon) has shown a tremendous amount of grind.
"Jon Jon is the hardest-working kid we have," Sanders said. "Catching is the hardest position to play, and we ask him to do it every game and he handles it perfectly."

Sanders and Mangrum combined for a shutout on the mound on Tuesday, allowing just five hits overall and only walking two batters.
Minden has yet to surrender a run in the tournament.
The 12-U team plays the Shreveport American team tonight at 5:30 p.m. at the Minden Rec Center. Minden can book their ticket to the state tournament with a win.
In AAA action, Minden surrendered three runs to Bossier in the sixth inning for a crushing 7-6 loss.
Blane Long had a double and two RBI.
Jackson Melton had a huge game with three hits and one RBI. Keegan Pope, Jake Glass and Bryson Finley all had hits as well.