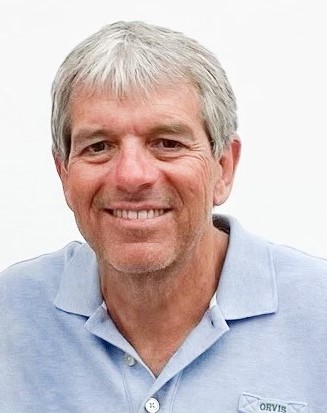 Rocky Lynn Benoit was born on November 25, 1959 and adopted by Rufus and Stella Benoit in Jennings, Louisiana. Rocky passed away peacefully on May 7, 2023 in Houston, Texas after a valiant battle with cancer. He is preceded in death by his parents. While attending college at Louisiana Tech, he met the love of his life Tammie Tharpe Benoit. They married in 1983 and he began his long-standing career with Amaco /BP relocating to Lafayette, LA, Houston, TX and Durango, CO. His faith is what defined him. Over the years he held many church leadership positions such as serving on the Deacon board, participating in mission work, teaching children's ministry, and leading men through a Bible Study Fellowship program for over 13 years.
His family was his greatest treasure. His wife Tammie has been his rock for nearly 40 years-full of love, commitment and adventure. He loved his two sons, Weston and Will more than anything. He was so proud of the legacy they have created and the men of God they have become. He was overjoyed to finally have two daughters join the family and often sided with Danielle and Cat over his own sons.
His faith in Jesus was a guiding principle for the family over the years. He started every morning with a hot cup of coffee and God's Word. As an avid fisher and outdoorsman, Rocky would often be found relaxing in his brown leather chair researching lures, rods and fishing conditions. He created so many family traditions we look forward to continuing, such as watching White Christmas while working on a puzzle during the holidays, enjoying his prized chicken and sausage gumbo recipe, and digging into a bowl of Bluebell during a game of dominos.
His memory is cherished by his lifelong love Tammie Benoit, his two children and six grandchildren: Weston Benoit, wife Cat and sons Boone, Bode, Teagan and Tate; Will Benoit, wife Danielle and sons Beckham and Levi; and sister Kim Babineaux Leblanc. We are also grateful to the dearest of friends and family for their prayers and love over the years.
Rocky's family invites you to attend a visitation from 1:00-3:00pm and celebration of life at 3:00 p.m. on Friday, May 12, 2023 at First Baptist Church of Haughton, 105 E Washington Ave, Haughton, LA 71037. An additional visitation will be held May 13, 2023 from 1:00-3:00pm at Miguez Funeral Home, 114 E Shankland Ave Jennings, LA 70546 and burial directly after at Greenwood Cemetery. Memorial donations to honor Rocky may be made to For All Mankind Movement www.goFAMM.org, Bible Study Fellowship www.bsfinternational.com or First Baptist Church of Haughton Children's Program fbhaughton.org.
You may offer condolences to the family and sign the on-line guest book by visiting www.hillcrestmemorialfh.com.