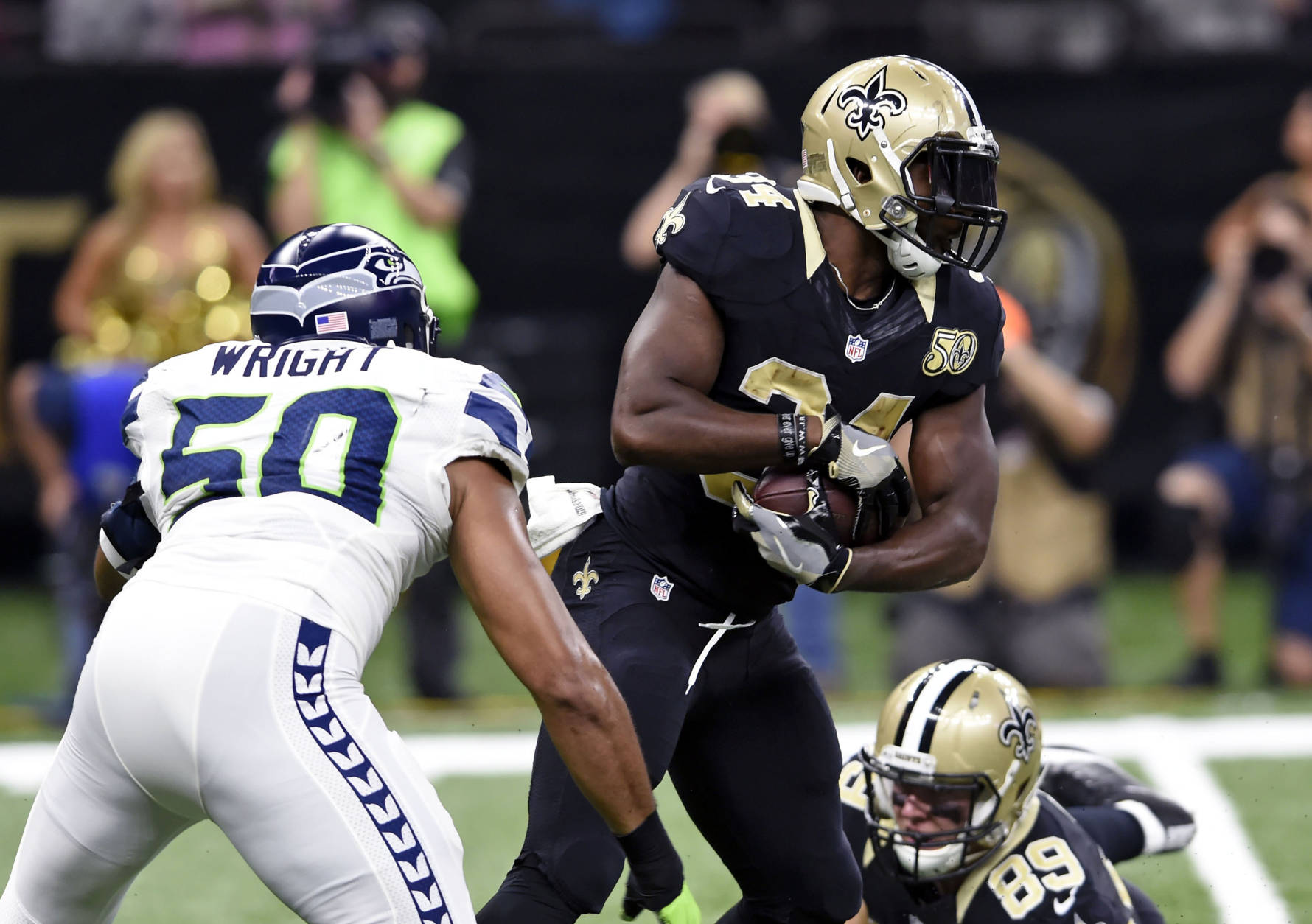 NEW ORLEANS — While Mark Ingram's lost fumble practically handed the Seattle Seahawks a touchdown, it also gave Saints running back Tim Hightower an opportunity to lead New Orleans' running game.
It was a pivotal play, indeed, from which New Orleans arguably benefited most.
Ingram was benched, Hightower became the first Saint to rush for more than 100 yards this season, and New Orleans pulled out a 25-20 victory over the favored Seahawks on Sunday.
Saints coach Sean Payton labeled Hightower's 26-carry, 102-yard performance "tough and gutsy."
In New Orleans' first six games combined, Hightower carried 19 times for 87 yards. As the game against Seattle wore on, Hightower started to break loose for longer gains, including a 28-yard scamper that set up a go-ahead touchdown pass to Brandin Cooks in the fourth-quarter, and a 12-yard gain that set up a crucial 41-yard field goal by Wil Lutz on New Orleans' final possession.
"I definitely thrive on these kinds of situations. I try to pride myself on being a physical runner," Hightower said. "This is the kind of game I'm built for. I'm kind of old school. I like the physicality of the game and that's what this was."
The Seahawks (4-2-1), who have one of the top-ranked defenses in the NFL, have allowed more than 100 yards rushing in just three of their seven games this season and have allowed fewer than 65 yards in the other four games. The Saints (3-4) entered the league ranked 28th in rushing with 82.3 yards per game, but finished with 123 against Seattle.
That was one story line in the Seahawks-Saints clash. Here are some others:
RUFFLED FEATHERS: Several Seahawks defensive players expressed dissatisfaction over the officiating, with cornerback Richard Sherman using the word "egregious," and safety Earl Thomas calling several calls "horrible."
One gripe concerned a pair of third-down defensive holding calls that extended Saints scoring drives in the second half.
"They didn't let us play today," Thomas said. "On third-and-5 slants, we were locking guys out and they called illegal contact."
The Seahawks also protested non-calls on what they viewed as "pick plays" by Saints receivers running overlapping routes.
Seattle defensive backs could be seen arguing that such a pick got Brandin Cooks open for his fourth-quarter TD on a 2-yard slant.
"It's hard to play defense like that," Sherman said. "It's tough to play in this league with the way games are being officiated. The rules are already skewed to the offense."
PENALTY DIFFERENTIAL: There was a substantial discrepancy in the amount of offensive and defensive penalties called against Seattle compared to New Orleans. The Seahawks were penalized 11 times for 76 yards. The Saints were flagged twice for 10 yards.
"We made it hard on ourselves," Seattle coach Pete Carroll said. "My team is getting a lot of penalties the last couple of weeks. It is not any one position, necessarily. I just need to do a better job."
ENCOURAGING INGRAM: Payton said he felt compelled to sit Ingram after his fumble because it was his second costly turnover in two games. A week earlier, he fumbled inside the Kanas City 10 in a six-point loss. Against Seattle, Cliff Avril's strip sent the ball into the arms of Thomas, who returned it 34 yards for a score .
Brees said the Saints still have "great confidence" in Ingram. Added Hightower: "I've been in his shoes. … We're going to need him just like today they needed me."
BALANCE: Brees is at his best in the Superdome, where he has twice passed for 400-plus yards this season. Against Seattle, his 265 yards passing represented a season low at home by more than 100 yards. He had only one TD pass, but also scored on a 1-yard keeper. The Saints finished with 35 passes and 35 rushes.
"That was the formula for today," Brees said with a grin. "That's something everybody had a hand in today and we knew the importance of it."
STAYING THE COURSE: Russell Wilson passed for 253 yards without a TD and was intercepted once by linebacker Nathan Stupar. But he still nearly led Seattle on a winning drive — from the Seattle 32 to the Saints 10 — in the last 1:50 with no timeouts. The game ended when Wilson lofted a pass to the corner of the end zone, where Jermaine Kearse made a leaping grab but came down with one foot out of bounds.
"The last drive was a testament to our resilience," Wilson said. "We have a lot of clutch players who can make a lot of plays. We are just going to stay the course."