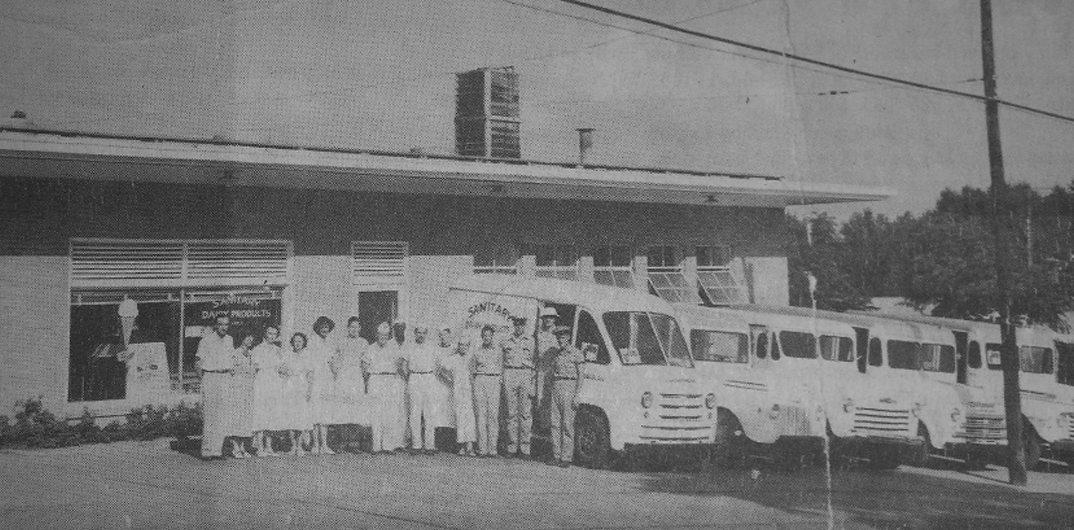 Often people ask me to write about certain people or a particular building or occurrence. I try to do so when possible. Recently, Cheryl Benit and I discussed the long ago existence of Sanitary Dairy where her father, Leroy Miller, served as manager and one of the original owners for over thirty years. I wanted to write about Sanitary Dairy since I had enjoyed their ice cream and especially the milk for many years. Marcus Wren and Don Hinton are the only living members of that original group of stockholders. Therefore, I spoke to Marcus about his memories of "How it used to be." The following is Marcus' account of the beginning and the end of Minden's milk plant – Sanitary Dairy.
Modern Milk Plant Suggested
In 1945 Mr. J. K. Gladney, who was Webster Parish County Agent, suggested to the Agriculture Committee of the Minden Chamber of Commerce that the local dairies get together and build a modern milk plant to have a place for local farmers to market their milk. Mr. R. D. Hinton was Chairman of that committee and he took that idea and promoted it. The original stockholders were R. D. Hinton, E. H. Lumpkin, Leroy Miller, Sam Culbertson and J. K. Gladney. The plant was started in 1946 and opened in 1947. Mr. E. H. Lumpkin was the President, and George Reynolds was the Manager. At that time E. H. Lumpkin owned a small dairy named Sanitary Dairy, and R. D. Hinton owned Ferndale Dairy. They put these businesses into the new plant. Leroy Miller was a dairy farmer who supplied milk. D. D. Lunsford Dairy stopped bottling milk and became a producer in 1949; In 1951 Wren's Dairy came in. Wren's Dairy processed the only pasteurized milk in Webster Parish until Sanitary Dairy was started.
Locations
A piece of property was purchased from Mr. Guy Lomax on the Sibley Road where the plant was to be built. This was the first piece, and in all, a total of 9 pieces of property was purchased before the office was built in 1977. One piece of property was Gant's old mule barn, a two-storied structure and an auction barn. Another piece purchased was Morehead's Grocery on the corner, about about 10 shotgun rent houses owned by Sheriff O. H. Haynes.
Sanitary Dairy started producing milk, buttermilk, and whipping cream. The pasteurized milk was known as Creamline milk as the cream rose to the top of the bottle. Some people poured the cream off for cereal and coffee cream. Later, half-and-half was processed for coffee and cereal.
The first containers were all glass – pint and quarts. Later gallon glass bottles were added and finally gallon glass jars were added. The first paper cartons were cone shaped quarts that were purchased preformed. Later a machine was pit in to form wax-coated cartons and to fill it. Today these are plastic coated paper cartons. Gallon plastic jugs were added in 1965.
Ice Cream
Ice Cream was a popular item. Sanitary Dairy had an ice cream parlor, which was a favorite spot with bold adults and kids. Cones were filled with 1, 2 or 3 scoops of 20 some flavors of ice cream. Mrs. Alta Puckett operated that ice cream place for over 20 years.
The dairy delivered to homes, restaurants, stores, schools, etc. with milk and milk products. The company kept branching out to Cotton Valley, Springhill and finally in about 15 parishes in Northwest Louisiana. Later Minden was less than 10% of their total business.
They were the 5th plant in the United States to manufacture plastic bottles. Today about 90% of milk is sold in plastic bottles. That business grew to where the sold trailer loads of plastic bottles as far away as New Orleans, Dallas and Little Rock. During this time they bought out about a dozen other dairies from Shreveport to Ruston. Every town had a dairy of its own, but the milk business grew until they were unable to keep up with the changing times. There were forty or delivery trucks. Most of them were in towns around where we had branches and distributors. There were more than forty Dairy Farmers who supplied raw milk to Sanitary Dairy.
George Reynolds only stayed on year as manager, and Leroy Miller stepped in as Manager until they could find a suitable replacement. He stayed for over thirty years until his retirement. Marcus Wren, with the addition of Wren's Dairy, was brought into the company as an equal stockholder and held the position of Assistant Manager and Sales Manager. When Leroy Miller retired Marcus was the General Manager and President until he retired.
Beatrice Foods
Beatrice Foods gave Marcus a 5-year contract, which he kept until they offered him a buy out and he retired October 1983 after 32 years with the company.
In 1947 all raw milk was brought from the dairy farms, daily, in 10-gallon cans. In the mid 1950s Leroy Miller converted all dairy farms to the bulk tank operation with a tank truck to start picking up raw milk at the farm every other day. This was a big step in modernization. Sanitary Dairy was the first dairy to go to bulk refrigerated tanks and hauling the milk in tank trucks.
In 1969 Sanitary Dairy outgrew the property they had and moved their route trucks and shops to Shaw Street off the Sibley Road. This relieved the congestion around the plant and gave room for expansion. There were a total of 9 expansions made to the original building. When Marcus retired in 1983 they were doing over a million dollars of business each month.
In 1977 Sanitary Dairy sold out to Beatrice Foods since like all small plants they could not compete with changing times. As the Supermarkets and Grocery Warehouses were beginning to put in their own plants and furnished their stores with their milk. This gave less than 25% of the market for the surviving dairies. They had been using Beatrice Foods as consultants, and were able to sell out to them rather than being squeezed out of business by the Supermarkets and the National dairies.
At one time home delivery of milk was a big business but with both husband and wife working away from home it was easier to pick up milk from the supermarket on the way home from work. Also the supermarkets used milk as a "loss leader" to lure customers into the stores.
Remembering
When we remember Sanitary Dairy we think of all the friends who worked there. The office staff was so capable. Over the years there was mrs. Thelma Byers, Marie Liles Crocket, Mrs. Jean Watson, Mrs. Eva Huckaby, Judy Willis, Linda Winget, Jean Powell, Mrs. Joyce Soulis and others. The bookkeepers were Gerald Benit and R .C. Holland. Mr. Miller's son, Charles, worked there for over thirty years in sales and other management positions. Others who delivered were Jerry and Bill Dunn, V. E. Penney, Jim Cox, Jerry Smith, Burnice Miller, J. W. Wall, and the plant manager for over 40 years was Duane Corley. Others who worked for many years included Bobby Parker, Wayne Craig, Bennie Hallmark, Ronnie Whitlock and Gary Oller. When the dairy sold there were 96 people on payroll at that time. Mr. Lumpkin's son, Eugene, worked there for over a year but he did not like the work.
We used the milk for all those years and we loved the ice cream that Mrs. Puckett packed in the quart containers that we carried home. The little Dixie Cups of ice cream were just what we needed for the birthday parties for the children. We knew most of the employees and Jim Cox had been the routeman to deliver ice before we had an electric ice box. Later he served as our milkman.
There are so many memories connected with the plant that we passed each time we went to town and each time we returned. I often think of the time I hurriedly paid my milk bill and stuck the check down the neck of the glass milk bottle. Signed "Juanita M." and I never added the word "Agan", but the dairy was able to cash it. I suppose I was the only Juanita M. on the list at the at the bank, but that is just another advantage of living in "Small Town America" where everybody knows everybody else.
I am so grateful to Marcus Wren for this account of his memories of Sanitary Dairy, and of those who made it all possible for Minden and across this area. Thanks, Marcus.
Juanita Agan submitted a weekly column to the Press-Herald for more than 15 years until her death in 2008. She was a resident of Minden since 1935. The Press-Herald is republishing select articles from Mrs. Agan's Cameos column every Wednesday.