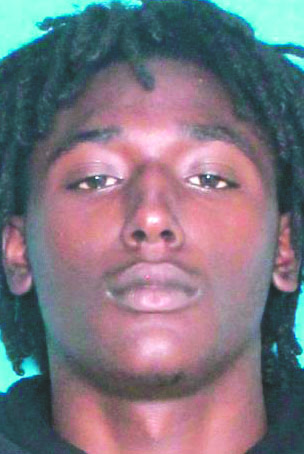 Aderrius Mitchel, 17, of the 600 block of South Street was arrested Tuesday for Illegal Carrying of a Concealed Weapon, Possession of a Firearm by a Convicted Felon, Resisting Arrest and a Probation and Parole Hold.
At about 9:45 am on Tuesday, Captain Marvin Garrett was patrolling on South Street at Plateau Street. He observed Mitchel standing in the street wearing a black hoodie and a backpack. Garrett returned approximately an hour later and Mitchel was still standing in the middle of the street.
"I found this to be odd because it was approximately 28-30 degrees outside," Garrett stated in Mitchel's arrest report.
Garrett reported that Mitchel appeared nervous and when he rolled down his window and asked Mitchel why he was standing outside Mitchel responded "Just chilling."
According to the report, Mitchel refused to give Garrett his name, only saying his name was "D". The report says when Garrett attempted to get out of the vehicle, Mitchel shoved the door closed on Garrett and began running.
After exiting the vehicle, Garrett saw Mitchel reach in his pants pocket and pull out a handgun. Mitchel jumped over a fence and went behind a shed. Garrett drew his weapon and ordered Mitchel to the ground which he refused.
Mitchel approached Garret without the gun. A short scuffle ensued as Garrett handcuffed Mitchel. The handgun was retrieved from behind the shed. A black ski mask, a box of bullets, and an extended clip were also retrieved from Mitchel.
Upon his arrest, it was learned that Mitchel had a prior conviction of illegal carrying of a weapon and was on Felony Probation. Mitchel was booked into Bayou Dorcheat Correctional Center.