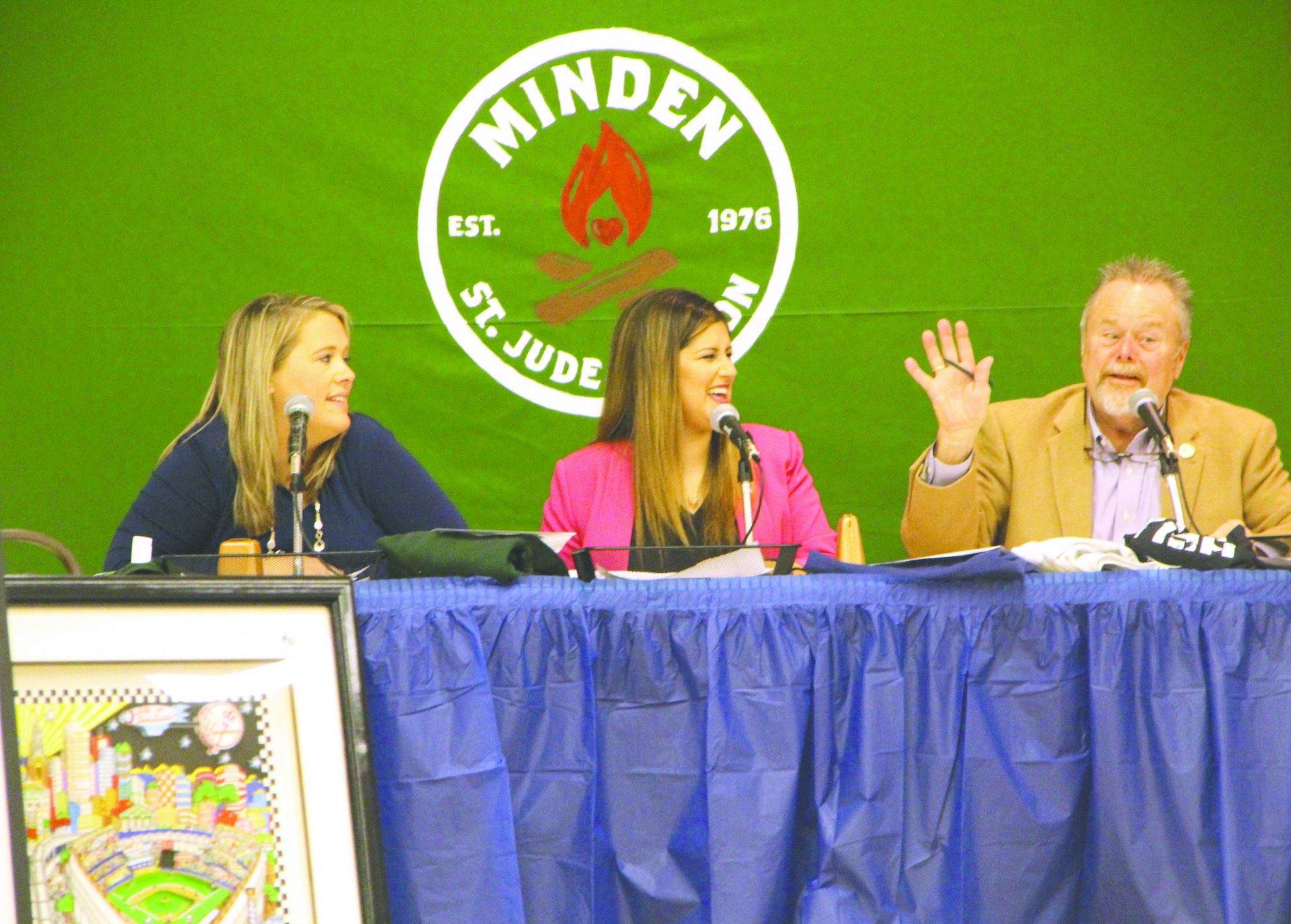 Food sellouts, bids from across the US mark first day of auction
The Minden St. Jude Auction kicked off Thursday morning at 9 o'clock am with auctions for hundreds of items, food, and fun.
When entering the Civic Center, there are t-shirts for sale, prints by Cora Lou Robinson and concessions for sale. Jambalaya plates for lunch were provided by Randy Stevenson and Matt Wimberly.
We've been helping out in some capacity for quite a while but last year was the first time we opened up with lunch," Wimberly said.
Last year the jambalaya plates sold out and Wimberly hoped to do the same this year. The plates were successfully sold out by 12:30 pm.
Visitors to the auction came from around Webster parish. Chris Beshea from Springhill visited the auction for the first time.
"I know several families where the children used St. Jude. I know one right now. His name's Camden, out of the south Shreveport area," Beshea said, "I came to prepare what I want to do Saturday. This is my first time coming and I'm just trying to figure out how it works and what's going on."
"A town the size of Minden, being number one in the United States [in giving per capita], I think that's awesome," Beshea said.
There were some small hiccups as things geared up. T-shirt sales were delayed by a storm so the shipment arrived Thursday morning. Volunteers worked to prepare the store within two hours of the opening of the event. The sound on channel 11 was also delayed for a short period of time but was remedied within the first hour.
Different organizations man the phones in shifts. Dozens of people take time to answer calls for auction items.
"We have different groups that come to manage the phones. It could be church, it might be a school, it might be a business or even a police group. They manage the phones for either two or four hours. A lot of different school groups work in the concession stand as well," chairman Melissa Marvin Brown said.
Brown has been working with the auction for many years.
"Probably about 15 years ago we went to computers, that's when we really grew because we were able to reach all parts of the United States and the world," Brown explained.
The Webster Parish School District and Glenbrook School are also involved in raising money for the auction.
"We've gotten the school's way more involved and it's really become a competition amongst them. What school and what class can raise the most money," Brown said the involvement of the schools has been a great addition to the growth of the auction.
"In any fundraising event, historically, the life of it is 7-9 years then it dies off. This is our forty-third year. So we have to be innovative, make some changes and try some new things. It doesn't always work but now we have fourth generation kids helping. I think what has happened is we've taught our kids that this is something everyone does in our community," Brown said.
The auction will continue through Sunday with the Run for St. Jude beginning at 7:30 am Saturday. Over 1100 people have registered to run. The St. Jude Chili Cook-Off will be Saturday as well as Kid's Day and the Minden St. Jude Cornhole Classic which begins at 3:00 pm Saturday.