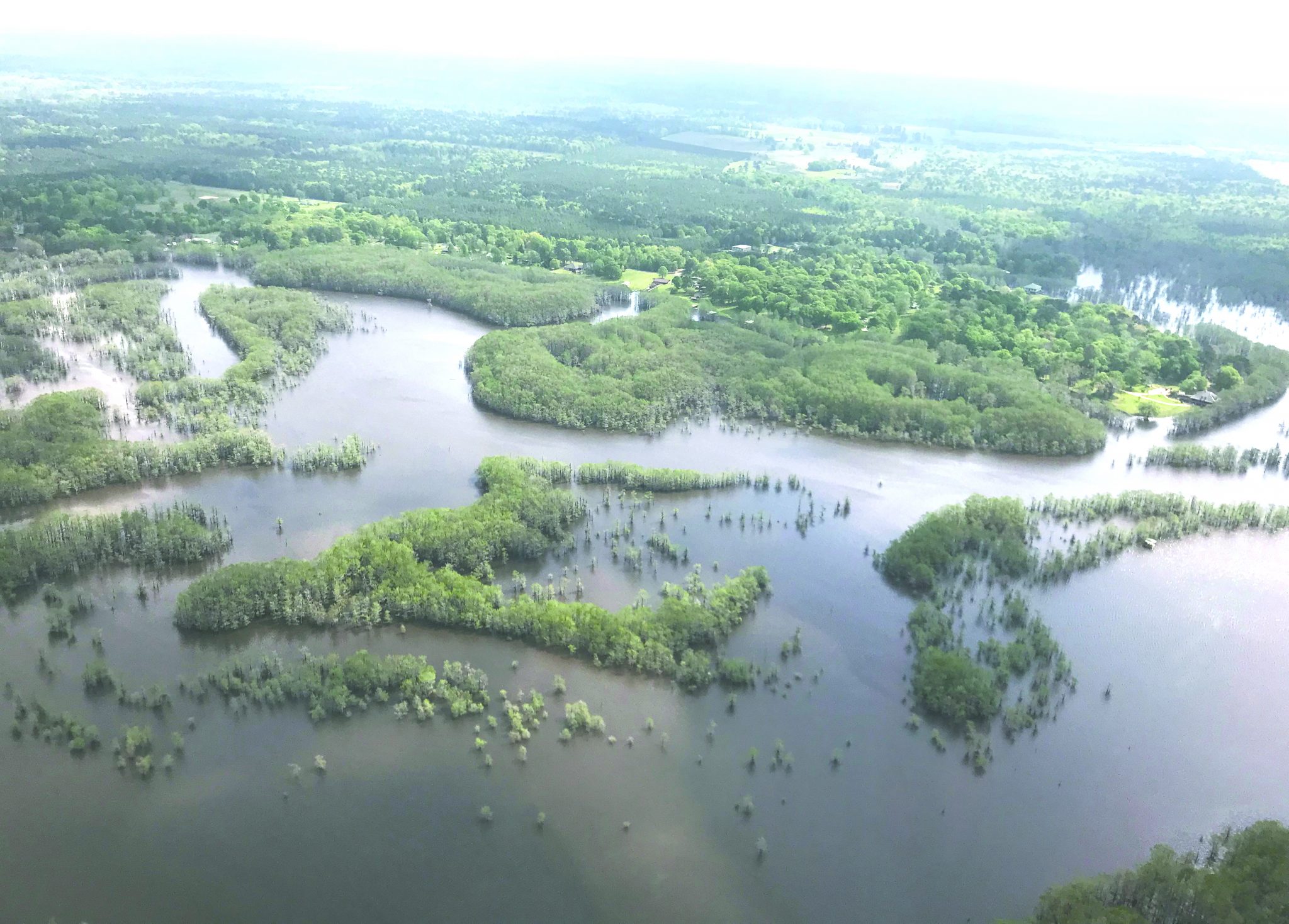 Flyover shows salvinia decrease on Lake Bistineau

A flyover of Lake Bistineau Tuesday showed that the popular recreational spot for fishers and boaters has rebounded from years of the blight that is giant salvinia.
Salvinia, an invasive aquatic plant native to South America, is a weed that spreads rapidly, doubling in mass every three to five days. Its size and acreage covered means it is difficult for boaters and fishers to navigate waters.
The Louisiana Department of Wildlife and Fisheries (LDWF) periodically flies over the lake to assess acreage of salvinia. This particular flight showed officials that the "lake looks the best it has in 3 to 4 years."
"We want to make sure people know that things look really good right now," said Jeff Sibley, biologist manager of Inland Fisheries Dist. 1 for LDWF. "Don't be discouraged by things you've heard. Get out and enjoy the 'Sportsman's Paradise.'"
Officials estimate the coverage has dropped from 3,700 acres in summer 2017 to 400 acres currently.
A major reason for this decrease in salvinia is that the mild winters of the past few years, which allowed large amounts of salvinia to survive through to its regular growing season, gave way to several freezes in January.
"Mother Nature was a huge help," Sibley said. "Those hard freezes in January were good for killing the salvinia.
Salvinia is a tropical plant that doesn't do well in the cold."
But officials noted that it has been a multi-pronged attack against the weed that has led to success. This comes in the form of spraying herbicides, letting loose a special weevil that feeds on the salvinia, and drawing down the water level in the lake.
During the past budget cycle, Patrick Banks, assistant secretary for LDWF, said the fisheries portion of LDWF spent $7 million fighting salvinia across the 95 bodies of water they manage. He revealed that fighting salvinia is the largest expenditure in fisheries, taking up one-fifth of their budget each year.
According to previous Press-Herald reports, the LDWF spent over $800,000 last year spraying chemicals on Lake Bistineau alone.
In addition to chemicals, harsh weather, and drawdowns, another enemy of salvinia is the salvinia weevil, something the Bistineau Foundation has kept well stocked in the lake for three years.
However, those cold temperatures that killed salvinia also killed the weevils. Even if the weevils survive, salvinia is their only food source and without it they will die.
"It's a good trade," said Banks.
Sibley noted that the common boater or resident on the lake wouldn't know salvinia is still there, but he wanted to make a point it has survived.
He forecasted that by the end of summer, the weed will be back to where it will impact recreation.
"It's going to return. We want people to be aware that the lakes are in very good conditions but it has survived," Sibley noted.
LDWF will keep up the fight by spraying herbicides, introducing specially-bred weevils, and even another potential drawdown in the August timeframe.
"We'll be diligent in herbicides, we'll stock weevils," said Sibley. "We're tying to develop a genetic strain of weevils that are more cold-tolerant." "There's a distinct possibility that we may need to enact a drawdown some time at the end of summer."
Sibley said he hopes the public keeps up their support of the department's efforts as they move into the growing season.
"No one is happy with salvinia," Sibley said. "We hope the public sees we're trying our best to manage it but it is a serious problem. It is the worst aquatic plant, by far."