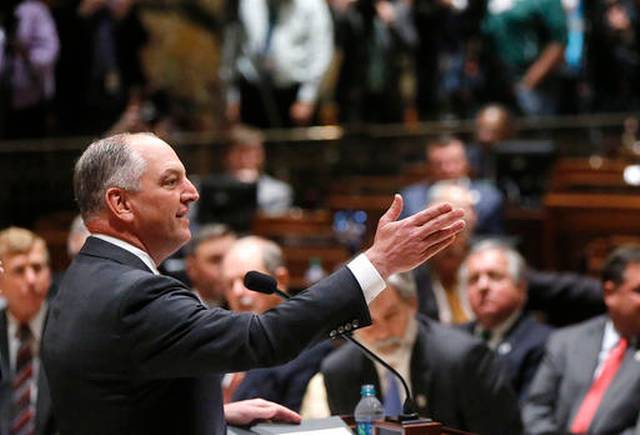 Credit Gov. John Bel Edwards with finding a way to put an optimistic picture on Louisiana's employment environment. Which means he has to avoid mentioning the rest of the story.
Last month, Edwards extolled the state's lowest unemployment rate since 2008. He said this declining rate, which included the fewest unemployed since that period as well, benefited from workforce programs.
What he didn't say was these programs actually appeared largely ineffective when facing larger trends, principally a precipitous decline in the labor force. Almost a decade ago, that registered the highest in state history, at 62.3 percent. Last month, it stood at just 59.2 percent.
Put another way, from October, 2008 to last month, the state added fewer than 24,000 people wanting to work, and since the beginning of Edwards' term – which started a month before oil prices bottomed out that since then have recovered smartly – has lost over 14,000. This latter period has seen almost no population growth.
From that peak, Louisiana now has almost 47,000 fewer jobs. During Edwards' governorship, jobs have increased nearly 21,000 in number. Altogether, this means about two-fifths of the decline in unemployment has come because of additional people not wanting to work, through not entering or removing themselves from the workforce.
And things have deteriorated over the past year. Year-over-year, both the labor force participation rate and non-farm payrolls have remained essentially flat. That means the only reason the unemployment rate fell 1.2 points to 4.5 percent from last year was because the employment-to-population ratio rose 1.1 points, meaning within the flat population more people took jobs yet didn't entice those choosing not to work to enter the labor force.
Not that Louisiana has a comparatively good labor market. In both job creation totals and unemployment rate declines over the past year, the state ranks in the bottom third among the states and District of Columbia. In terms of actual working, it fares even worse, in the bottom sixth of both labor force participation and employment-to-population rate changes.
The Shreveport-Bossier City metropolitan area, which also includes DeSoto and Webster Parishes, has done better compared to the state's lackluster performance. During Edwards' time in office, its unemployment rate fell more to about the same as the state's and it actually increased its labor force numbers by about one percent and jobs at about the same rate.
Thus, a significant portion of unemployment rate improvement in Louisiana has come from relatively fewer people wanting to work. Two policy changes occurring immediately after Edwards took office undoubtedly have caused this.
Upon entering office, Edwards reversed his predecessor's removing a waiver for work requirements for single able-bodied non-elderly adults without dependents to receive Supplemental Nutritional Assistance Program dollars and he expanded Medicaid. Both remove incentives to work while asking those who do to pay more to government.
Additionally, mammoth tax increases backed by Edwards have sapped job creation. It's these facts that he hopes people don't notice as he spins his narrative using the unemployment rate.
Jeff Sadow is an associate professor of political science at Louisiana State University Shreveport. His views do not necessarily express those of his employer or this newspaper.