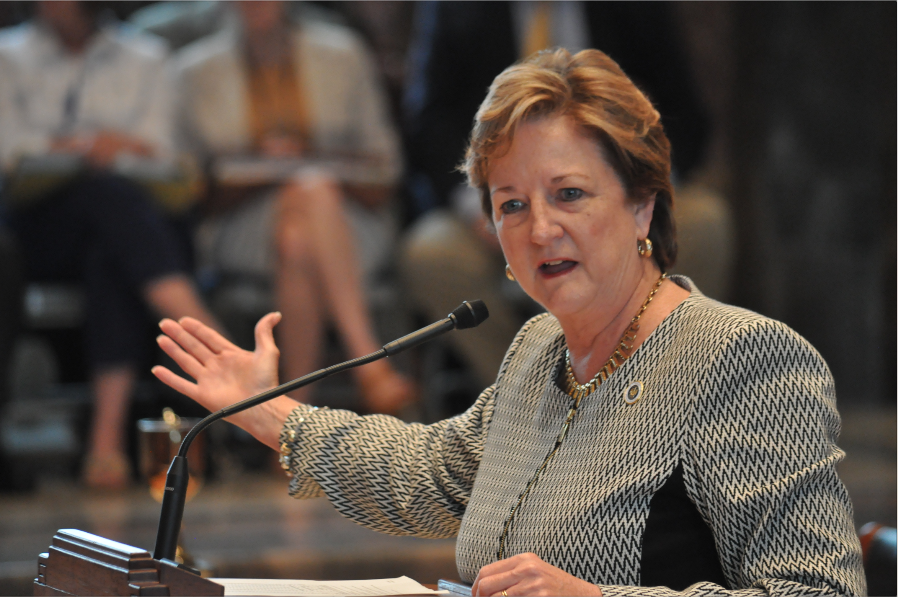 Joby Richard
LSU Manship School News Service
BATON ROUGE–A joint legislative subcommittee is trying to free up $800 million of the several
billion dollars in state spending that is set by law and cannot be adjusted in the annual budget
process.
Sen. Sharon Hewitt, R-Slidell, who co-chairs the subcommittee, said it is trying to eliminate
dedicated funding for some of the organizations and projects to keep budget cuts from falling
disproportionately on higher education and medical care for the needy.
Hewitt said the panel hopes to free up the money over two years. But she said it would not
provide a "magic" solution to state's projected budget shortfall because some of the funds will
still be be able to justify some level of spending.
"Some of these spending priorities were set 30 years ago, and the justification no longer exists,"
Hewitt said in an interview in her office at the Capitol. Removing some of the dedications "gives
us more flexibility," she said.
The state receives $20 billion in federal aid each year, and the rest of its $30 billion budget
includes $5 billion to $6 billion in funds appropriated annually and $3 billion to $4 billion set by
statutes or the state constitution.
Louisiana has a higher percentage of its non-federal money tied up in dedicated funds than
most other states. That leaves the Legislature with few options for major cuts other than higher
education and health services.
A special legislative session to address a projected $994 million shortfall in state revenue
collapsed earlier this month.
The state now expects to receive a $302 million windfall in tax collections as a result of recent
changes in federal tax law. Gov. John Bel Edwards is expected to call another special session
this spring to deal with the remaining $692 million gap.
Hewitt's panel, the Dedicated Fund Review Subcommittee, is part of the Legislature's Joint
Budget Committee. It is scrutinizing 175 of the 400 dedicated funds this year and will examine
the rest next year.
Over the past six months, the subcommittee has listened to hundreds of hours of public
testimony and built "a lot of support throughout the Legislature," said Hewitt.
The last time dedications were abolished was after an oil bust in the 1980s that reduced state
revenues and left then-Gov. Buddy Roemer searching for more spending flexibility.
Removing dedications would allow the Legislature to shift funding to higher education or
healthcare, Hewitt said.
"It's about being consistent and using a set of criteria by which to judge all the funds," she said.
"It's not about the worthiness of the funding, and that's what we're trying to resist."
As Hewitt described the process, it was clear that there are five rough categories of funding
that the panel is reviewing.
First, some funds will definitely lose their allotments. Hewitt said at one hearing, for example,
that the Evangeline Parish Recreation District Support Fund has not been active in the last few
years. She said that its money would revert to state general fund if it loses its dedication.
Second, the subcommittee would like to remove dedications that finance agencies' core
operations and require them to compete for money through the normal budget process.
Third, funds generated from fees will be dropped from the list of dedicated funds, but
recipients will not experience any operational changes.
For example, sugarcane farmers assessed themselves a fee to pay for firefighting equipment,
and the state holds the money for them to buy the gear. "It would be unfair for the state to
take this money," Hewitt said.
Fourth, funds that represent multi-year commitments, such as the Greater New Orleans Sports
Foundation Fund, will keep their dedications, Hewitt said. These entities bid on national
sporting events and need to have their funds set aside.
The final category are dedications of gaming revenues that go to entities like the Beautification
of the New Orleans City Park Fund. "That particular issue is one where it is complicated," Hewitt
said.
Bob Becker, chief executive of New Orleans City Park, testified at a hearing last month that to
persuade people who live near the Fair Grounds horse-racing track to let it install slot machines,
the state dedicated part of the tax revenues to City Park.
Hewitt said the subcommittee will host one more meeting to review all the funds. "In some
cases, our thinking evolved" during the hearings, she said, "and we gained more clarity."
Hewitt then will insert the panel's recommendations into a pre-filed bill, which she hopes all of
its members will sponsor.
Hewitt said she expects pushback on any possible cuts. "Every fund has a constituency for the
most part, and they will be very active in lobbying against the bill," she said.
She added that she hopes legislators will "resist the temptation for people to want to amend
the bill and take certain funds out or put certain funds in."