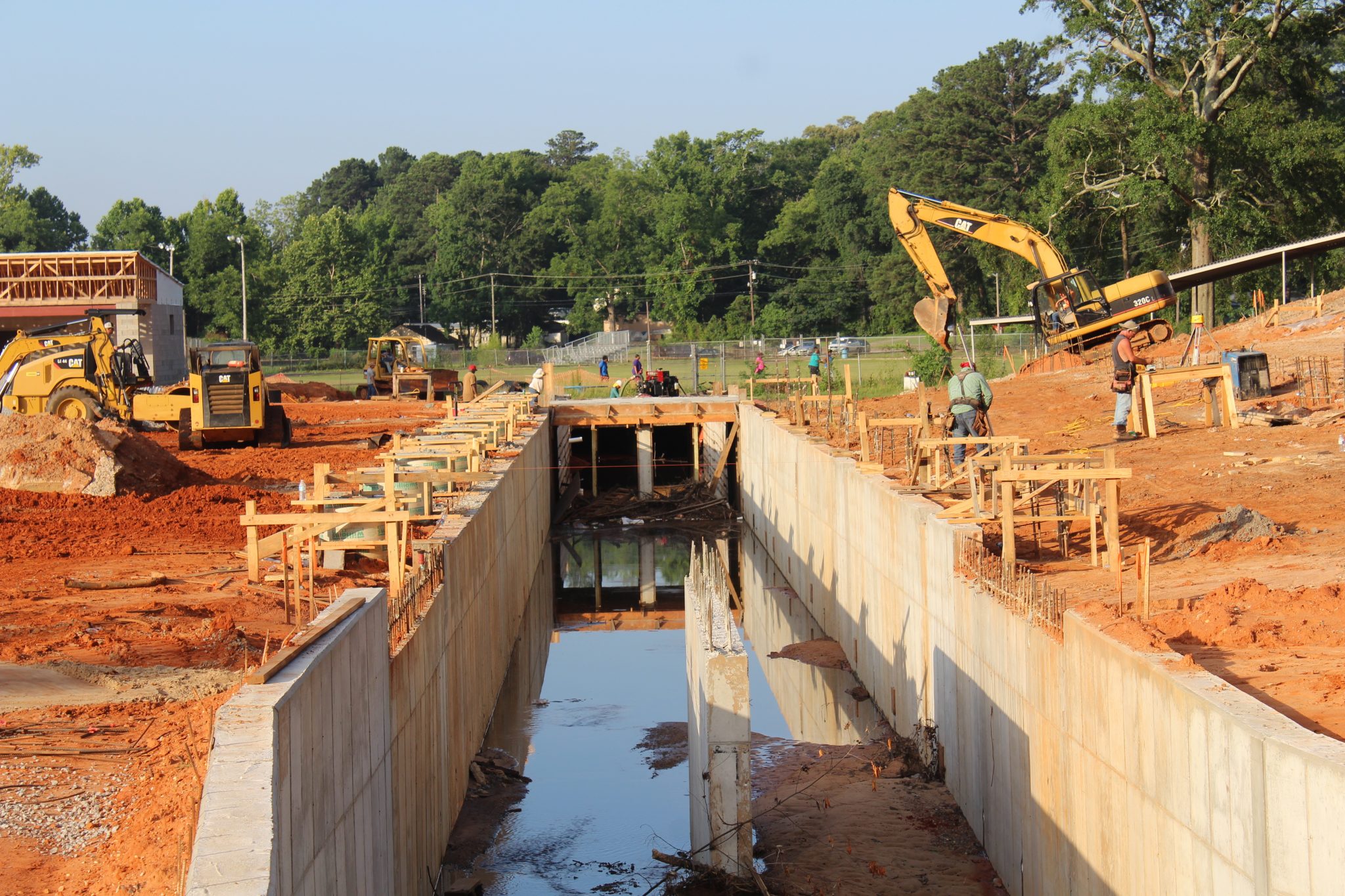 Weather is causing setbacks in the construction of the grandstands at Minden High School's The Pit, school officials say, and a contingency plan is under discussion.
Buster Flowers, supervisor of maintenance and transportation, said the heavy rains in the last month or so has delayed the installation of about 40 pilings that will hold the brand new grandstands.
"They were supposed to start (Tuesday) to put the stadium metal in the ground, but they've had to back off that," he said. "They've had two setbacks on getting the metal for the stadium delivered because of weather."
The plan has been to have the stadium completed by the time the Crimson Tide gets ready to play its first game of the season, but the weather may push that date back some. Flowers said they have to get the pilings installed before that decision can be made.
"The administration is working with their coaches to have a contingency plan that addresses the situation that we're handed at the start of football season," Superintendent of Schools Johnny Rowland Jr. said. "It's just too early to say 'this is what we're going to do.' With a project like this, you truly are at the mercy of the weather."
Flowers said there have been other issues, such as moving sewer lines discovered underneath the football field and other minor setbacks.
He also addressed a concern about the drainage ditch renovated to fix the flooding issue on the field. After getting about 6 inches of rain recently, he said the drainage ditch filled up to capacity.
"The contractor sent in his concerns to the engineer saying that if the water rises over it's going to wash out and get on the field," he said. "The engineer said the catch basin is working like it was designed to. Water has to get two feet higher in order to get onto the football field or start running down to the track."
Rowland and Flowers said discussion on contingency and advancement will take place at their July 20 progress meeting.
"I feel like we're going to have the football field ready before the grandstands," he said. "But we won't know that until they start building the grandstands."
The entire stadium is under construction as they raise the field above flood stage, build a new concession stand and restrooms at the south end of the field, new ticket booth at the north end and install fencing along Ash Street.
The 50-year-old grandstands were deemed unsafe following the March 2016 flood. The foundation washed out underneath three steel beams of the grandstands, and the catch basin that runs beneath filled with debris blocking the flow of water runoff.
The Federal Emergency Management Agency is funding a major portion of the project.