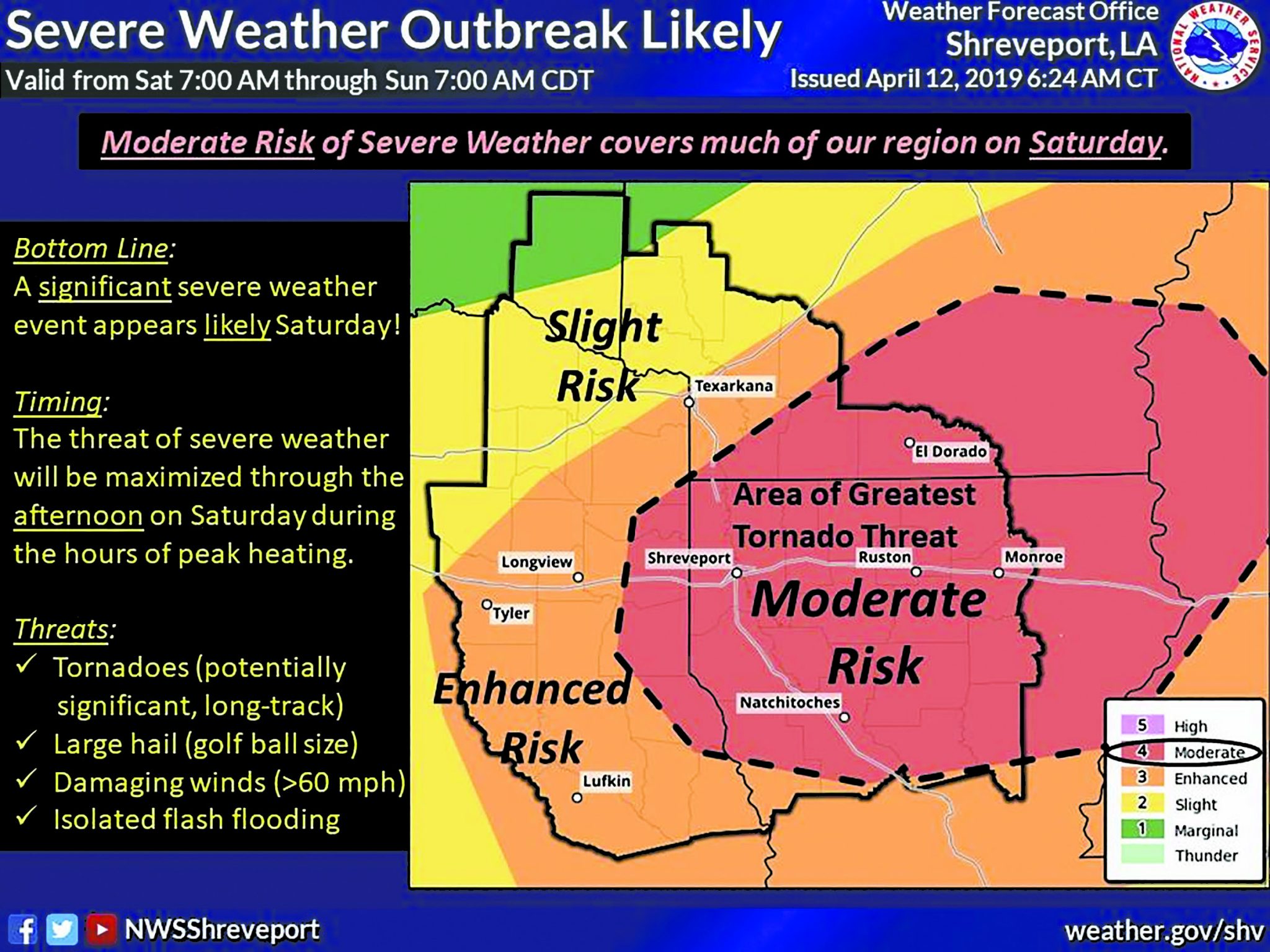 Webster Parish may be in for a rough ride Saturday as the threat of severe storms increases throughout the area. According to the National Weather Service in Shreveport, Webster Parish is in the highest threat level for tornadic activity.
"A Moderate or Enhanced Risk for severe thunderstorms covers much of our region on Saturday," the National Weather Service posted on Facebook Friday morning.
"Strong to severe storms will likely begin to develop during the morning hours, but the timing of greatest risk is expected during the hours of afternoon peak heating and possibly extending into the early evening hours."
According to the post, there will likely be multiple rounds of storms throughout much of Saturday into Saturday night.
"Large hail, damaging winds and tornadoes will be the primary threats. Locally heavy rainfall may also lead to isolated flash flooding," the post read.
The National Weather Service offers the following tips during severe weather:
• At Your House: Go to your secure location if you hear a severe thunderstorm warning. Damaging wind or large hail may be approaching. Take your pets with you if time allows.
• At Your Workplace or School: Stay away from windows if you are in a severe thunderstorm warning and damaging wind or large hail is approaching. Do not go to large open rooms such as cafeterias, gymnasiums or auditoriums.
• Outside: Go inside a sturdy building immediately if severe thunderstorms are approaching. Sheds and storage facilities are not safe. Taking shelter under a tree can be deadly. The tree may fall on you. Standing under a tree also put you at a greater risk of getting struck by lightning.
• In a Vehicle: Being in a vehicle during severe thunderstorms is safer than being outside; however, drive to closest secure shelter if there is sufficient time.