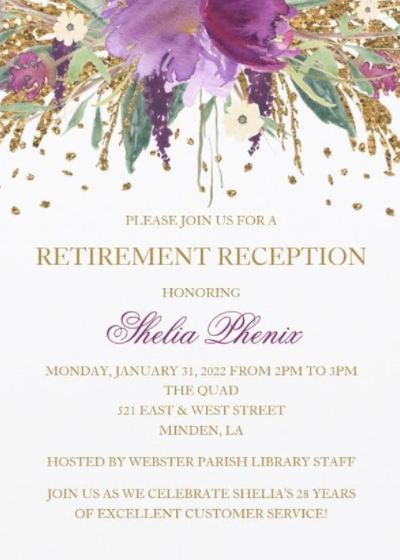 Shelia Phenix has a special love for the library. At age 11, she was a library helper with Mrs. Mackey at J.A. Middle School. Over the summers of 1974-76, she worked in the Summer Work Program under Ruth A. Cary and Nancy Moore at Jones Memorial Library. Shelia followed her dream to work in her "happy place" on November 3, 1993, as a temporary employee with Webster Parish Libraries. Her professionalism and eagerness to succeed were recognized by Library Director Eddie Hammontree, and on January 2, 1994, Shelia accepted a permanent position. Her full-time career began at the circulation desk, followed soon by the reference desk. Finally, in 2001 Shelia became manager of the Minden Main Library Branch.
When asked about her time with the Webster Parish Library System, Shelia stated, "Most people admit it is really tough staying in the same place and adjusting to changes for as long as I have, but I wouldn't have it any other way. I've grown so much professionally because of the library and my positive work environment. I've grown to love my co-workers as my family. I belong here." Shelia believes her calling is to help people in any way she can. Her firm belief is, "Working hard for something we don't care about is called stress. Working hard for something we love is passion!"
After retiring, Shelia looks forward to spending more time traveling and helping with her grandchildren. When asked about Shelia's retirement, Savannah Jones, Director of Webster Parish Libraries, stated, "Shelia was the first librarian I ever met as a child. I grew up coming to the library after school, and I always felt comfortable coming to her for absolutely anything. I believe she has made many others feel the same way. Shelia is genuine, caring, and always puts the needs of others before herself. She is not just an employee; she is a friend and a part of our library family. She will be missed greatly."
A retirement reception held in Shelia's honor is scheduled for Monday, January 31, from 2:00 pm to 3:00 pm.
The celebration, which is open to the public, will be held at Webster Parish Libraries Minden Main Branch in The Quad. All are welcome to attend.