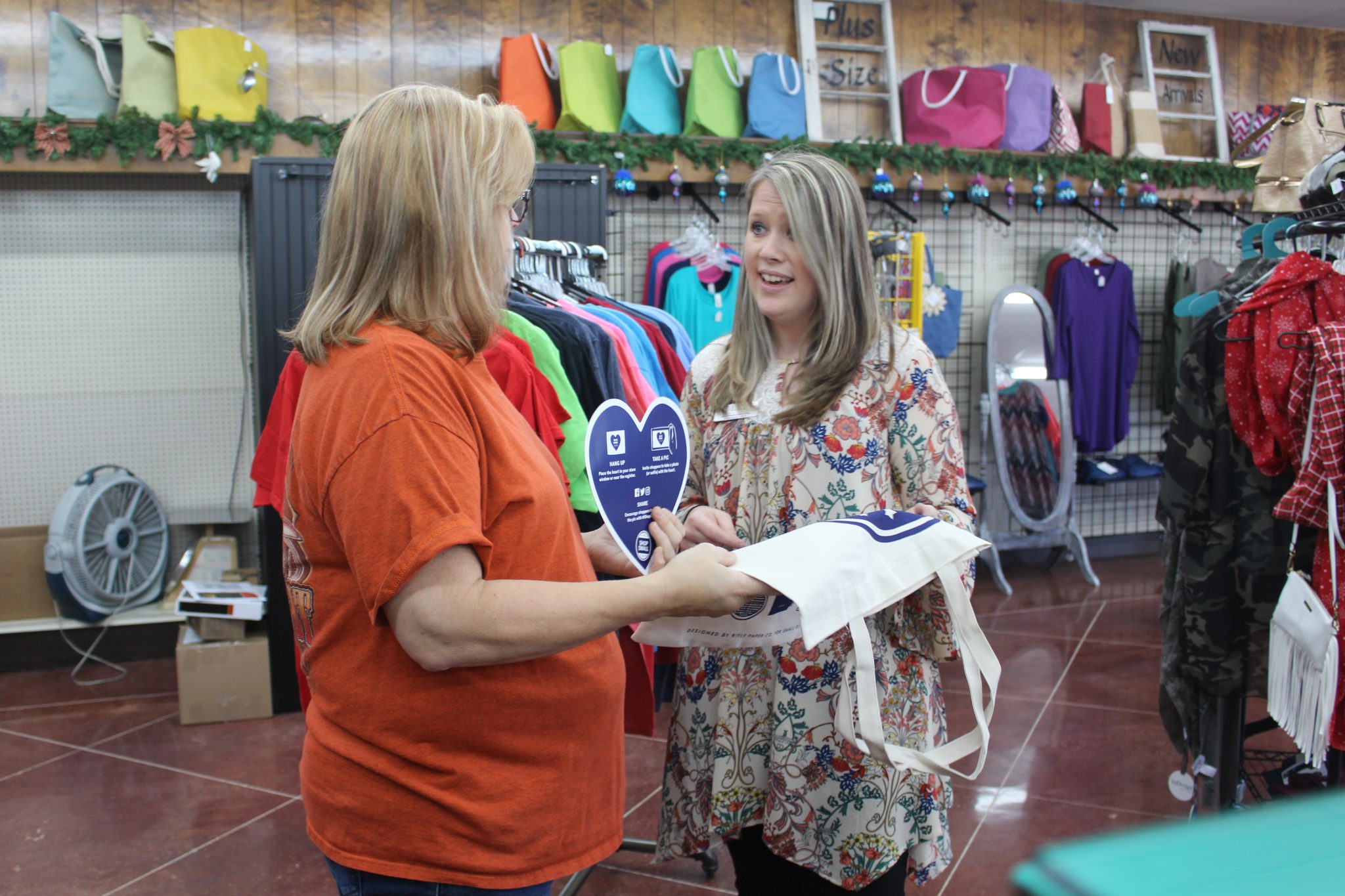 Editor's note: This story is part of a series spotlighting why shopping local matters.
Shopping locally has been proven to have a positive effect on the local economy, and spending money locally is a way to show support for hard working people who have the fortitude to put it all on the line to fulfill the American Dream.
Supporters of the "Shop Small" movement are encouraging holiday shoppers to visit hometown merchants and support the entrepreneurial spirit and the American Dream as they hunt for the perfect gifts.
"This Christmas, when you buy locally every purchase is two-fold. You're putting a gift under your tree and giving the gift of support to the business you buy from," Tammy Eaton, Downtown Business Association member said. "When you buy an item from a small business you are doing more than buying a tangible product you are investing in your community. The money you spend starts a chain reaction your tax dollars stay in Minden, those businesses invest in other local businesses, and everyone benefits."
Downtown businesses came together to create a special Small Business Saturday experience.
"Downtowns are often indicators of the health of a community as a whole, a healthy downtown has many functions it can serve as a place for events, chance encounters, and so much more than just purchases," Eaton said. "Small business owners live and work here, they create relationships with their customers, know their names, and truly appreciate each and every sale. The shop small movement is more than a slogan, it's a way of life. It may not be the most convenient option, but it is by far the most rewarding."
TG's Marketplace host Terry Gardener shares the same views as Eaton.
"It's important to shop small-town this Saturday, for the same reason that is it important to shop in Minden every day," he said. "The money that is spent here every day and goes back into the local economy and supports local families. The sales tax that is paid on all purchases goes to pay city employee, road improvements, and to maintain and improve infrastructure."
Gardner said Minden has a vibrant community of small business owners who work hard and go out of their way to give shoppers a great experience. He said one of the reasons he has hosted a market at his business is to encourage growth.
"In addition to people liking flea markets and being around other people, it's a networking tool for small entrepreneurs that one day might grow into at local business," he said. "It's like an incubator market. We want to help them get started. That's what America is built on – small business. That's the backbone of any great economy."
Eaton agrees with Gardner and believes shoppers' purchasing power is greater than they may realise.
"Consumers truly do vote with their dollars, and whenever possible you should always vote for the independently owned small business," Eaton said. "I believe that small businesses are the fabric of our city and supporting is an essential part of that investment."
Stephanie Barnette, Minden-South Webster Chamber of Commerce President, has been visiting with local business and encouraging them to participate in Small Business Saturday.
"Most are already planning on being open and are really excited about it," she said. "When we shop locally, we are showing support for the hard working people of our community that have put it all on the line in order to chase their dreams.
Any time we buy local, we are supporting our neighbors, friends, parents of children that go to school with our children, and investing the money back into our own community at the same time," she continued. "Shopping local allows friendships to be created between the business owner and customer that strengthens a community and keeps it alive. It doesn't get much better than that."
Unique gifts and experience offered to Minden shoppers
Local business owners are working together to offer a unique shopping experience on Small Business Saturday.
By shopping locally, individuals and groups will have an opportunity to not only purchase gifts not offered in big-box and nation-wide retail stores, but can take part in contest and get to know their local merchants.
Christmas Crawl/ Beverage Trail
One value-added experience to this year's Shop Small Saturday is the Christmas Crawl, which is a beverage tasting trail in Downtown Minden from noon until 3 p.m.
"Downtown merchants will compete for bragging rights for the best holiday drink during the Christmas Crawl," Eaton said. This will be a fun way to enjoy shopping in the various stores while sampling different Holiday drinks. The participating merchants are battling for the people's choice awards, so make sure to cast your vote for your favorite drink."
Ballots for the people's choice for beverage contest should be turned in to City Art Works, located at 701 Main St. by 4 p.m.
Stores participating in the crawl and offering a taste of downtown are The Vault, Bobbies Hobbies, Heavenly Treasures, La French Gypsy, Habuca's Mexican Restaurant, Hers Bridal & Special Occasions, Sew Blessed On Main, Finders Keepers, Pink Pratique Boutique, A Vintage Affair, Amor' Hair, Easley's Studio and Courtyard and 2 Lucky Vapors.
Secret message scavenger hunt
The first downtown scavenger hunt will offer an additional way for shoppers to enjoy Small Business Saturday.
"Shoppers should be ready to have fun, scavenge for clues and win prizes all while supporting the local businesses that support the community," Eaton said. "Only the members in the 'Shop Small Secret Circle' can help decode the secret message."
Shoppers participating in the hunt should be on the lookout for an elf in each store holding a word that will help decode the secret message. Words collected and the decoded message can be entered to win prizes from local businesses.
Participants can sign up for the secret circle at City Art Works and pick up clue sheets at Finders Keepers, The Vault and Sew Blessed. Entries should be taken to City Art Works by 4 p.m.
"There is a clue sheet for each store participating and an elf will be hidden in each store with a clue on it," Eaton explained. "After hunters find an elf in a store, participating retailers will provide hunters with a shop small card containing a word from the secret code. Each clue helps to unscramble the secret message."
Children's art station
Joining in Saturday's activities is the Minden Art Guild, which is sponsoring a Children's Art Station will be set up at City Art Works from 11 a.m. until 4 p.m. Children can make unique Christmas ornaments and enter the Christmas On Main art contest. Face painting will be offered starting at noon.
Marketplace
Across town, on Highway 531, TG's Marketplace opens to shoppers at 8 a.m. and concludes at 4 p.m.. It offers flea market items, arts and crafts, gift shop, body products, baked goods, jams and jellies, plants, home and outdoor décor, concessions and door prizes.
"There are several vendors who will be offering gifts you can't find in big-box stores," Gardner said. "I think when you find antique gift for a person that is rare, it makes the gift special and means more."
Eaton and Gardner agree there is a gift for everyone on your shopping list in Minden and that shoppers can treat themselves to a memorable experience by purchasing in Minden.