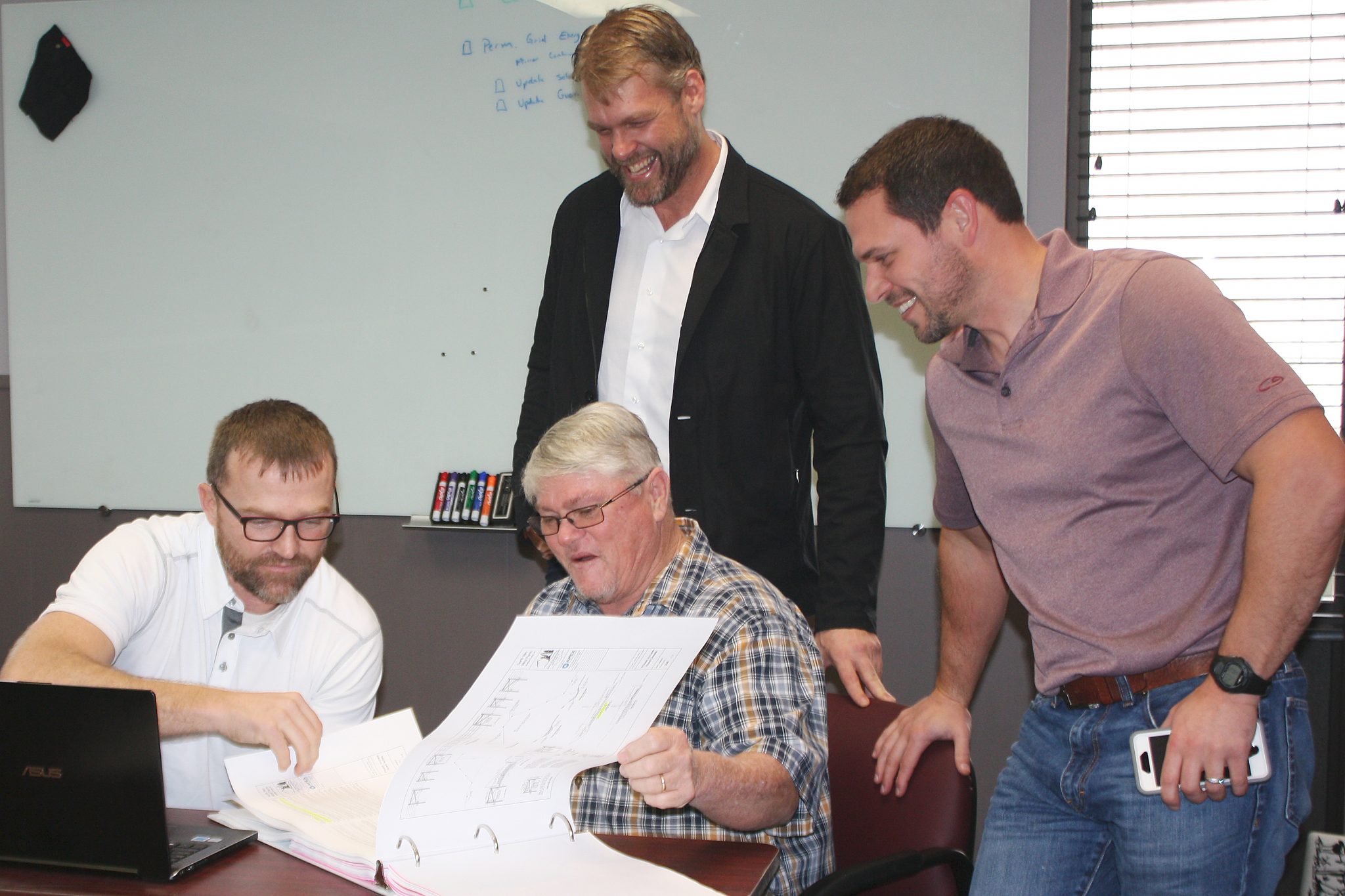 Multibillion-dollar corporation, Black and McDonald, opened their Renewable Operation office in Minden, bringing a team with years of solar and wind power experience to the area.
Operations manager Sam Mangrum graduated from Sibley High School in 1993 and after receiving his higher education from Louisiana Tech and traveling the world developing renewable energy projects, he is excited to bring the headquarters home.
"I wanted to move back to Minden," Mangrum, who has been back home for the past two years, said. "When this opportunity came up, I told them the team and I would be on board but we wanted to be headquartered in Minden."
The core group at the office has worked together since 2008.
Mangrum, who has been in the renewable field for 15 years, has been to more than 20 countries developing projects.
"I worked for big companies including Tetra Tech and Quanta – multibillion, international companies," Mangrum said. "I got tired of being gone and when we got involved with Black and McDonald we learned they wanted to start renewable operations in the US."
Black and McDonald have operations in the US doing utility work, headquartered in Kansas City, and offer additional services head quartered at other locations including Salt Lake City and Tulsa.
Black and McDonald are a full construction services company based out of Canada. Founded in 1921, it is a privately held company with approximately 2 billion in annual revenue.
Black and McDonald are a full construction services company based out of Canada. Founded in 1921, it is a privately held company with approximately 2 billion in annual revenue.
All of Black and McDonald's renewable projects will be operated in the Minden office and Mangrum hopes to see the location produce $55 million the first year.
"We are a good team and have done projects creating 3,000 megawatts together," he said. "We are well thought of in the industry."
Mangrum said the team has worked with an Italian company, which is one of the largest developers in the US of renewables, and with a company out of Denmark that invests money from the European Union in America.
"We have a nice customer base," he said.
Mangrum said he hopes to expand job opportunities as the company sees success.
"We will be hiring some more people as time progresses," he said. "It has been a difficult start because we have won a handle full of projects and we are trying to gear up to get out in the field in April. Long term, we hope to grow significantly."
Mangrum said he hopes the office adds additional services and grows its customer base in the south central region.
"Other offices provide services such as as underground electrical work to utility maintenance," he said. "We want to bring all that to this area too. It could be five years or decades down the road, but that's the goal. There is lots of potential."
While Black and McDonald does have an oil and gas industry arm, Mangrum said the company as a whole and the renewable projects avoid the cyclic boom and bust pattern of hiring sprees seen in the oil and gas industries.
"The great thing about Black and McDonald is it isn't like the oil and gas industry. I'm not picking oil and gas, I have a lot of friends in that industry," he said. "Black and McDonald, they have been around for nearly a hundred years and they believe your organic growth dictates your company growth. As we grow, we will hire people as we need them, rather than hiring a bunch of people and lay off as the work falls off."
Mangrum said much of the stability in the renewables industry is due to federal and state incentives.
"Obama has been good for us. Bush was good for us and Trump should be okay. The government largely drives our business with tax credits. Obama put out a plan that extended the credits multiple years, along with a phase out plan."
Mangrum said those actions have created some stability in the business and he hopes the Minden area will feel the ripples of the economic incentives.
"When I left it seemed like not much was happening here," Mangrum said. "Now it seems like there are a number of people who really push small and local business. It seems like there has been a push for growth; we want to support that.
Hiring as many locals as possible and supporting local business is high on Mangrum's priority list. He said as much as half a million dollars in consumables could be purchased locally for projects this year.
"Commerce creates commerce," he said, noting he is excited to be back in Minden with Black and McDonald.
"They are such a great company. Their principals are amazing," he said. "They are the most ethically correct and family oriented company I have ever worked for."
In addition to being glad to be home, Mangrum is looking forward to the opportunities available in the area.
"There is a lot of opportunity here and Black and McDonald wants to see us go after it," he said. "A project is about a year long and will employ between 200 and 500 people. There is long term operations on each of those projects that require up to 50 people a year. That's good, high paying work."
Mangrum said America is number one in the world for wind power, however it is not currently in Louisiana.
"The down side is there will not likely be any projects in Louisiana. Everything will be east Texas, Oklahoma, everywhere but around here," Magrum said, noting Louisiana does not offer incentives for developers of renewable energy.
"Most states offer tax credits, and Louisiana does for oil and gas, but not for renewable energy," he said. "I think that's because this is an oil and gas state and most of the revenue is based on that industry. Most oil companies see renewables as a draw on their profits. It is an uphill fight in Louisiana."