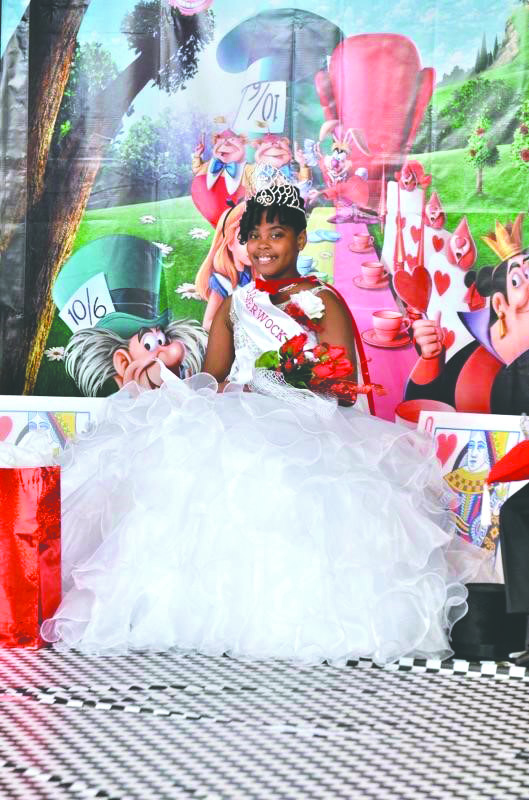 Angela West
Special to the Press-Herald
The Minden Alumnae Chapter of Delta Sigma Theta Sorority, Inc. presented its 57th annual Jabberwock at the Minden Civic Center Saturday, March 17 at 6 p.m. This year's theme was Jabberwock in Wonderland ­— Tea for Two.
The coronation began with the seating of the guests of honor former Miss Jabberwock Millicent Heard 1961, Patricia Bridges 1969, Tanika Black 1984, and Denessia W. Oliver 2008. Raekaley Brown and Chelsei Hampton introduced the entertainment with a creative skit from Alice Through The Looking Glass by Lewis Carroll.
The main entertainment included the gifted dancers from the Christian Dance Center of Shreveport, LA under the direction of Mrs. Terry Jackson, performing a superb modern dance to Glory by Common and John Legend.
U.P.H.Y. Step team from Ruston, LA performed again, with expertise and brilliance. Their creative step routines had the audience excited. U.P.H.Y. (Pronounced Up High) Team's mentor/sponsor is Mr. Courtney Wallace.
The main event of the evening was the presentation and crowning of Little Miss Jabberwock 2018 Cailyn Shere Lofton. Serenading Miss Jabberwock on her first official stroll was the talented vocalist Miss Lisa Pope Hagans. Preparing the walkway for Miss Jabberwock was the Little Delta Sweethearts Eden Thompson, Ja'Myri and A'Lica Sullivan. Zaydan Lott was the royal Mad Hatter crown bearer. Little Miss Jabberwock 2018 Cailyn Shere Lofton is the daughter of Carlos and Chiquita Lofton; First runner-up is Courtnei Chanell Hampton daughter of Cedric and Tunisia Hampton. Second runner-up is Kayleigh Sinise Hall, daughter Arrhonda Hall; and third runner-up is Rylan Arienna Thomas daughter of Tempestt Hamilton and Bryceson Thomas.
The civic center was transformed into a magical wonderland by decorating company Wedding in a Box, owner-operator Damita Walker Braswell. Area youth groups attending the Jabberwock in Wonderland were the Queens of Diamonds-Delta Gems, Queens of Hearts-Delta Academy, Butterflies of Wonderland-Delta Debutantes and the Aces of Spades- Delta Embodied whom served as escorts for the Jabberwock officers, royalty, and past Minden Alumnae Delta Sigma Theta presidents.
The funds raised from the pageant are earmarked for scholarships and public service projects. The proceeds are also used to maintain Delta Sigma Theta's FIVE POINT PROGRAM THRUST-Educational Development, Economic Development, Physical and Mental Health, Political Awareness and Involvement, and International Awareness and Involvement. Minden Alumnae Chapter President, Sarah B. Martin and members would like to thank the community for their support.
The Jabberwock committee chairs were Angela West and Delphia Stevens.