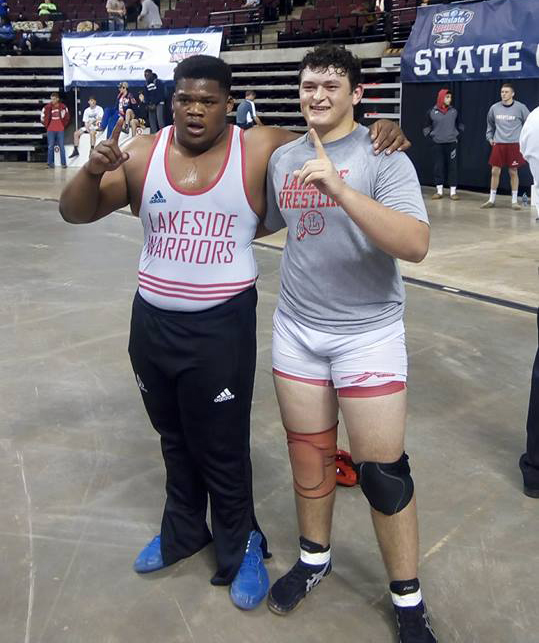 BOSSIER CITY – The sport of wrestling is a grueling, grind-it-out test of wills reserved for the strongest of men.
Lakeside's Mason Sparks and DJ Harvey proved themselves to be amongst the state's strongest grinders, bringing home the second and third-ever wrestling state championships in Lakeside's brief wrestling history over the weekend inside the Centurylink Center.
Harvey, competing in the 280-pound division, defeated Evangel's Tre White 3-1 in overtime to claim his title, while Sparks, competing in the 220-pound division, wore down the division's defending state champion, Eric Hamrick of De La Salle, 7-4 for state supremacy.
Harvey, who finished as state runner up last season, defeated the defending state champion in his weight class in the semifinals to reach the title match, meaning Lakeside knocked off two defending champs to have their moment in the spotlight.
Warriors head wrestling coach Mike Welch said Sparks had probably "the toughest route of anyone in the tournament" to reach the finals.
"He beat the fifth and third place wrestlers, including an overtime win in the semifinals," Welch said. "He wrestled a great tournament; made very few mistakes. He was a big underdog in the finals against a big strong kid who had pinned everyone else in the tournament.
"Mason was very controlled, wrestled a very good technical match and almost pinned him."
Harvey, who began wrestling as a seventh-grader, is all heart, according to Welch.
"He got pinned last year in the state title match," Welch said. "DJ pinned that kid in the semifinals this year. He's a very determined and physical wrestler.
"He wants to wrestle everybody he can. In my opinion, he was probably the best heavyweight wrestler in the state of Louisiana in any division. He's that good."
Lakeside has only competed in wrestling for 6 years, but now has three state titles; Luke Griffin in 2014 was the other.
Both Harvey and Sparks were beat up on early in their wrestling days, but perseverance brought them to the mountain top.
"It takes a lot of conditioning, a lot of running, a lot of grinding it out," Welch said. "Both of these kids have spent 4-5 years doing that.
"In their early years they lost a lot of matches, almost every one. They stuck with it and kept getting better and better. Now, they'll forever be state champions."