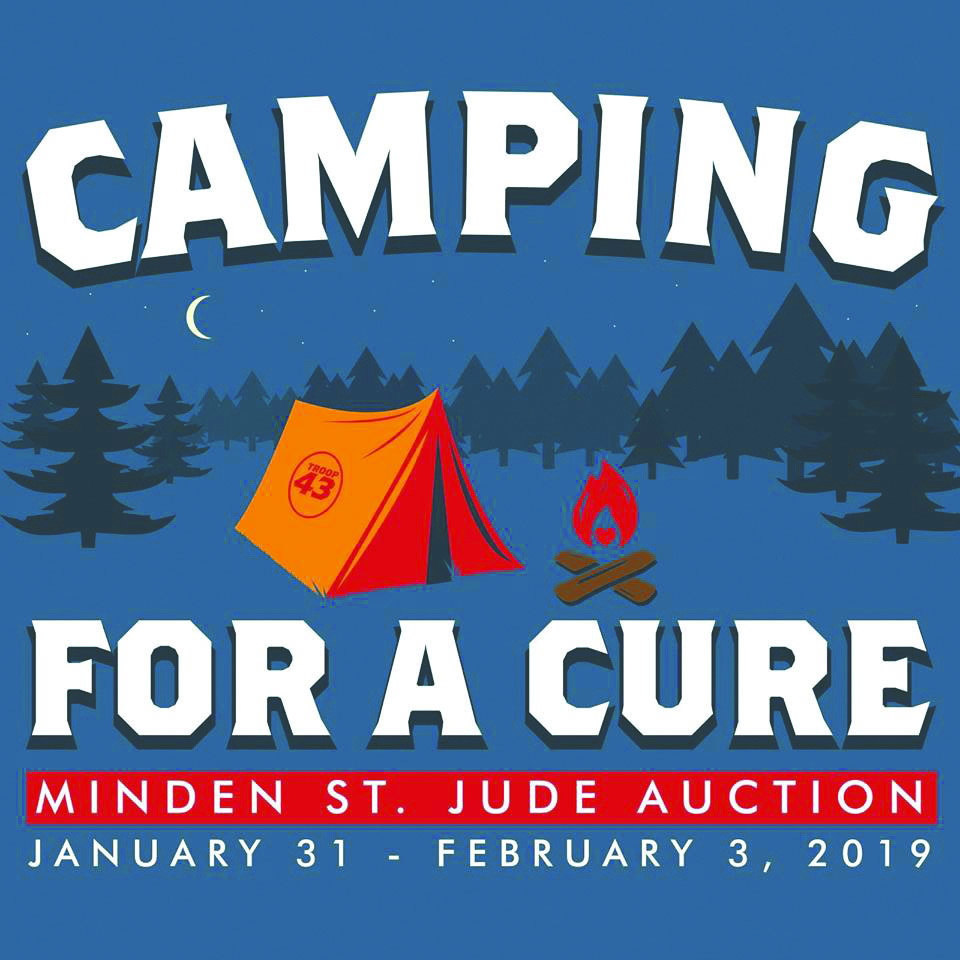 The Minden St. Jude Auction is less than a month away with daily raffle events already beginning. The event will be held January 31 – February 3 with the theme, "Camping for a Cure."
"We try to come up with something catchy every year and something that the playhouse, the shirts and everything will carry the theme all the way through," organizer Melissa Marvin Brown said.
Pre-orders for shirts are open online through mindenstjude.com as well as raffle tickets on new items daily until the event begins. Forms will also be sent home through local schools to order shirts. The 2019 logo includes a tent and a bonfire to match to the camping theme. The Minden Fire Department is also donating a playhouse based upon the theme.
More than $1.5 million dollars was raised by Minden in 2019 for St. Jude and Brown hopes to at least match that amount this year. The auction is a four day event which is aired on local channel 11, KASO AM 1240, and streaming online at www.mindenstjude.com.
"It's kind of like a mini festival. It's four days of food, raffles, just all kinds of events going on," Brown said.
The Grand Prize for this year's event is a 2019 GMC Yukon or $50,000 in cash. The tickets for the grand prize are $100 and all proceeds are donated to St. Jude Children's Research Hospital.
St. Jude patients never have to pay for services that are not covered by insurance and is one of the world's premiere hospitals for pediatric cancer research and treatment.
Saturday, February 2, Minden Run for St. Jude will be held at 7:30 am followed by the band Flight Delay performing on the Chili Stage at 10:00 am.
The St. Jude Chili Cook-Off will also be held that day with tasting cups available at 11:00 am. The Young Women's Service Club will also be hosting Kids Day at 11 am. Then the band SiDE fX will be performing at 12:30. Other events are in the works as well.
The Minden St. Jude auction began four decades ago as a telethon on KASO and has grown into a large community event. Minden citizens raise more money for St. Jude per capita than any other city in the country.