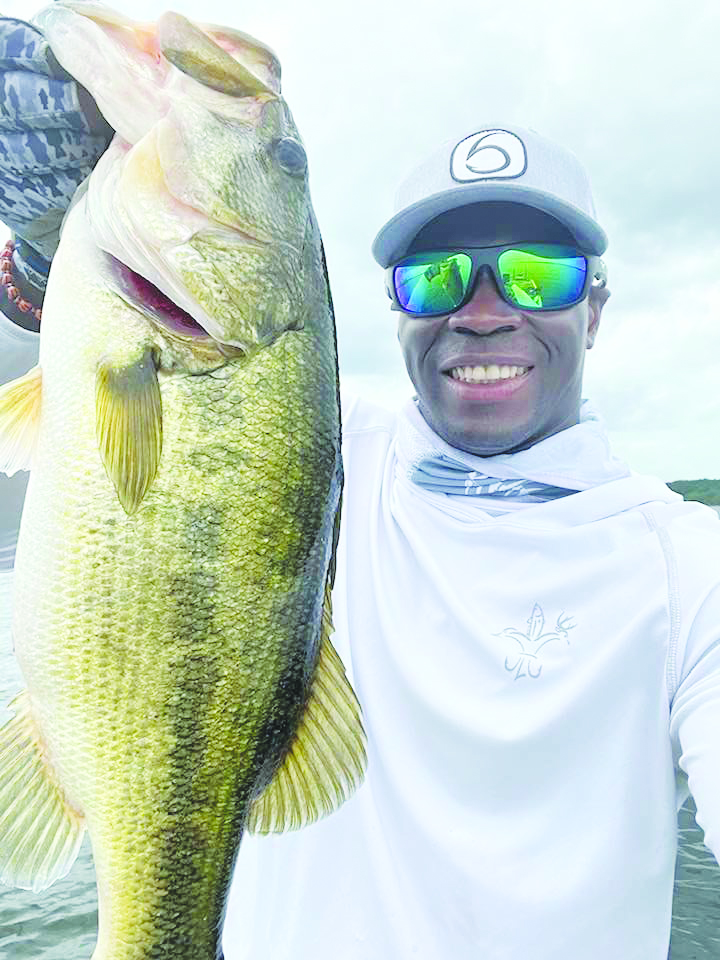 BY GLYNN HARRIS
When he was a kid growing up in rural Lincoln Parish, Sontus Mitchell had his eye on a pond behind his Choudrant home. Fashioning a fishing rig of sorts out of a stick, piece of string and an old fishing jig, he lobbed the lure into the pond and was rewarded by hooking and eventually landing a 5-pound bass.
"That was when my interest in bass fishing took off and I've loved I ever since," the 38 year old state trooper with the Louisiana State Police said in explaining how he fell in love with fishing for bass.
Mitchell is a regular participant in area bass fishing tournaments where he is rapidly making a name for himself as an angler whose name regularly appears near or at the top of the leaderboard on tournaments.
In the recent Majestic Big Bass Classic held on Lake D'Arbonne, Mitchell's wife, Destiny, had to have been all smiles as Sontus emerged as a big winner taking home a fist-full of cash in the tournament.
Mitchell was declared the overall winner of the best stringer with a total of 24.03 pounds. In addition, Mitchell won a couple of the two-hour events, had the third largest bass caught in the tournament at 8.82 pounds and had another two-hour third place finish for total winnings of over $3,500.
We chatted with Mitchell after his impressive weekend of fishing to pick his brain a bit on how he managed to locate, hook and land big bass with the three largest averaging over six pounds each.
"The number one thing for me is to first be able to locate where the fish are hanging out and then offering them what they want to get them to bite," he said.
Instead of first targeting big bass, Mitchell looks for what the bass are looking for, and that involves finding bait fish.
"I look for the big schools of shad the bass are feeding on and when the water temperatures start to warm up, the bait fish will likely be near deep water. I located a big school in 12-13 foot water and they were suspended 8-10 feet deep," he added.
Once the bait fish are pin-pointed, Mitchell knows that this is where bass will likely be hanging out.
"Bass will be suspended beneath the school of bait fish and I'll usually start with offering them a big plastic worm, a Carolina-rig or a crank bait. I checked the first couple I caught and found threadfin shad in their throats so I knew they were actively feeding. My Sixth Sense crank bait with a chartreuse belly and blue back looked like the shad they were eating so I stayed with it to catch my fish," Mitchell said.
In order not to put too much pressure on the school of bass, Mitchell has a plan that seems to work for him.
"I'll catch a fish or two, then leave to fish other areas before returning to where I know they're feeding. This way, I'm not putting too much pressure on the fish," he said.
Does he have future plans to turn his ability to catch big bass into a profession by fishing the pro circuits?
"I've thought about it but my job and my family are priority and I'll just enjoy fishing local tournaments," he added.
From what started with a stick and string to develop into one of the most successful bass anglers in the area, Sontus Mitchell is enjoying the heck out of the way he's doing it.
— Contact Glynn Harris at glynnharris37@gmail.com.