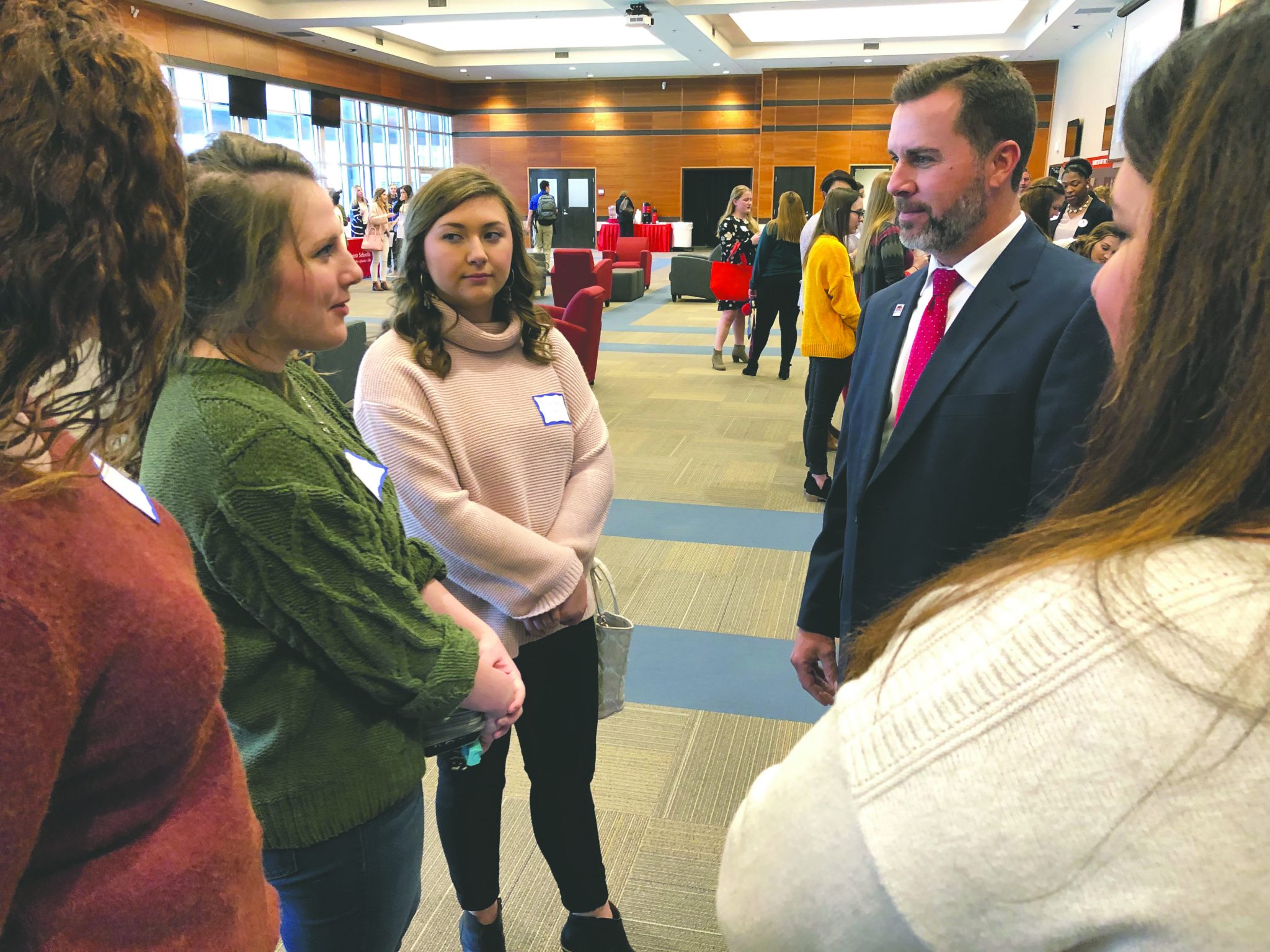 Lakeside principal, others talk to potential teachers
Lakeside staff members were in Ruston Thursday, January 10 representing the Webster Parish School District in efforts to attract a new batch of young teachers to the parish.
Staff members joined school districts from across the state at Louisiana Tech's Mid-year Teacher Recruitment Event. More than 100 upcoming education majors were in attendance. The group included juniors seeking student teaching opportunities as well as seniors who will graduate in May and need employment this fall.
Britney Kelley, a Baton Rouge native who is on the verge of graduation, was impressed with what she saw from the Webster contingent.
"You've got a lot of good things going on," she said. "I'd be thrilled to teach in one of Webster Parish's schools." Kelley said.
Recruiters at the event included Lakeside principal Denny Finley, counselor Ann Holomon, teachers Carrie Woodard and Josh Beavers along with seniors Makenzie Swilley and Hayden Finley.
Dr. Amy Vessel, organizer of the event, passed along the following message to Superintendent Johnny Rowland: "Your Webster TEAM was incredible today! They really put Webster on the map and had lines of students meeting with them all day. Please extend a huge thanks to them for all their hard work!"
Lakeside and other parish schools are participating in Tech's TEAM initiative. TEAM stands for Teachers Educators And Mentors and treats education majors as clinical residents. They have the opportunity to learn from a full TEAM of educational experts specifically trained to scaffold the clinical residency experience.
A clinical residency program is more than a traditional student teaching experience. Think of it as a slinky stretching as far as a person's arms can reach to provide potential teachers with a slow, realistic time frame to grow professionally into a confident, experienced, and prepared teacher.
"Through our redefinition of university/district partnerships, we are all working toward a common goal, to provide the great state of Louisiana with outstanding future teachers," Dr. Vessel said. "At any time, the CRC is here to support any TEAM member in anyway. We look forward to a wonderful year growing professionally together. Thank you so much for your service to our profession. Let's bring prestige back to education…one outstanding new teacher at a time!"