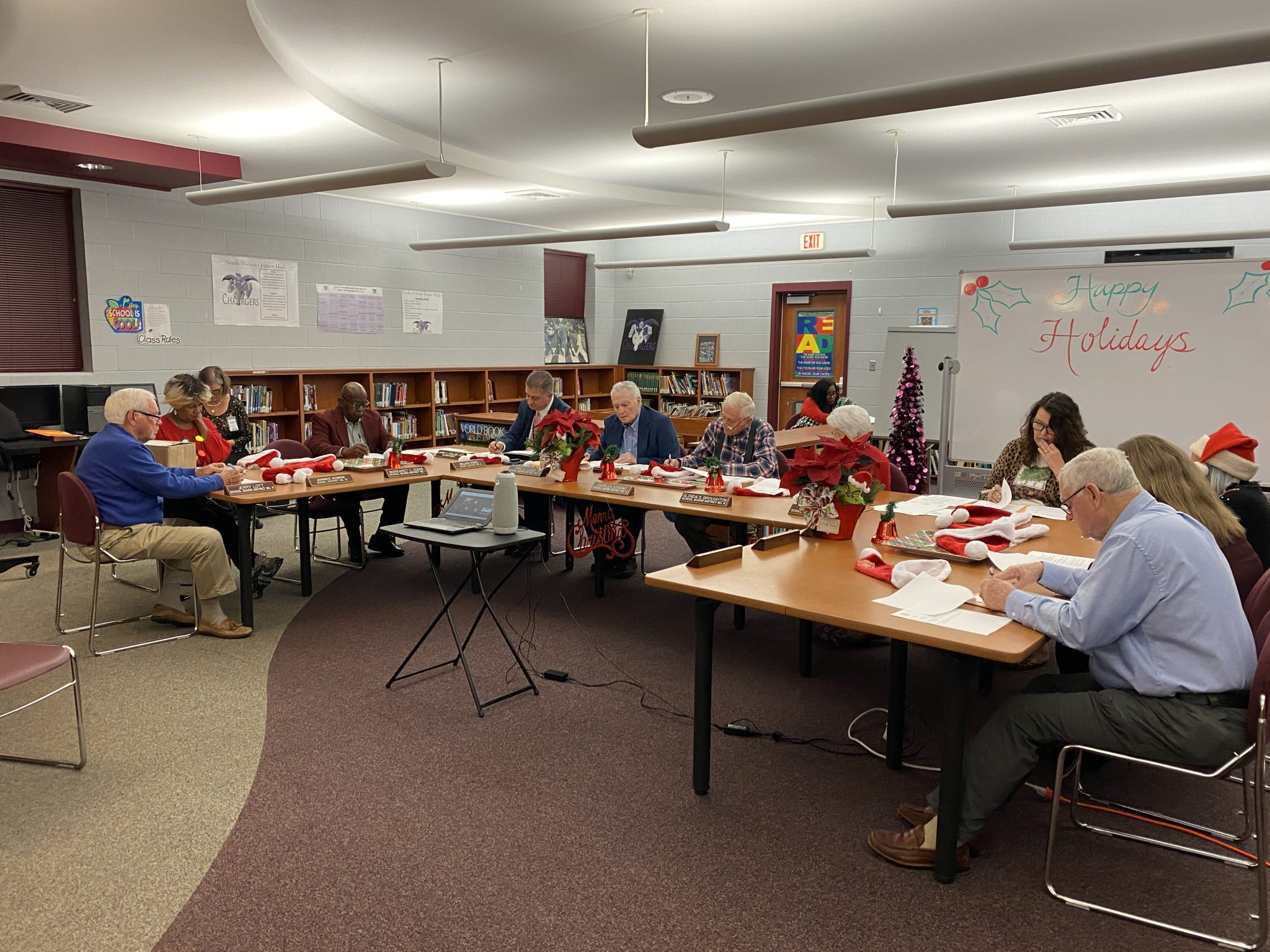 The December meeting of the Webster Parish School board was held in Sarepta on the campus of North Webster Jr. High on December 5, 2022, but, other than the change of location, the school board business conducted at the meeting was routine. 
The minutes from November's finance committee meeting, curriculum committee meeting, and board meeting were approved. Jessica Green, an 8th grade science teacher at Lakeside Jr/Sr High, was presented with the Employee of the Month award by Rodney Taylor of Taylor and Sons. A number of faculty/staff trips to conferences were approved.
A new job description was approved that will allow speech therapists to have assistants working under their guidance. The human resources department has had a very difficult time finding speech therapists and the new job description will enable the department to have more people working one-on-one with students.
The Minden High School cheerleaders have been approved to travel to the UCA Gameday Nationals in Orlando, Florida, pending their qualification for the event. They will be competing at the UCA State Competition in December in Hammond, Louisiana. If they get 1st place (or a very close 2nd place) in the Hammond, Louisiana competition, they will be eligible to go to Nationals.
The Minden High JROTC was approved to travel to San Antonio, Texas, for JROTC Senior Trip.
The procedures for the Special Education Audio/Video Recording policy were approved.
The school board will be accepting sealed bids for replacing the visitor-side grandstand at the Minden High School football stadium. They also approved a change order in the amount of $31,819.83 for changes in the electrical service and storm shelter at the new Minden High School multi-purpose building. These changes were required by the City of Minden and the Fire Marshal. A number of maintenance projects/improvements using different maintenance funds were also approved. These projects will be detailed in a future Minden Press-Herald story.
Superintendent Johnny Rowland announced that Ms. Frankie Mitchell of District 9 is willing to continue in her school board seat until the seat is filled, pending approval by the new Webster Parish School Board which takes office in January 2023. There will be a special election to fill the District 9 seat in April 2023. 
As this was the final board meeting with the current board, some members took this opportunity to express their appreciation for the Webster Parish School Board. Superintendent Rowland began by saying, "On a personal note, I just wanted to say to this board that you will always be extremely special to me. For the most part, with just a few minor changes here and there, this has been the group that I've been with since I became superintendent. I just want to say from the bottom of my heart how much I appreciate you, your patience, the way that you have worked with me and allowed me to grow in this position. I appreciate the support, not only personally, but the support you have shown the students and the employees of this school system. I know for a fact that it is not like this in a lot of places. You have situations where the superintendent and the board are at each other. Statewide, do you know what the average tenure is for a superintendent? Less than two years. We are so blessed here in Webster Parish to have people who not only care, but people who are willing to listen — and, when you disagree or when you don't understand something, you take the time to figure it out. And even when we do disagree, we go on. And, that's the way it should be. So, from the bottom of my heart, y'all will always be a special group to me."
Board President Fred Evans replied, "Thank you, and I think you've done an outstanding job as well. We have disagreed from time to time, but we've remained friends. And, that's what it's about — just because I disagree with you doesn't mean I don't like you. And, I think that that is one of the reasons that this board is so cohesive. We go by the decision of the board and support it. I thank you so much and I just want you to know that I appreciate the four years I have had with you. I've been with a lot of boards over the years. I've attended an awesome number of board meetings and I will say that this board is the most cohesive board. They can stand up and look in the mirror and respect themselves for their conduct in all the time that I've been here. And, I really appreciate that. Now I'm just going to say this: I love y'all, but don't be surprised if you see me out there talking. Because if I see something I disagree with, I may have to come forward. But, y'all are a wonderful group of folks — great board members — and, I think Johnny is going to enjoy the next four years as well."
Board member Malachi Ridgel wanted to welcome the new board member for his district, Debbie Thomas, saying, "Debbie is a progressive. She's dedicated and I tell you, she will serve this board well." Board member Jerry Lott said, "I think we want to recognize Mr. Evans, our outgoing president, and the school board members. Thank you for your leadership, Mr. Evans. Your expertise in our financial dealings has been very, very helpful. Mr. Ridgel, we owe you a great deal of credit for representing your district well, your faithfulness to be at meetings — always with a kind remark and something worthwhile to talk about. Ms. Penny, we're going to miss you. You have served us well, and I appreciate the time that we've worked together. Ms. O'Neal, the same goes for you. Thank you so much for your dedication and your commitment to not only your district but the whole parish, and we're going to miss you. God bless each one of you. Ms. Mitchell, thank you for your service to the board and this willingness to put in an extra four months speaks very highly of your willingness to see our system continue to grow and do well. Thank you very much."
Board member J.J. O'Neal addressed the board, saying, "I just want to say thank y'all. You have helped me grow in my past eight years in this position. It was something new to me. I appreciate each and every one of you. I feel like I'm walking away much better from knowing each one of you." Board member Penny Long was visibly emotional at this leave-taking, saying, "Sixteen years. When I look back at all the things we've been through together — some really rough times and some really wonderful times — and, I wouldn't trade it for anything. When I came on the board, I was timid. Your first four years you don't know anything — you're learning. My second four years was a trial by fire. I came out of it knowing that you can disagree with someone without being disagreeable. I just appreciate the fact that we all came out the other side of it and got through some of the hardest times that I think this system has ever been through. I just appreciate all you guys. I appreciate getting to know each one of you, and I'm going to miss you."
In January, Malachi Ridgel will be replaced by Debbie Thomas in District 2; J.J. O'Neal will be replaced by Jonathan Guthrie in District 4; and Fred Evans will be replaced by Jana Watson in District 6. As stated above, Frankie Mitchell's position does not yet have a replacement.
The next school board meeting will be held on January, 9, 2023, at 6 p.m. The public is welcome to attend.