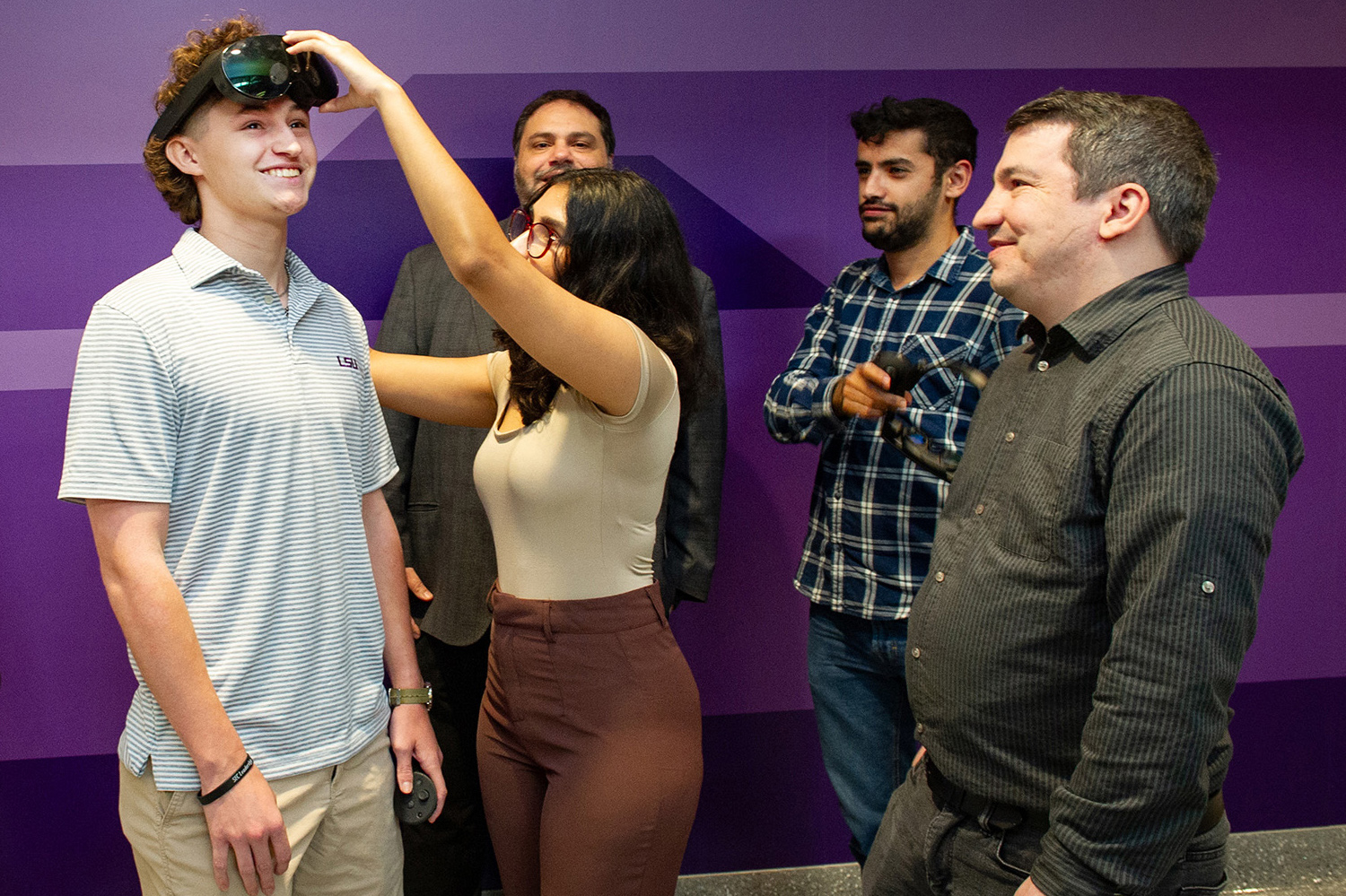 BATON ROUGE – LSU psychology major Michael Cole Fontenot from Ville Platte, Louisiana, is helping to protect the lives of American soldiers as part of a $600,000 cybersecurity research project for DARPA.
The city of Ville Platte, Louisiana—just north of Lafayette—is better known for tasty boudin and Cajun music culture than psychological research, but Ville Platte native Michael Cole Fontenot aims to change that.
Currently a sophomore and psychology major at LSU, Fontenot is carving out a niche for himself, researching the psychological aspects of military cybersecurity.
"Typically, cybersecurity is about hardware and software and making it harder to hack. But I'm not a tech guy," Fontenot said. "Cyber psychology is a recently developing field, and a prominent part of it is cyber forensics; it's studying hacker behavior and trying to track hackers that way."
Real-world military operations increasingly involve virtual and augmented reality technology, or VR and AR, both for training and use on the battlefield. Though valuable, these technologies can leave military personnel vulnerable to hackers bent on putting something false in front of their eyes to control their actions.
Fontenot's and LSU's research project, funded by a grant from the Defense Advanced Research Projects Agency, or DARPA, explores the behavior and physical safety of people who use virtual or augmented reality devices or applications where false, deceptive or overwhelming amounts of information could be maliciously introduced through a cybersecurity breach. The research aligns with the defense priority of LSU's Scholarship First Agenda and impacts national security as the U.S. Department of Defense explores the use of these emerging technologies.
Fontenot explained what could happen if the VR or AR technology, and therefore its user, becomes vulnerable to a cyberattack.
"They could use artificial intelligence to replicate your commander's voice to tell you to go somewhere, put you in a vulnerable position and then shoot you," Fontenot said.
While VR presents a wholly synthetic environment such as an immersive video game, AR layers virtual elements or visualizations on top of a person's actual surroundings through a lens or headset. This technology could make it possible to fly a drone or plane with more data available at a quick glance, or cross a terrain while seeing a map that displays live updates on people and infrastructure nearby.
This summer, LSU researchers Ibrahim "Abe" Baggili and Andrew Webb, both faculty in the division of computer science and engineering in the LSU College of Engineering, received $600K from DARPA to study safety aspects of virtual and augmented reality applications for U.S. military missions and training. Their project, "Mixed Reality Visual Deception for Mission Deviation & Distraction," bridges cybersecurity with psychology and human behavior to understand the potential effects on people of compromised software and hardware. They brought Fontenot on board to study the psychological side of this conundrum.
"And that's why I've been creating mind maps, and definitions of these perception manipulation attacks," Fontenot said. "I focus on the psychological aspects of hacker attacks on mixed reality systems."
"Traditionally, most of this research happens on the computer side," Fontenot continued. "But on the psych side, I'll be figuring out how soldiers can deal with information overload, and when it would be psychologically valuable for someone in the field to remove their VR goggles."
Baggili has previously researched how users of virtual reality devices can be forced to move in real, physical space without their knowledge or consent—something he calls a "human joystick attack."
"One of the primary areas we'll be looking at is information overload," Baggili said in a previous article for LSU. "Can we deviate the players? Can we slow them down? This might not be such a big deal when they're just playing a game, but what if they're soldiers deployed in the field, trying to understand and react to a rapid influx of information?"
Fontenot thinks his psych work will be especially helpful in solving problems caused by emerging AI technologies.
"AI is sort of terrifying but it's also utterly inevitable to me," Fontenot said. "It's a very scary and powerful technology, and I will be testing these types of AI attacks."
So, how did someone from Evangeline Parish in Cajun country find an interest in this specialized, ultra-modern field?
"For a very long time I've had an interest in the YouTube algorithm and people's internet behavior, primarily mob mentality," Fontenot said. "Once I moved from Ville Platte to LSU in Baton Rouge, I was exploring the different types of psychology—clinical, industrial—and I happened upon cyber psychology. I looked up cyber psychology and found Professor Abe, set up a meeting, had a great interview and he said he had a cyber psychology project he was working on and needed psych people for."
"Professor Abe said he realized in doing research that people can be the most interesting aspect of cybersecurity," Fontenot added.
While Fontenot works to secure emerging VR and AR technologies to protect the lives of American soldiers, LSU is also using these technologies to support NASA missions on earth and in space by developing a "digital twin" of NASA's Michoud Assembly Facility in New Orleans, where NASA builds rockets and space launch systems with support from LSU's National Center for Advanced Manufacturing. A "digital twin" is a real-time virtual environment that enables data-driven modeling for improved planning and more efficient operations. There are several students and faculty in the LSU College of Art + Design working on the project and one of LSU's and NASA's collaborators is Sev1Tech, a missions-focused services company.
"We're working with LSU on this project where augmented reality, or AR, plays a major role," said Robert "Bobby" Savoie, chief science and engineering officer at Sev1Tech. "Not only for envisioning the placement of equipment and tooling before any physical hardware gets moved, but for training personnel using AR and providing AR-based work instructions."
The work supports NASA's Artemis mission to return Americans to the Moon and ultimately to Mars.
"Similarly, AR is used to support the supply chain for many of the complex weapon systems used by our warfighters," Savoie continued. "Hence, cybersecurity plays a key role throughout the supply chain, making LSU's work on the DARPA project to advance cybersecurity for AR all the more critical. The impact of a cyber breach could be devastating."