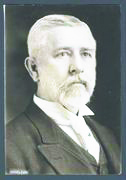 Editor's Note: Today's Echo of Our Past Will be Continued in Tomorrow's Edition of the Minden Press-Herald.
Several previous Echoes of Our Past have dealt with or referred to John N. Sandlin of Minden, who served as Congressman from Louisiana's Fourth District from 1921 until 1937. Sandlin's career was the topic of my Master's Thesis, and in writing about him, I have perhaps neglected the distinguished career of the man he replaced in office, fellow Mindenite, John Thomas Watkins. Today's column will deal with the long career in public service of John T. Watkins, native son of Minden.
The Watkins family, whose name has now disappeared from the Minden scene, was prominent in legal and political circles for many years of our history. The first member of the family to come to Minden was John Dyer Watkins, who arrived in Minden in 1850, fresh from his graduation at Cumberland College in Lebanon, Tennessee, to become headmaster at the Minden Male Academy. While teaching at the school he read law at night, and was admitted to the bar in 1854. That same year he became District Attorney. He later served as a District Judge and a State Senator. Perhaps his greatest local fame came as the man who financed the construction of the famous Shed Road between Minden and Bossier. His brother, Lynn B. Watkins, followed John D. to Louisiana and began his career as law partner with his brother here in Minden. Lynn B. Watkins later became a justice of the Louisiana State Supreme Court.
John Dyer Watkins married Mary Morrow, daughter of John Thomas Morrow of Minden and they had two sons. The younger son, Lynn Kyle Watkins, would become a prominent attorney, and eventually become a Justice of the State Court of Appeals. The oldest son, John Thomas Watkins, is the subject of my column today. John T. Watkins was born in Minden on January 15, 1854. His early education was obtained at the Minden Male Academy. After graduating from the Academy he went on to Cumberland University, his father's alma mater, along with his brother, Lynn. However, both boys were forced to drop out during John's senior year when Lynn suffered a life-threatening illness. John was on pace to be the valedictorian of his class at Cumberland, and was already scheduled to deliver the valedictory address for the class. The brothers returned to Louisiana, and while Lynn regained his health. John immediately began reading law under the tutelage of his father. In 1878, he passed the bar exam and became partner in his father's law practice.
On his 25th birthday, January 15, 1879, John T. Watkins married Miss Elizabeth "Lizzie" Murrell, daughter of Drury Murrell, prominent Minden businessman. Although John Dyer Watkins was an active Methodist, his wife, Mary Morrow Watkins was a staunch Baptist and John T. Watkins had followed in his mother's footsteps, so the marriage was performed by the Baptist minister. The family of John T. Watkins would be Baptist and he would become one of the leaders in both the local Minden Baptist Church and the statewide Baptist denomination. An interesting coincidence was that as children, John T. Watkins and Lizzie Murrell had both been baptized as members of the Minden Baptist Church on the same day.
During the years from 1878 through 1892, John T. Watkins built a reputation as an outstanding lawyer, a Christian leader and a solid family man. Although he sought no public office during those years, the opportunities to try cases in other areas and his religious work in communities throughout North Louisiana marked him as a likely candidate for future political office. In 1892, he was successful in winning election as District Judge. He would be returned to this post for two additional terms, without opposition, earning a reputation for being firm but impartial in his meting out of justice. In 1902, Shreveport residents attempted to draft Watkins to run for Congress in the 4th Congressional District against the incumbent, Phanor Breazeale, of Natchitoches. Watkins declined to make the race at that time, citing personal commitments, both to his family and his church that made such a race impractical in 1902.
One of those commitments probably set the stage for future political success for John Watkins. In 1902, the Minden Baptist Church served as host for the Louisiana Baptist Convention. As the leading layman of the Minden congregation, Watkins was chosen to give the keynote address to the convention. After his address, he was elected as President of the Louisiana Baptist Convention for 1902-03. This was perhaps one of the biggest boosts he could receive in terms of a future Congressional race, considering the power of the Baptist church in Northwest Louisiana. After serving his term as President, Watkins accepted the draft to challenge Breazeale in 1904 and won a rather easy victory with nearly 58% of the vote. So in March 1905, when the 59th Congress took its place in Washington, he was now Congressman John T. Watkins of the 4th District of Louisiana.
During his first few terms in Congress, from 1905-1913, the Republicans controlled the White House and in those days of smaller government, Watkins was mainly occupied with answering constituents' needs and keeping in touch with the folks back home. He did an excellent job and faced no serious opposition for reelection in those years. His first political problems arose with the Democratic National Convention at Baltimore in 1912.
To Be Continued…
Webster Parish Historian John Agan's column appears Tuesdays in the Minden Press-Herald.