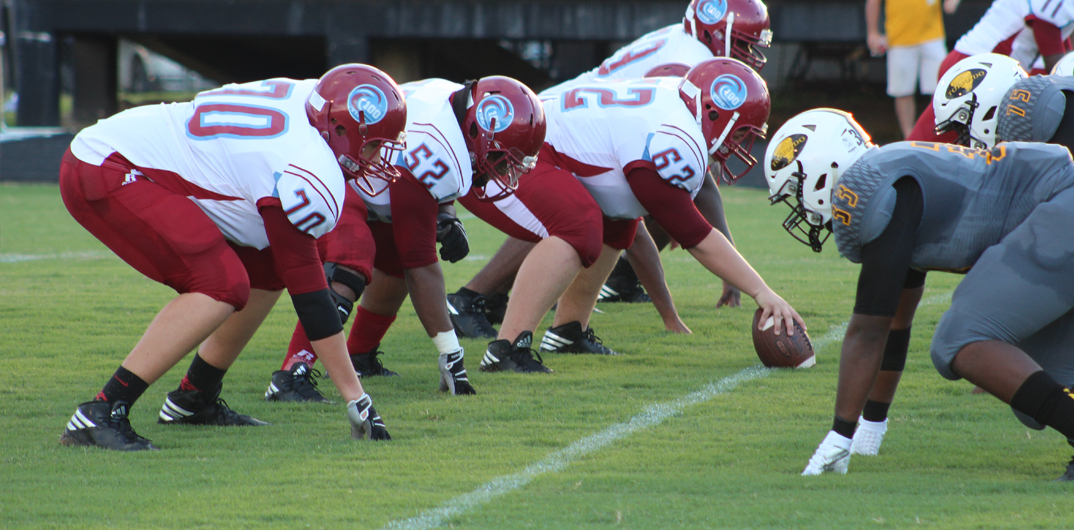 Minden vs. Haynesville
The Minden Crimson Tide started off sluggish offensively, but their dominant defense held Haynesville long enough for Antonio Rivette to find Tavarius Edwards and Kelcey Miller with touchdown strikes, as Minden edged the Golden Tornado 14-8.
The Tide and Tornado traded punches in a physical jamboree matchup that felt like a title fight.
"Haynesville is always going to give you a test," Minden head coach Spencer Heard said.
"Especially inside the box, they were huge. I thought our defense played lights out all night. We struggled on offense to get in a groove, but we calmed down in the second half and played better. We learned a little bit on special teams too; we have got to catch the ball on kickoffs."
The Tide let a kickoff to begin the second half of the scrimmage land and bounce twice on the turf at Baucum-Ferrar Stadium, as it seemed like no Minden return team members had any interest in fielding the squib kick. That setup Haynesville's only scoring drive.
Minden even left a score on the board when midway through the first half, Rivette threw well behind Tavarius Edwards and Kelcey Miller, who both appeared to be wide-open in the endzone.
"We need to eliminate some of that stuff" Heard said. "I definitely think we should have scored at least one more time. We have to score those in the redzone."
The Minden defense stifled Haynesville's storied rushing attack, forcing the Tors into passing situations. The Tide forced three turnovers on the night. The first was a Golden Tornado fumble near midfield to stop a somewhat-promising drive. Then, Rodney Johnson stepped in front of a ball near the goal line to end a Haynesville drive in the redzone.
"The play before he just kind of watched one instead of high-pointing the ball," Heard said. "But he responded on the next play by making the pick. That's what you want to see, and I thought all our newcomers on defense played well. Austin Wall had a good game in really his first time to play a lot. He caused some problems for them."
Next up for Minden is week one of the regular season, a home debut against Southwood.
"It's going to be an exciting atmosphere," Heard said. "People should be really excited, it should be a good turnout. Watching film, Southwood is pretty solid, definitely better than last year. It'll be a challenge."
North Webster vs. Lakeside
In the second game of the night, North Webster showed off some of their new playmakers in a 34-6 win over the Lakeside Warriors.
The Knights entered the game with a lot of questions and came away with some answers, but head coach John Ware said his team still isn't where they need to be, especially with Haynesville looming large next week to start the season.
"We got after it." Ware said. "We were making some plays, but with that said we still got a long way to go. There were some youthful mistakes, but overall, not too bad."
The Knights defense, which returns key players throughout the front seven, was dominant against the Warriors, but with Lakeside sporting a new-and-improved passing attack, this was the first time for Ware to see how his secondary would hold up under the lights.
"I thought they played pretty good," Ware said. "We played a lot of different kids last night, then we had a couple go down and had some new guys step in and look pretty good. We're getting better every week, but still have a lot to learn."
In the front end, Ware saw what he expected.
"That's going to be the strength of our football team," Ware said. "There's no question about that. They didn't get a lot of sacks, but they got a lot of pressure. When you're forcing the other team to get rid of the ball before they want to that's big."
For the first time in four years Devin White didn't trot out onto field when North Webster took the field for offense, but what did happen was the Knights' ate up chunks of yardage with their new runners. Starting running back TJ Hawthorne sat out the jamboree with a facial injury, but the machine kept churning as the Knights scored on their first two possessions.
"I thought it was a pretty good job," Ware said. "We had a few mistakes on the line and in the backfield. The two or three new guys we rotate back there looked good. We're not even halfway into our offense right now because we've had to slow down a bit for these kids, but they're coming along."
On the other sideline, it was the first time on the field with his new team for Jason Martin, a former assistant under Ware at North Webster. The Warriors came out of the gate looking good, but mental mistakes proved costly on more than one occasion.
"I was proud of the way we played, we played hard," Martin said. "I'm proud of the way we handled ourselves as a team. It was a lot of those guys' first time playing in front of a big crowd under the lights. We have a lot of mental mistakes we need to correct, but I was proud of our effort and proud of our fight."
Martin also came away impressed with the Warrior's stamina.
"I was proud of our conditioning level, too," Martin said. "I don't think we ever got too tired, so I was pleased with that."
Like the Tide, the Warriors botched a kickoff that cost them a possession. While on defense, North Webster was getting their speed to the edge, something the Warriors weren't able to counter.
"I'm encouraged with what we did," Martin said. "Right after the game, you're always going to be down when you get beat, but after you watch the film and get a chance to see all the positive things we did and realize the mistakes we made are all things we can fix, it gives you a pretty good feeling. Also, North Webster is a very good football team. There are a lot of things we can take away from playing a team like that."
Next up for the Warriors is a week one matchup with the Ringgold Redskins at home to begin the season.
The Knights will be at home to open the season also. Both games are set to kick off at 7 p.m.