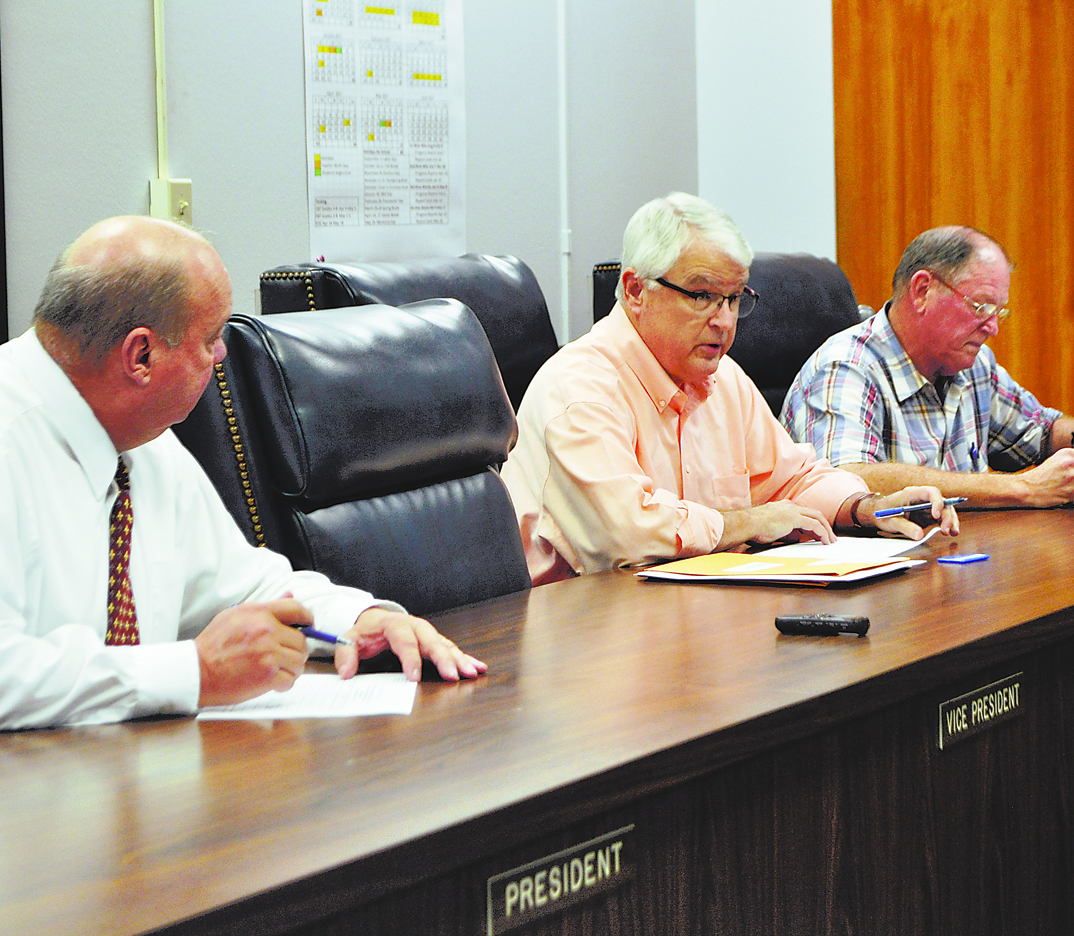 The Webster Parish School Board opened bids for the contract for construction and renovation at J.A. Phillips Middle School and Webster Junior High School.
At the bid opening Thursday, five sealed bids were turned in and Architect Perry Watson, with Yeager, Watson and Associates, recommended the lowest bid go to Boggs & Poole Contracting Group, Inc., of Bossier City. They turned in the lowest bid at $5,757,000 with an addendum or alternate of $46,000. Watson explained the alternate bid will add an aluminum unloading cover and a concrete walk expansion to the east side of the WJHS campus. The $46,000 will cover the cost of this addition, he said.
Other bids offered included Don M. Barron Contractors, Inc., of Farmerville with a bid of $5,938,000 with alternate #1 at $34,500; ELA Group, Inc., of Shreveport with a bid of $5,778,700 with alternate #1 at $45,000; Brown Builders of Shreveport with a bid of $5,898,000 with alternate #1 at $39,800; and Walker Construction Co., Inc., of Ruston with a bid of $5,788,000, with alternate #1 at $34,000.
Each company bid on a timeframe of 400 days to complete the project. Superintendent of Schools Dr. Dan Rawls says the original bid was for 300 days, but most companies that submitted bids told Watson they could not complete the project so quickly. To alleviate that issue, contractors submitted bids based on a 400-day timeframe.
"We were under the impression that 300 days would be enough, but all the vendors we sent them to, from what I was told, they balked at that and said there was no way they could do it in 300 days," he said. "To preempt having to bid it again, the vendors were told to bid it for 400 days. The original bid was for 300 days, and all but one backed out and said 300 days was not enough time."
An additional wing will be constructed at each school at the same time, with modifications made to the existing campuses. A kindergarten wing will be added to Phillips and the existing campus will be renovated in order to be age appropriate. At WJHS, a sixth grade wing will be constructed with some modifications to the gymnasium to accommodate the additional students. The cafeteria will also receive an overhaul for the same reason.
The project resulted from an outcry of teachers and parents of kindergarten and first grade students at J.E. Harper Elementary School. Infrastructure issues as well as noise levels stemming from an open air classroom setting led to the decision to add on to the other two schools.
The kindergarten and first grade students will be moved to Phillips and the sixth grade will move to WJHS.
No decision has been made on what to do with the Harper campus, except that it must be used for educational purposes.
The total cost of the project is estimated to be $5.9 to $6 million that will be paid for through a bond issue.
With the addition of the 100 days to the project, the completion date has been moved from July 2017 to somewhere around Christmas of the same year, Rawls said.
The bid is expected to be awarded at a special meeting Monday at 6 p.m. at Central Office. Board members will also receive for review the Webster Parish Pupil Progression Plan for consideration at the Sept. 12 monthly board meeting.