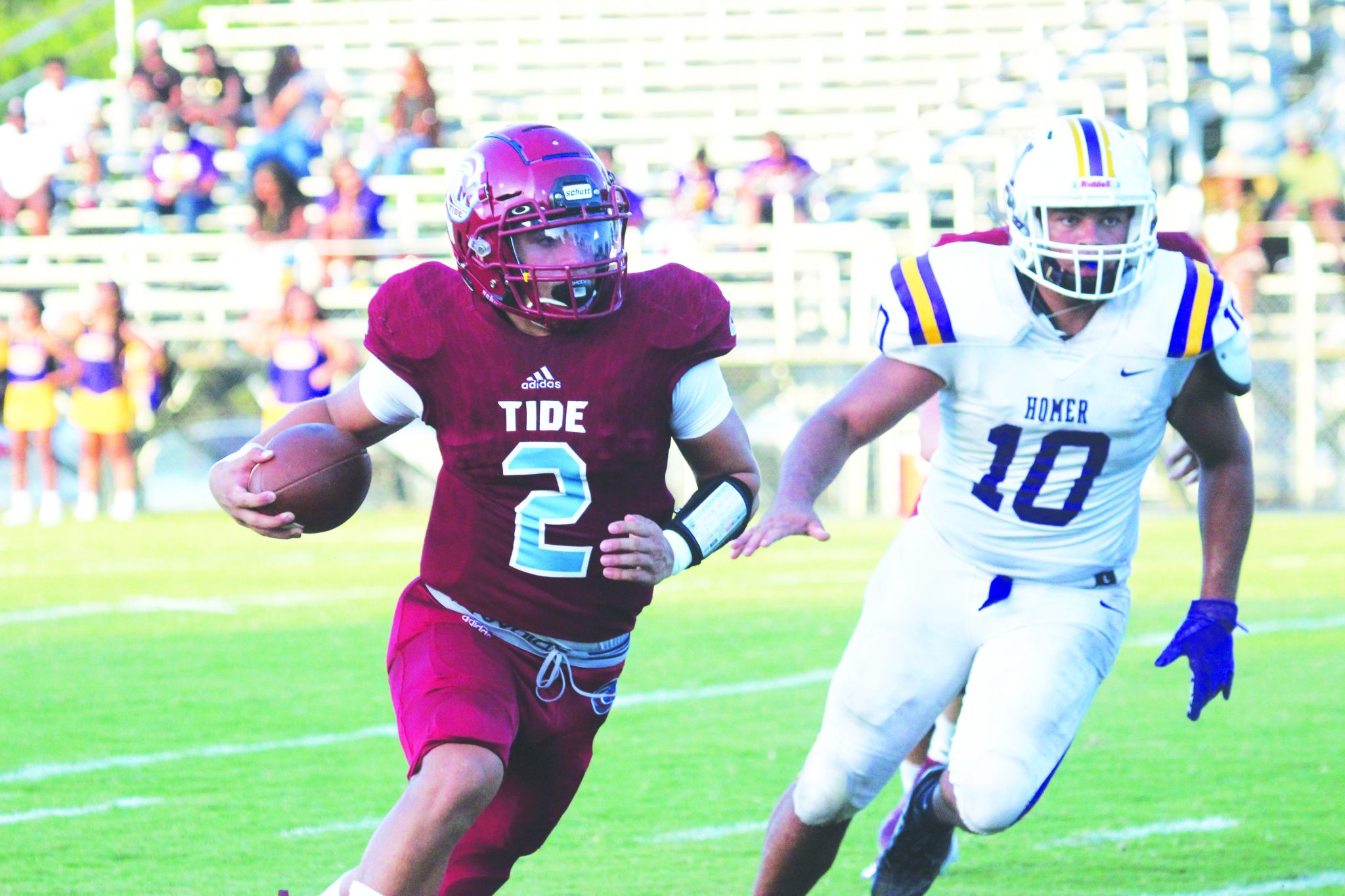 HAYNESVILLE — Minden ended up the big winner on the night at the Pineland Jamboree, winning both of its contests at Red Franklin Stadium after downing Homer 7-6 before topping Haynesville 6-0.
Junior running back Daylen Robinson had a big night for the Crimson Tide, ripping off multiple long runs during the two games.
"Daylen played well and ran the ball really hard," said Minden head coach Spencer Heard. "The offensive line did a good job of opening up some holes for him."
Heard was also pleased with senior quarterback Andrew Cooper and the experience and maturity he seemed to gain during the jamboree.
"He did a good job with decision-making, and that was good to see," Heard said. "He made some good throws and some runs. He made some good decisions on some 'no throws,' especially in that second game. He didn't throw and got to the next play. That's an important thing for a young quarterback to learn how to do."
Now Heard hopes the Tide takes what the team learned during the jamborees and takes advantage of it as Minden opens the season on Friday by playing host to Parkway.
"I had a good feeling coming out of (the jamboree), I thought we moved the ball well against both teams," Heard said. "We played good aggressive defense and got after the ball well. There's always things you could have done, but overall I had a really good feeling about it."
"We feel good heading into the Parkway game. One good thing is we came out of the jamboree without any injuries."
LAKESIDE
Lakeside struggled in its opener, falling 19-0 to North Webster before turning things up in a hardfought scoreless contest against Haynesville to close out the night.
"We made a lot of mistakes in the first game and just looked like we weren't into it — we weren't ready to play." said Lakeside head coach Mike Santelices. "So it was really good to see the way the team bounced back in the second game. That's a game we should have won. We had several chances to score against Haynesville, which is a perennial powerhouse in Louisiana High School football."
Defensive lineman CJ Watts had a chance to scoop and score on an attempted fumble recovery against the Golden Tornado but failed to secure the ball in the end zone.
Later, running back Ashton Stewart ran over several attempted tacklers and bulled his way to paydirt only to see the touchdown waved off on an illegal block in the back penalty.
That play sparked a near brawl in the end zone as referees, players and coaches from both teams rushed in and were joined by law enforcement personnel on the sidelines to break up the fracus.
"That was actually a touchdown on that play," Santelices said. "The illegal block in the back was unfortunate and not the way we play Warriors football. That was something we didn't want to see and I talked to the team about it for a long time after the game."
Santelices also singled out a big night for Warriors' defensive lineman Kris Redden.
"He had a whale of a game defensively against Haynesville," Santelices said. "He caused that fumble we almost scored on and disrupted Haynesville a lot."
NORTH WEBSTER
The Knights fell in their opener by the score of 6-0 to Homer, but battled back to defeat Lakeside 19-0 in their secord game.
"I thought we did OK — I wasn't displeased with anything," said North Webster coach John Ware said. "We didn't have the ball but for six or seven plays in the first game. But we drove the ball down inside the 20 but stalled out after a couple of penalties. There were a few blown assignments, but that's normal for jamboree."
"We don't game plan for a jamboree, we keep things vanilla. So sometimes you see something you weren't prepared for and it catches you off guard. We just run our base stuff at jamborees, no kind of scheme stuff at all. We just look at who we've got."
Cooper Sanders' 67-yard touchdown run for North Webster against Lakeside was one of highlights of the night in a strong contest for the Knights.
Jacobreious Walker added a 51-yard scoring scamper against the Warriors while North Webster's third touchdown against Lake came on a pass to the flat that went the distance thanks to a strong after-the-catch from JaMarcus Stephens.
"We settled down and made some plays in the second game, so we feel good heading into the opener next week," Ware said. "I thought we did OK. Our offensive line is pretty good. We just need to stay healthy."