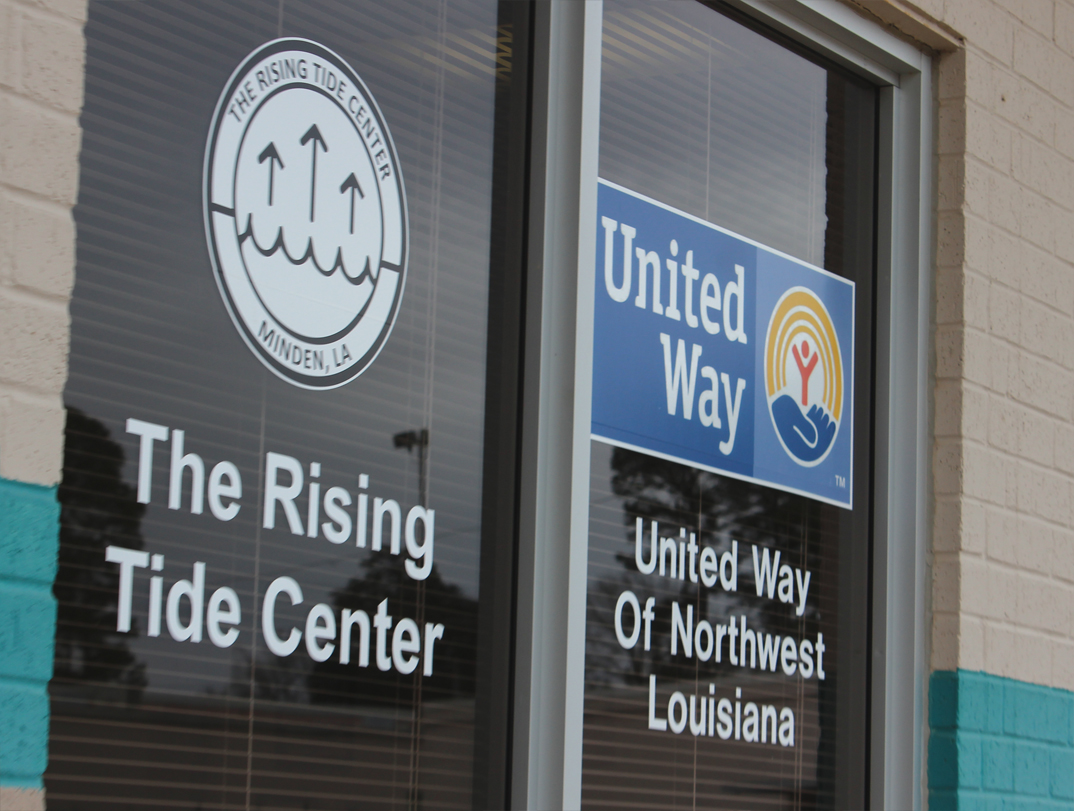 United Way's The Rising Tide Center is giving local nonprofits and organizations a place to offer various services and network with other agencies.
Located at 202 Miller St. (the old Minden Medical Center Business Office), The Rising Tide Center is a building where nonprofits and other agencies can offer their services to the public. Dr. Bruce Willson Jr., president and CEO, says the idea is to meet the needs of Webster, Bienville and Claiborne parishes.
"We've been looking for a place in Minden to base our operations out of," Willson said. "The idea was that when we would raise money, we want the money raised in any given geographic area to be of great help to that geographic area."
He says United Way covers a 10-parish area, with 90 percent of the funds raised in Caddo Parish. Branching out allows them to raise money and keep it in the parish in which it was raised.
United Way covers four areas – health, income, education and basic needs. So far, since United Way opened its doors in Minden, The Rising Tide Center has offered its building to the MLK Health Center, which has been helping residents sign up for the Healthcare Exchange under the Affordable Care Act and Goodwill, which has been offering job placement and unemployment services to those in need.
On Fridays, the Northwest Louisiana Food Bank has been signing up people for SNAP (Supplemental Nutrition Assistance Program) benefits. The NWLA Food Bank also partners with St. Rest, Joe LeBlanc Food Pantry and Feed My Sheep of Emmanuel Baptist Church, pantries to help feed the hungry.
"When we raise money, we might invest it in (education), but it also goes to (health, income and basic needs), and that makes us different from other nonprofits," Willson said. "Just hunger is not the only issues they face. What United Way does is we go in and work with people in the area and try to create a cohesive strategy."
The nonprofits and organizations the United Way gives to are scrutinized closely to make sure their money is going where it is designated.
Jeri Bloxom, director of operations for Webster, Bienville and Claiborne parishes, says they are encouraging local agencies to work together.
For example, the three food pantries in Minden all receive food from the Food Bank at a steeply reduced cost to help feed roughly 500 families per month in this area.
They also just signed on with Veterans Rural Outreach Health Services, which offers vets and families of veterans' assistance whether it is mental health, physical health or employment assistance.
Several other organizations have also signed up to offer its services from The Rising Tide Center as well, and Bloxom said it is important for organizations to know the center is there if they need it.
"We've got room for more," she said. "These are some of the services we were able to help locally who might not have an office in this area."
The Webster Bienville Claiborne Advisory Council includes: Ty Pendergrass, Kelly Paul, Tammy Jump, Greg Lee, the Whitakers of Victory Praise and Worship Center and Mahayla Hutto. The council guides the three-parish area.
Some of the agencies in Webster Parish United Way helped last year include: Center for Families, the Food Bank, Gingerbread House, Girl Scouts – Pines to the Gulf, Goodwill, Junior Achievement, the MLK Health Center, Minority Supplier Institute, Northwest Louisiana Interfaith Pharmacy, Norwela Council – Boy Scouts, St. Luke's Mobile Medical Ministry, Inc., Volunteer Center of Northwest Louisiana and Volunteers of America.
For more information on how to get involved or to find out about the services United Way offers in the three-parish area, call Bloxom at 677-2504, ext. 140, or email her at jeri@unitedwaynwla.org.