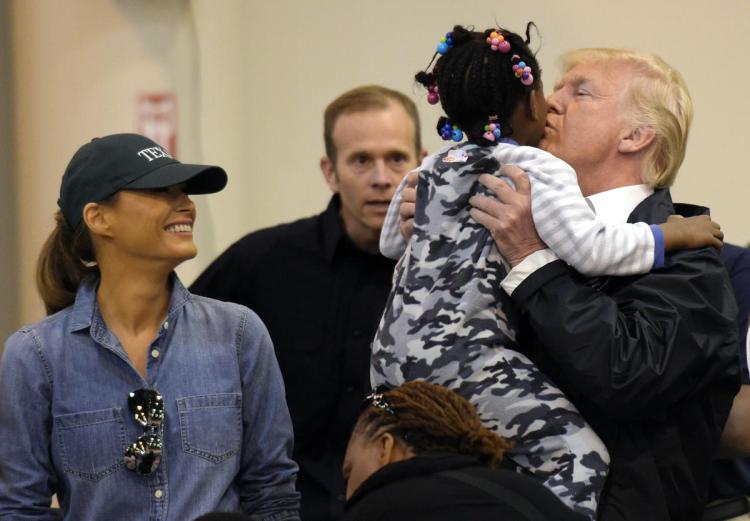 HOUSTON — President Donald Trump cupped a boy's face in his hands and then gave him a high-five. He snapped on latex gloves to hand out boxed lunches of hot dogs and potato chips. And he loaded relief supplies into vehicles, patted storm victims on the shoulder and declared the work "good exercise."
An upbeat and optimistic president visited with victims of Harvey on Saturday, touring a Houston mega-shelter housing hundreds of displaced people and briefly walking streets lined with soggy, discarded possessions. Trump met the scene with positivity, congratulating officials on an emergency response still in progress and telling reporters that he'd seen "a lot of love" and "a lot of happiness" in the devastation the storm left behind.
"As tough as this was, it's been a wonderful thing," Trump said of the Harvey response after spending time with displaced children inside NRG Center, an emergency refuge housing about 1,800 evacuees.
The trip, to Houston and Lake Charles, Louisiana, was Trump's second to survey Harvey's wake and a chance for a president to strike a more sympathetic tone. He'd rushed to Texas on Tuesday, heading to Corpus Christi and Austin to talk to first responders. "What a crowd, what a turnout," he'd said as he stood outside a firehouse.
He had minimal interaction with residents, saw no damage and offered few expressions of concern while on the ground, unusual omissions for a presidential visit to communities in crisis.
That made Saturday something of a do-over.
Joined by first lady Melania Trump, the president went directly to the NRG Center and was greeted warmly by volunteers and children. The Trumps brought coloring books and crayons and sat with families that had been displaced. Trump lifted one little girl into his arms and gave her a kiss. He signed his name on the cement wall by the children's artwork.
With a wide smile and quick banter, Trump served food in the lunch line — at one point joking about his hands being too big for the sanitary gloves — and then moved on to First Church in the Houston suburb of Pearland. The Trump greeted a group of volunteers and lavished praise on Texas Gov. Greg Abbott for his state's response.
"I want to congratulate the governor," he said. "I want to congratulate everybody that's worked so hard. It's been an incredible five days, six days. It seems like it's been much longer than that, but actually it's going so well that it's going fast, in a certain sense."
The Trumps then helped load small boxes and bottles of water into pickup trucks and minivans.
"I like doing this," Trump told one of the volunteer coordinators. "I like it."
As Trump visited, the Houston area was still burying its dead and trying to contain the mess. Nearby Beaumont, Texas, population 120,000, was struggling to restore its drinking water. Firefighters in Crosby, outside of Houston, were warily eyeing the Arkema chemical plant, twice the scene of explosions. Floodwaters had inundated at least seven highly contaminated toxic waste sites in the Houston area, raising concerns about creeping pollution.
Harvey is blamed for at least 43 deaths and believed to have damaged at least 156,000 dwellings in Harris County. The American Red Cross said more than 17,000 people have sought refuge in Texas shelters such as the one Trump visited.
The White House has asked Congress to approve a $7.9 billion Harvey relief down payment when lawmakers return to Washington on Tuesday.
During his brief stop in Lake Charles, Trump met with first responders and a group of volunteers known as the Cajun Navy, many of whom were in cowboy hats and waders. Democratic Gov. John Bel Edwards accompanied him. Trump supporters lined the route to and from the National Guard Armory, and before departing for Washington, the president posed for photos with law enforcement officers who'd led his motorcade.
In Texas, the Trumps were joined by an entourage that included four Cabinet officials, the administrator of the Federal Emergency Management Agency, Republican Texas Gov. Greg Abbott and Texas Sen. Ted Cruz. Before leaving for Louisiana he stopped by a street that had only recently again become passable.
"These are people that have done a fantastic job of getting things together," he said as people stood near ripped-out drywall and trash bags piled high at their curbs.
He spotted a man wearing a red "Trump is my president" T-shirt and pulled him in front of news cameras. "Look at this guy," he said. "You just became famous."