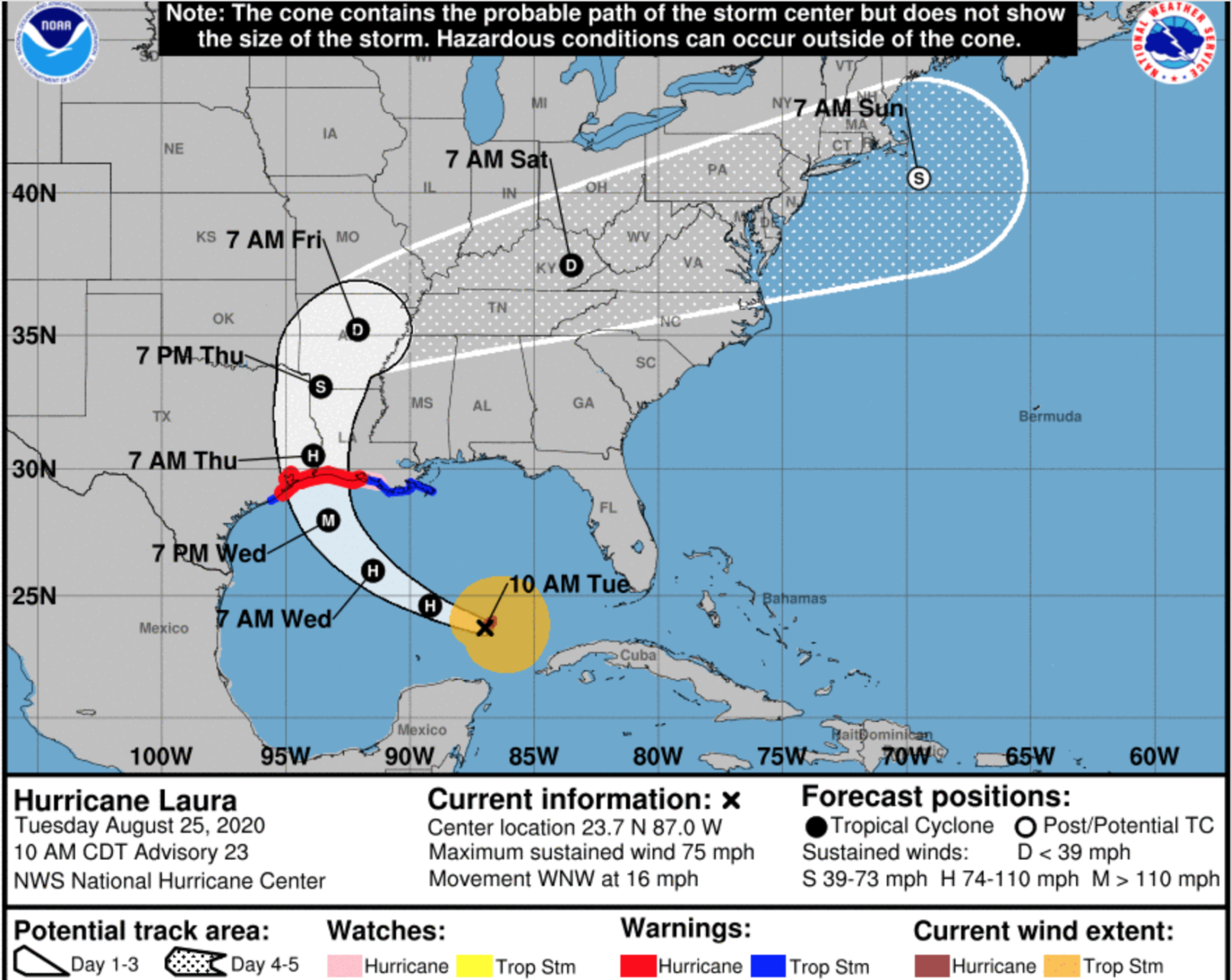 New projections show that Hurricane Laura is expected to intensify to a Category 3 Hurricane before it reaches Louisiana's coastline. Furthermore, the effects of the hurricane that will reach Webster Parish will have it seeing five inches or more of rain and high speed winds that could potentially cause power outages, according to Brian Williams, Director of the Webster Parish Office of Homeland Security and Emergency Preparedness.
"They're expecting Hurricane Laura to intensify to a Category 3 before it makes landfall at the Louisiana/Texas coastline. When the effects of that hurricane reach our area here, we should have winds ranging from 58 to 73 mph, that's what the tropical storm watch that was issued today to our area entails," said Williams.
"Our wind threat should last anywhere from 12-24 hours, within 24 hours all the wind should be gone, but we should have steady winds for twelve hours, and of those twelve hours, three of them will have the greatest threat to the area."
"Over the next 72 hours we could see upwards of five inches of rainfall. We should be able to take 5 inches of rainfall with our low bayou and low lake and tributaries without any issues unless you live in a low lying area."
For those living in low lying areas, sandbags available with Public Works in Minden and Springhill, as well as the Police Jury Barns in Sarepta and Sibley.
"With the wind threat that we're going to have, the big issue is going to be trees falling and power lines being down, so everyone needs to be prepared for power outages affecting their homes and businesses and those power outages may extend longer than normal due to the damage across the entire state, and the limited resources that are available to handle it locally," said Williams.
"The confidence in (Laura's) track is still with it staying where it's at, which puts the eye of the storm west of our area. Which puts us on the east side of the storm, where you have more damage. Williams recommended that citizens should prepare an emergency disaster kit to ensure that people have enough food, water, and other supplies in the case of power going out. More information on how to make a proper emergency kit can be found here.
For more updates on Hurricane from Webster Parish OSHEP, be sure to monitor the National Weather Service and the Webster Parish Police Jury's Facebook page.