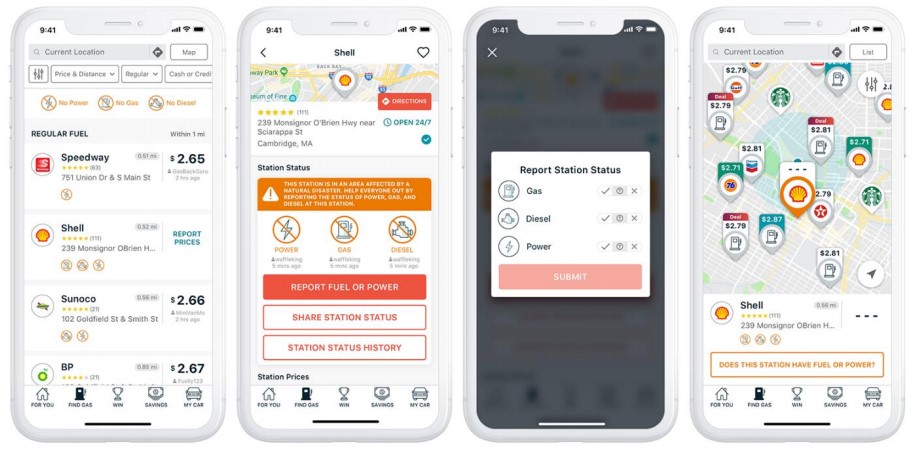 GasBuddy announced today that effective immediately, the fuel availability tracker is active for motorists in Louisiana and Texas as Hurricane Laura's projected path progresses towards the Gulf coast. The tracker helps motorists in affected areas find fuel should stations run out.
When hurricane features are activated for an area, GasBuddy's free app can differentiate stations that have no gasoline, no diesel or no power so that motorists can try other stations. The crowdsourced tracker can be updated by motorists and displays the status for locations that have been reported to GasBuddy. Motorists are encouraged to report the status of any station they see to help others find gasoline or avoid stations with no fuel or power.
If You Need Fuel: When a motorist is near a station that has no gas, diesel or power, the GasBuddy app will automatically display no gas or no diesel or no power icons next to the station on the list screen, and the station will be highlighted in orange on the map screen.
To Report A Station With No Gas, No Diesel, Or No Power (2 ways):
1. Quick Report Button (only enabled if stations in your vicinity are reported without fuel already).
A quick reporting button —which only appears if you are very close to a station —will prompt you for information. Click on this button to report the gas, diesel and power situation at that station.
2. Edit Station Detail Page 
At the bottom of the Station Detail page, you can "Suggest Station Edits" and report whether it has gas, diesel or power.
The free GasBuddy app is available for download in the iOS and Google Play stores. The fuel availability tracker is also available online at http://tracker.gasbuddy.com. GasBuddy petroleum analysts will continue to monitor and provide information on the situation via the GasBuddy Twitter account. Gas station owners in the impacted areas can contact pages@gasbuddy.com to manage their station's fuel availability status.