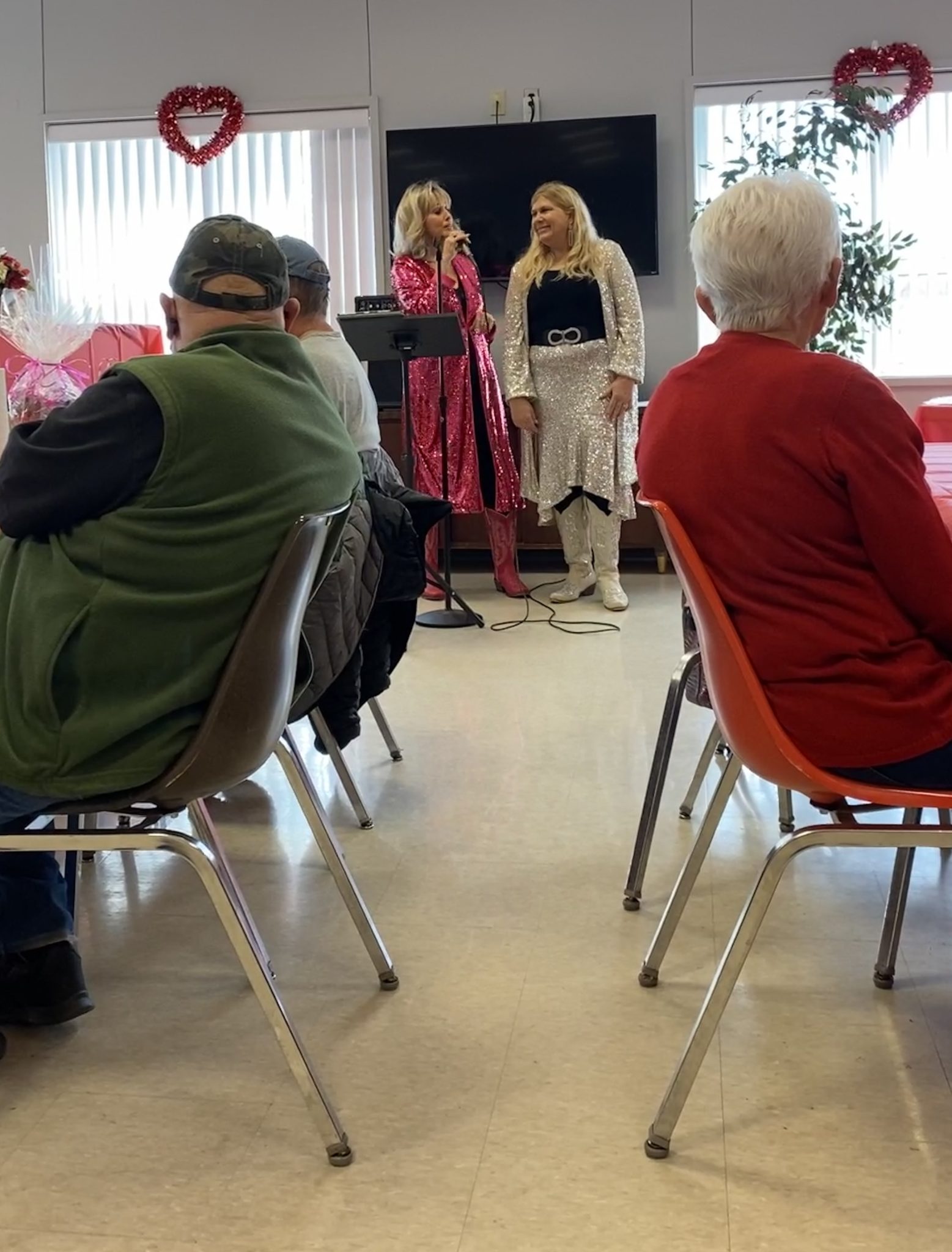 On Friday, the Webster Parish Council on Aging put on a Valentine's Day party which was thoroughly entertaining with performances by DeeAnne Meece and Julie Free, two members of a singing group called Noteworthy. Meece and Free are also members of Spectacular Follies, which is the largest and longest-running musical theater group for adults over 55 in the US.
Meece and Free performed songs such as Doris Day's "Que Sera Sera," Dolly Parton's "Jolene," and Frank Sinatra's "Young at Heart" while the seniors clapped, sang along, and danced.
Meece, the current Creator/Director for Spectacular Follies, talked a little bit about Follies:
"It's really cool. It started in 2010; I've only been involved since 2014 as the director. People from all over come and audition, and there's so much talent. It's unbelievable. The show we're doing in the spring is a 50s show. All of these people lived during that time, and so they're reliving their teenage years and having so much fun with it. The audience is mostly seniors too. A lot of times we'll have 5,000 or 6,000 people for all five shows. It's just so much fun. Everyone is always sad when it's over.
"It opens on April 27, and we do five shows — all matinees except for an evening show on Saturday," said Meece.
In the past, Spectacular Follies has been held at the Eisemann Center in Richardson, Texas, but this year it will be at Granville Performing Arts Center in Garland, Texas.
"It's a little better theater for us," Meece said. "It has a porte cochere, so it's not a problem getting seniors out if it's raining. The rake [slope] of the theater is better for wheelchairs. There are no steps. And it's a beautiful theater: a great stage, wonderful sound, wonderful lighting. We think it'll be a better fit for us."
Beyond this big annual show, Meece and Free also participate in smaller groups that have made it their missions to bring entertainment to seniors.
"Julie participated in the Miss Senior Texas Pageant, and from that they have a group called the Cameo Club," said Meece. "The Cameo singers come to a lot of senior centers and all the way to skilled nursing homes and entertain them. We also have a breakout group from the Follies called Taste of the Follies. It's about eight performers, and we go around to the different venues, so we're constantly serving — or hoping we're serving — seniors. It's kind of taken over our lives actually," Meece said with a laugh. "It's just so fulfilling."
DeeAnne Meece and Julie Free very much enjoyed their visit to Minden and plan to return to see more of the town and to, once again, bring the joy of live entertainment to the seniors who live here. To learn more about Spectacular Follies, check out their website spectacularfollies.com. For more information about upcoming events at the Webster Parish Council on Aging, see their website webstercoa.com or call 318-371-3056.