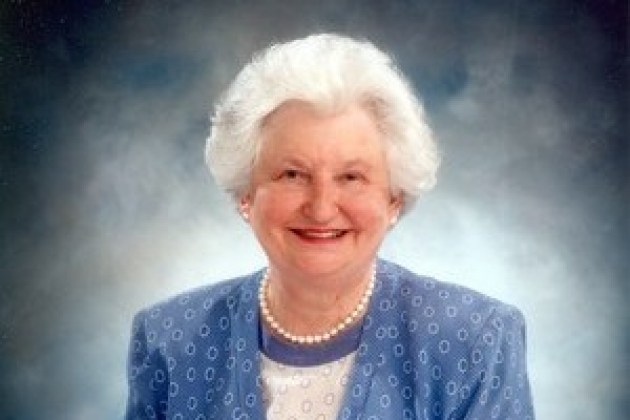 SHREVEPORT — Shreveport businesswoman and philanthropist Virginia Kilpatrick Shehee, who was also a former state senator, has died after a long illness.
Shehee died late Monday. She was 91 years old.
"The city of Shreveport has lost a servant leader with the death of Mrs. Shehee," Mayor Ollie Tyler said in a statement Tuesday. "She was a true friend and supporter who not only touched my life, but the lives of so many in this city and state. She had a strong vision of what Shreveport could become and she was not afraid to get knee-deep in the trenches to make this city a better place for everyone."
Shehee was the first woman elected to the Louisiana State Senate who did not succeed her husband. She served one term, from 1976 to 1980, representing parts of Caddo and DeSoto parishes.
Former U.S. Sen. Mary Landrieu said she's known Shehee for most of her life and she will be remembered and missed for years to come.
"Sen. Virginia Shehee was a force of nature," Landrieu said. "She was a passionate, smart and politically astute woman who did not accept the world as it was presented to her but shaped it in the way she thought it should be. For Shreveport and the state of Louisiana, this characteristic was a blessing.
"From Barksdale Air Force Base to the cyber innovation center, the biomedical district, the arts and education communities all benefited from her vision and generosity."
Many things came about for Shreveport through Shehee's assistance, former U.S. Sen. J. Bennett Johnston Jr. told The Times (http://bit.ly/1gmkyza).
"Everybody wanted to be with her," he said. "She was charismatic. She was warm. She had everything people looked for in a leader, but there was not a sharp edge in her personality."
Even twisting arms, Shehee was gentle, he said. "She was so convincing, so self-effacing. There was not a deceptive bone in her body."
Shehee's family owns Kilpatrick Life Insurance and Rose-Neath Funeral Homes, founded by her father in the 1930s. She was also a trustee at Centenary College, where the school's baseball stadium is named in honor of her late husband, Peyton Shehee.
Many people knew Shehee for her philanthropy. She was a major supporter of the Strand Theatre, the Shreveport Symphony and Shreveport-Bossier Community Renewal. Kilpatrick Life is a major contributor to Louisiana Public Broadcasting. She was a leader in establishing the Biomedical Research foundation, which was renamed in her honor in 1996.
U.S. Sen. David Vitter and his wife, Wendy, offered condolences to the Shehee family.
"She's always been a close friend to us. Whether it was business, public service, philanthropy or supporting her family, friends and community – Virginia was one of the best," he said.
Louisiana Senate President John Alario Jr. said he and his colleagues were saddened to hear of Shehee's death. "She left a lasting positive impact on the state of Louisiana not only through her service in the Louisiana Senate, but also through her decades of service to her community. She was dedicated to and driven by her desire to improve the lives of the citizens of Louisiana and she did just that."
Shehee is survived by three daughters, Ann Shane Shehee, Nell Elizabeth Shehee Kramer and Margaret Shehee Cole, and a son, Andrew Michael Shehee.
Funeral services are scheduled for 11 a.m. Friday at St. Paul's Episcopal Church in Shreveport. Visitation is scheduled for 4 p.m. to 8 p.m. on Thursday at Rose-Neath Funeral Home on Marshall Street in Shreveport.