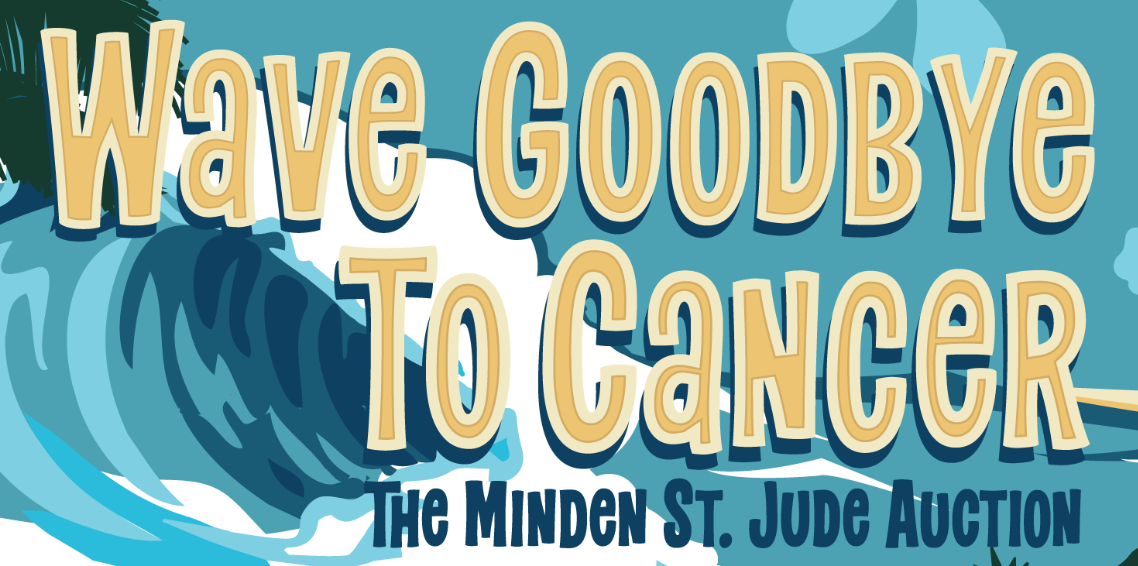 This year's Minden St. Jude Auction, "Wave Goodbye to Cancer," is now underway. The entirety of the auction will be broadcasted live with multiple ways to tune in: via KASO local radio, 1240 AM; on livestream via YouTube; and on Suddenlink cable channel 11.
To place bids in the live auction call 318-377-1100. To participate in the Minden St. Jude Auction's various raffles, visit mindenstjude.com/raffle-items/. The Partner in Hope raffle for this year's auction gives participants a chance to win three different drawings, those being a Big Screen TV Package donated by Energy Transfer Partners, a Disney World trip for 4, and a $5000 cash prize.
The Playhouse available for raffle this year is the 2023 St. Jude Surf Shack. "By the sea, where you want to be! Life's a beach in the 2023 St. Jude Surf Shack! Kick off your flip flops and enjoy a space full of tropical colors and relaxing amenities. The hammock chairs allow you to drift away while thinking of a day in the surf. Nothing could be cooler than your very own smoothie maker! Grab your favorite drink from the rolling ice chest and sip in the sun! Surfboards for shutters add a little hang-ten flair," read the Minden St. Jude Auction's post about the playhouse.
While there are plenty of ways to participate from home, it's worth taking the trip and experiencing the auction live and in person. On top of the auction itself, there are side events throughout the weekend like the Chili Cook-Off, Minden Run for St. Jude, and the St. Jude Kids Day to take part in.
Scheduled throughout the weekend are meals that can be purchased with the proceeds going toward St. Jude. On Thursday, February 9 at 5 PM Pork Chop Plates will be provided by Hugh Wood and Alex Collins for $12.
On Friday, February 10 at 6 AM a Pancake Breakfast will be provided by Minden Medical Center for $5 . At 11 AM Brisket Plates with beans, chips, and dessert will be provided by Schuyler Marvin and the D.A.'s Office for $12 . And at 5 PM Gumbo will be provided by Jesse Waller for $10.
On Saturday, February 11 at 11 AM Fajitas will be provided by Calvary Baptist Church for $10. At 5 PM Fried Fish Plates, available for drive thru pick-up OR inside pick-up, will be provided by Gary Brown and the Alley Cats for $12.
On Sunday, February 12 at 11 AM Hamburger Steak Plates will be provided by Jimmy Hall for $15. And at 5 PM Hamburgers will be provided by Pleasant Valley Methodist Church for $10.
Saturday will be a busy day at the Minden St. Jude Auction with the Minden Run for St. Jude, St. Jude Kids Day, and the Chili Cook-Off all taking place.
The Minden Run for St. Jude will take place early in the morning, with the Kid's Half Mile Fun Run being the first to start at 8 AM. The 10k and 5k begin shortly after at 8:20 AM and 8:30 AM respectively.
Later that morning starting at 10 AM and lasting until 2 PM, the St. Jude Kids Day will take place, hosted by the Young Women's Service Club. Face Painting, photo opportunities, bounce houses, gaming trailer, yard games, and craft concessions will be available for $10 per child with all of the proceeds going toward St. Jude.
The Chili Cook-Off participants will be setting up early and are free to attend but, for those wanting to sample the fifty plus contestants' recipes, tasting cups will be available for sale starting at 11 AM. Live music for the event will begin at 10:30 AM.
If any of these events have caught your interest, you can visit the Minden St. Jude Auction at the Minden Civic Center located at 520 Broadway Street. For more info about the auction, its events, and the raffles and bids taking place, visit mindenstjude.com.