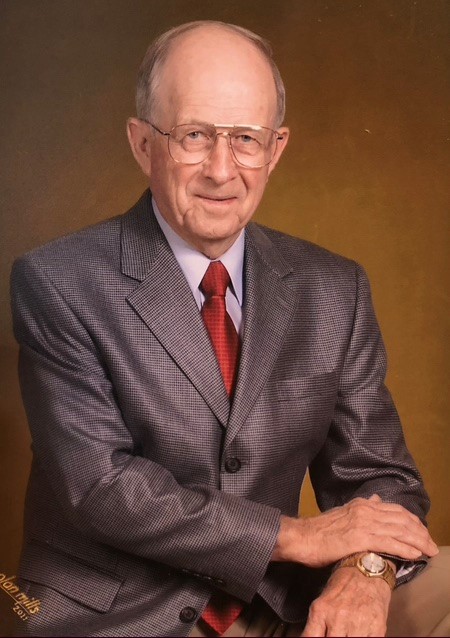 Blanchard Youngblood went home to be with Jesus late Wednesday night after a long battle with Parkinson's Disease. He was 90.
Blanchard was born in Hurricane, Louisiana in the summer of 1930. A barefoot country boy, he helped support his family by picking cotton and taking care of the farm. He moved to Minden in 1943, remaining there for the entirety of his life.
After serving 6 years in the National Guard, he served the community of Minden well. He was City Clerk and Treasurer for 17 years, while also serving as long-time Assistant Fire Chief. He was a deacon and Sunday School teacher at First Baptist Church for many years. Blanchard and his friend, T.C. Bloxom, ran YB Farms as a hobby and side business. Through that, they became mentors to a whole generation of young men, teaching them life lessons through hauling hay. Upon his retirement from the City, he became Vice-President of (then) Webster Bank until fully retiring in 1997. He spent his later years with his wife Nancy travelling to see their children and travelling to Florida, to Branson, and going on an occasional cruise.
Blanchard frequently spoke of having been on the mountaintop and in the valley many times in life, but always gave credit to God for carrying him through it all. He experienced a tornado at 3 years old that stole his family home. He met Jesus under a peach tree at 8 years old. He welcomed the birth of his three children. He miraculously survived the People's Bank fire in 1958. He loved well and lost two wives to cancer.
Blanchard greeted his family each morning in the kitchen with, "This is the day that the Lord has made; let us rejoice and be glad in it." It was his life's motto.
He was preceded in death by mother Cornelia Bryan Youngblood and father Willie Bert Youngblood; sisters Eugenia Alford and Marion Karchefski and brother Ted C. Youngblood; wives Mary Alice Jones Youngblood (1980) and Bonnie Fenton Youngblood (1998).
He is survived by his wife, Nancy Thomas Youngblood; three children, Melanie Youngblood (Richard) McCall, Wayne Youngblood, Jr, and Christy Youngblood (Rob) DeSisto; two step-children, Karen Walker and Steven (Jill) Toms; eleven grandchildren, Tyler (Amy) and Colin McCall, Rob Jr and Austin DeSisto, Nicole Williams and Connie Simon, Chase, and Cameron Walker, Tayten, Brody, and Roczen Toms; and many nieces, nephews, and great-grandchildren.
Visitation was held Saturday, January 9th, at Rose-Neath Funeral Home, Minden.  A memorial service was held at Rose-Neath at 2 pm, with interment at Gardens of Memory cemetery.