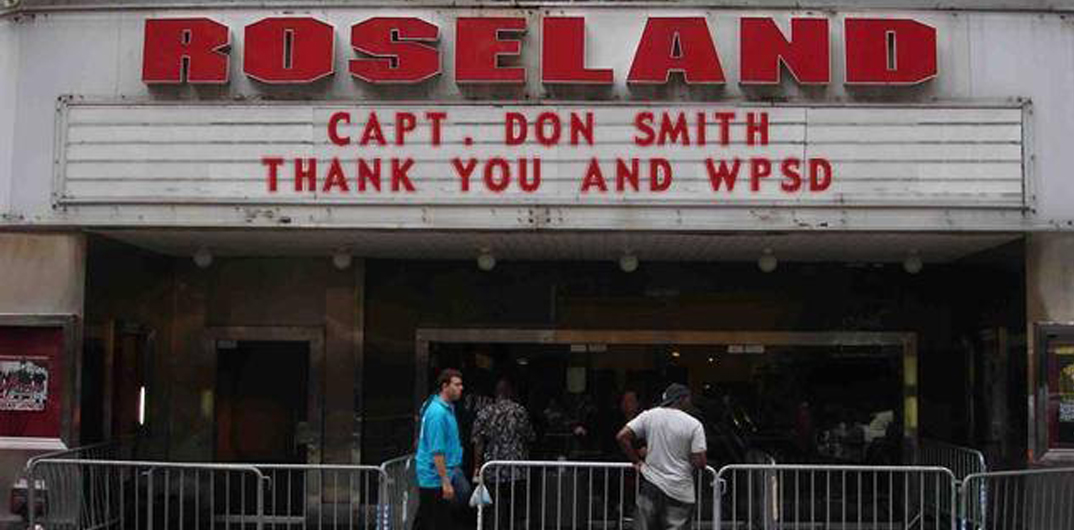 A Webster Parish Sheriff's deputy got a special thanks all the way from Manhattan.
Mel Fisher, who now lives in New York and works in the film industry, was touched by a conversation and a friendly face once in Webster Parish – Capt. Don Smith.
Fisher says he had the marquee on the now closed Roseland Ballroom done over the weekend to thank Smith for helping him see things in a different perspective, resulting in a life-altering change in 2007.
Fisher, 54, suffers from a lung condition and says he's almost died twice from it.
"I knew I was sick, and I've been in this position before," he said, "and if you have to leave this world, you want to let the people you care about know how you feel."
Smith says when he first saw the picture of the marquee, he thought it had been photoshopped.
When he realized it was the real thing, he says it touched him.
"You have to watch what you say and watch what you do, because there are people watching and listening to what you say," he said. "It made me feel good to be able to touch someone. In our line of work, we don't get that many 'attaboys' but when you do it's something special."
Fisher says he'd just moved from California and still carried a California driver's license. Smith says Fisher had some DWIs from his past, and the two sat down to talk. During that conversation, Fisher says Smith said some things that made him stop and really think about his life.
"Basically, I told him enough was enough, and apparently he took it to heart and turned his life around," Smith said.
"I'd been in trouble with the law when I was real, real young," Fisher said, "but when he talked to me, he talked to me like I was his brother or his friend, and it was nice to be treated that way."
Smith praised Sheriff Gary Sexton for teaching deputies to treat everyone with respect.
"We have good people in our parish and awesome leadership," he said. "I've worked for three sheriffs, and Sheriff Sexton pushes us to deal with people in that way. I've been working with him for 20 years, and it's awesome to see something like that."
Although Fisher did not go into great detail about the conversation, he said with the bad publicity law enforcement has been getting in recent months, he felt it was important to show his support in this way.
"It reminds me with all these things going down and all the bad publicity with law enforcement, they need to know someone cares," Fisher said. "I know a lot of deputies and have lived all over Webster Parish, and it's always been a safe place to live."
Fisher owns Rare Breed Productions and mostly films rock and roll concerts. He is also studying film and video post-production at The New York Institute of Photography.
The Roseland Ballroom is located in Manhattan's theater district on West 52nd Street and served as a multipurpose hall. Now that it's closed, Fisher says it is used by the movie industry for sets during filming.