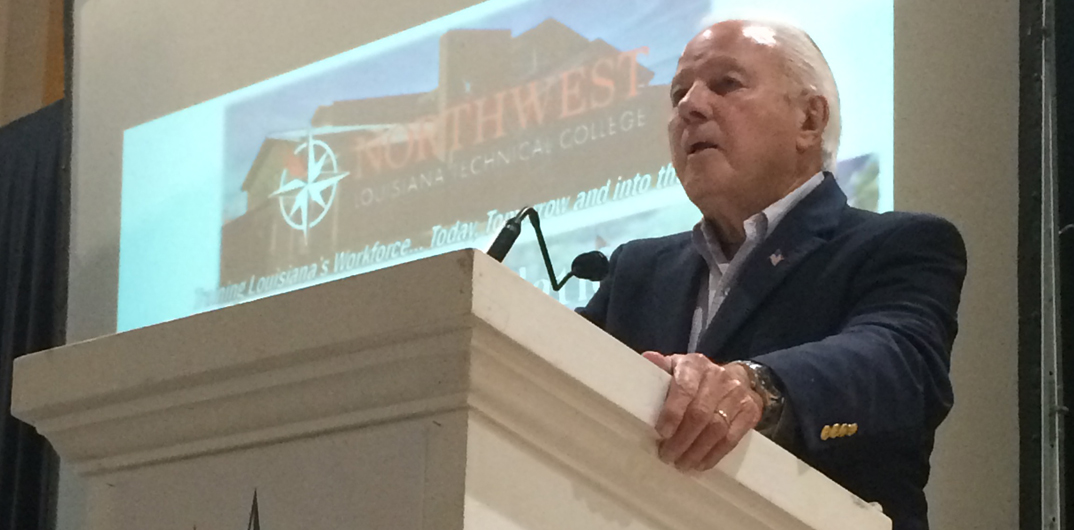 Northwest Louisiana Technical College took the first steps towards continued stability with its Inaugural Reception and Gala at Bossier Parish Community College in Bossier City Thursday night.
The event sought to build a sustainable source of funds to support students, the college, and communities.
"After eight years of budget cuts, it's students who are facing how to come up with the money to obtain a higher education," interim Director Dianne Clark said. "We need your help and funds to determine our direction."
NWLTC serves the nine parishes of the northwest Louisiana region with campuses in Mansfield, Minden, Natchitoches, Sabine Valley (Many) and Shreveport.
Clark assured, "Workforce development is our mission" and promised great things out of NWLTC's workforce development program.
Former Governor Edwin Edwards and the author of his biography, Leo Honeycutt, were the guests of honor.
"We're here to stall this being shut down," Honeycutt said starkly. "Part of the problem is not only (is the state) broke, but a lot of people need this facility and without your support, they won't have (access to the type of education)."
Robert Adley served as master of ceremonies and regaled the crowd with stories of his and Edwards time working together in Baton Rouge. He called Edwards "an integral part of what makes our state tick."
Clark credited Edwards for his vision, saying, "Without his leadership, we wouldn't be here."
Edwards took the stage to woo the crowd with jokes and touted his efforts to improve education while in office. This included bills that helped establish the vocational and technical college system throughout the state.
"I made every possible effort to provide funding for education during my time in office," said Edwards.
He also pointed to his securing money that provided teacher raises and a fund that annually churns out millions of dollars in funding for the state education system.
"Everything I've done, I owe to my education in the Louisiana public school system and I hate to see it going down," he added.
"Times are hard but we have to do whatever we can to make things better. Never give up."