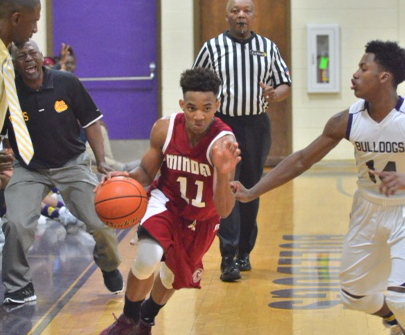 With a new calendar year just days away, basketball has taken center stage in the arena of Webster Parish sports.
Several area teams are in the midst of solid campaigns, led by the Minden Lady Tiders who recently won the Minden Holiday Classic Championship with a 68-66 victory against Evangel. The Lady Tiders are 15-2 and riding a 9-game winning streak.
The Crimson Tide, led by first-year head coach Rennie Bailey, enter the new year with a winning record as well, having won 7 of their last 9 games for a 9-7 record.
The Lakeside Warriors have enjoyed an up-and-down first half to the season. The Warriors are 9-5, but have suffered tough losses to Minden and Gibsland-Coleman in recent weeks to end a scorching start.
The Lady Warriors (5-11) have been playing well under another first-year head coach, Lyndzee McConathy, and could have a shot to turn heads and make the playoffs in Class 2A.
Minden and Lakeside meet to begin 2017, Tuesday Jan. 3 at Lakeside's gym. The final meeting this season between the parish rivals should make for an entertaining matchup.
Minden's non-district schedule rounds out with the boys taking on Jehovah-Jirah on Jan. 6 at Summerfield High School, followed by a Jan. 10 matchup with Gibsland-Coleman at The Palace. The Lady Tiders will battle West Monroe on the road Jan. 5, before traveling to Summerfield for a matchup with Dodson Jan. 7. The Lady Tiders host Northwood Jan. 10 at The Palace.
Across town at Glenbrook School, the Apaches and Lady Apaches are both off to solid starts and should compete for district titles.
Glenbrook hits the court Jan. 3 at home against Prairie View Academy to begin district play, followed by a Jan. 6 trip to Farmerville to play Union Christian Academy. Jan. 10, Glenbrook travels to Tallulah.
Glenbrook girls head coach Rendi Dillard should return soon for the Lady Apaches, meaning boys head coach and school AD Jeff Dalton will be back to coaching the boys only in 2017.
Doyline's Panthers will look to get on track in 2017 after a 5-9 start for the boys and an 0-15 beginning for the Lady Panthers.
The Panthers and Lady Panthers are each off until Jan. 10 when they welcome Simsboro to town, followed by another home game against Pleasant Hill.