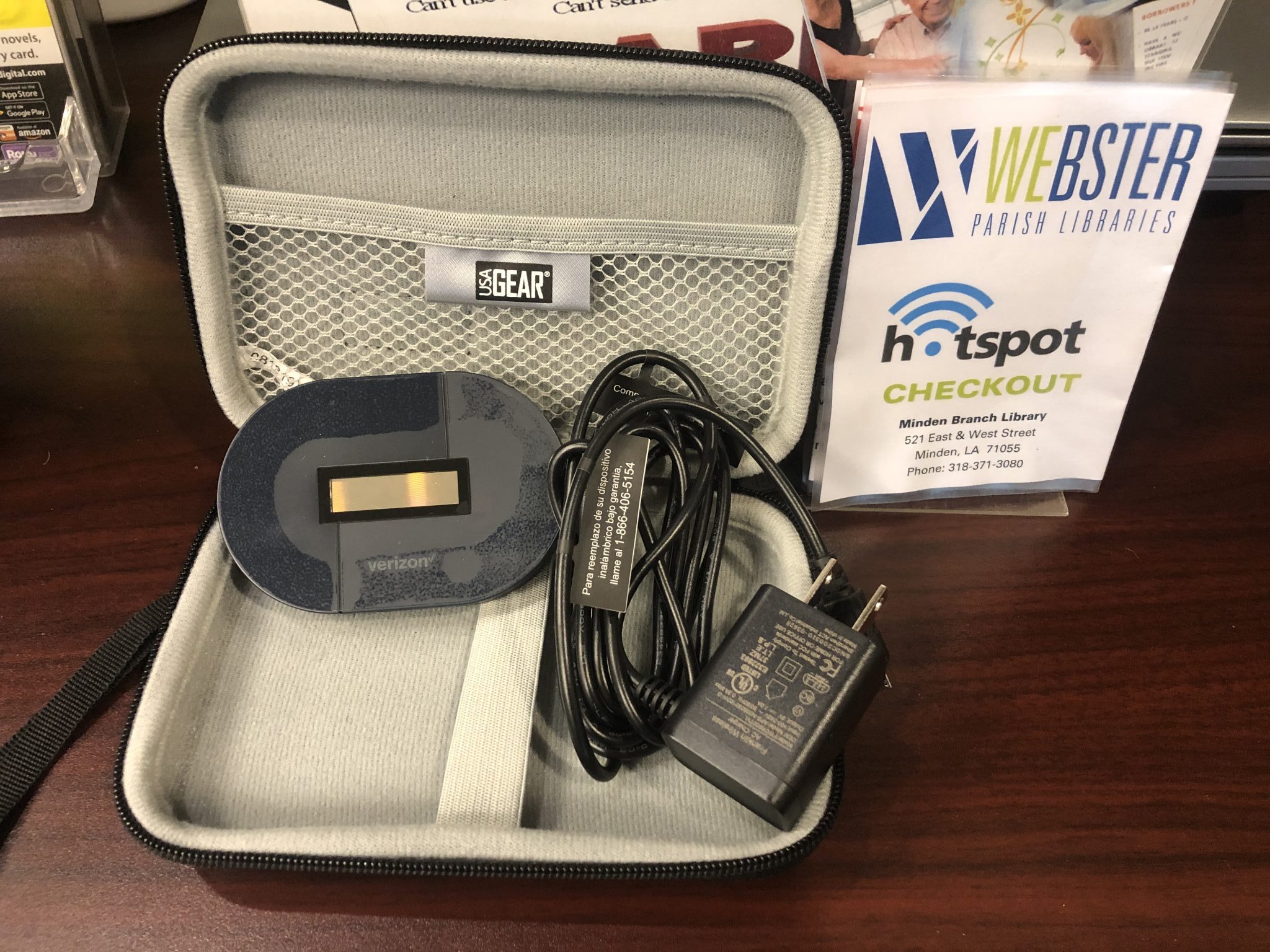 The Webster Library System is offering a new service to its patrons who are in need of internet access but may not live near a provider. This new service is Verizon WiFi Hotspots that patrons can check-out and take home with them. Check out period for one week, can renew if there isn't a waiting list for the hotspots.
So the wifi hotspots were a perfect solution to be able to allow students, not even just students, anyone who needs internet access outside of the library to be able to take those home with them.
While currently there is a limited supply, Savannah Jones, Director of the Webster Parish Library System, says that this isa trial to see how much interest there is from the community in the service.
"This is kind of a trial run to see how big of a demand there is in the parish for these hot spots. If we see that it's increasing we'll look at including more hot spots in the future, but for this this is just a trial run to see how it goes," said Jones.
When asked where the idea to start offering hotspots originated, Janetta Robinson, Technology Assistant, stated that it's something they've been wanting to offer since they initially started allowing laptops to be checked out.
"A long time back, when we first got the laptop checkout program, they thought that they came with wifi. So we had to tell them that they had to have their own service," said Robinson.
"For the longest time I've been asking for us to have wifi hotspots, and this became a perfect time because of what has been going on with COVID."
With the COVID-19 pandemic reshaping the way schools are approaching education, many schools have become more reliant on online learning. Understanding that the need for alternatives existed among students who may not have access to WiFi at home, the hotspots were just one of the ways the WPLS is trying to meet those needs.
"There has been a clear demand at this point. That was one of our solutions to get outside of the library and help people who need it. Hotspots seemed like the perfect solution."
Jones and Robinson also pointed out other services they offer that may be helpful to students as well, such as the ability to checkout a laptop along with the hotspot, as well as their printing services that can be accessed from anywhere with an internet connection and picked up within 24 hours.
"If they needed to print while they were at home, they could send a print job here, it stays in our print queue for 24 hours. They just stop by, pick it up, and they can do that from their phone or any place that has internet access," said Robinson.
Going more into detail about how many hotspots were available at each locationstated, Robinson stated, "Here at Minden we have seven, we have one at Sibley, one at Doyline, one at Cotton Valley, and we have five in Spring Hill that can be checked out."
Patrons simply have to have a library card and photo ID in order to check out the hotspots.
Jones also stated how the new program is bringing in more people to get library memberships, bringing in people who may not realize that the library offers an array of services on top of being a place to check out a new book.
"We've had several people who don't have library cards come in and get cards because they need the hotspot, which tells us that we're reaching a bigger group then just our patrons, which is really good, something we were aiming for," said Jones,
"To provide for everybody in the parish, not our regulars who come in. Hopefully they realize that we're not just here for, of course, the book aspect. T hat we're trying to do more services outside of the traditional roles of the library."