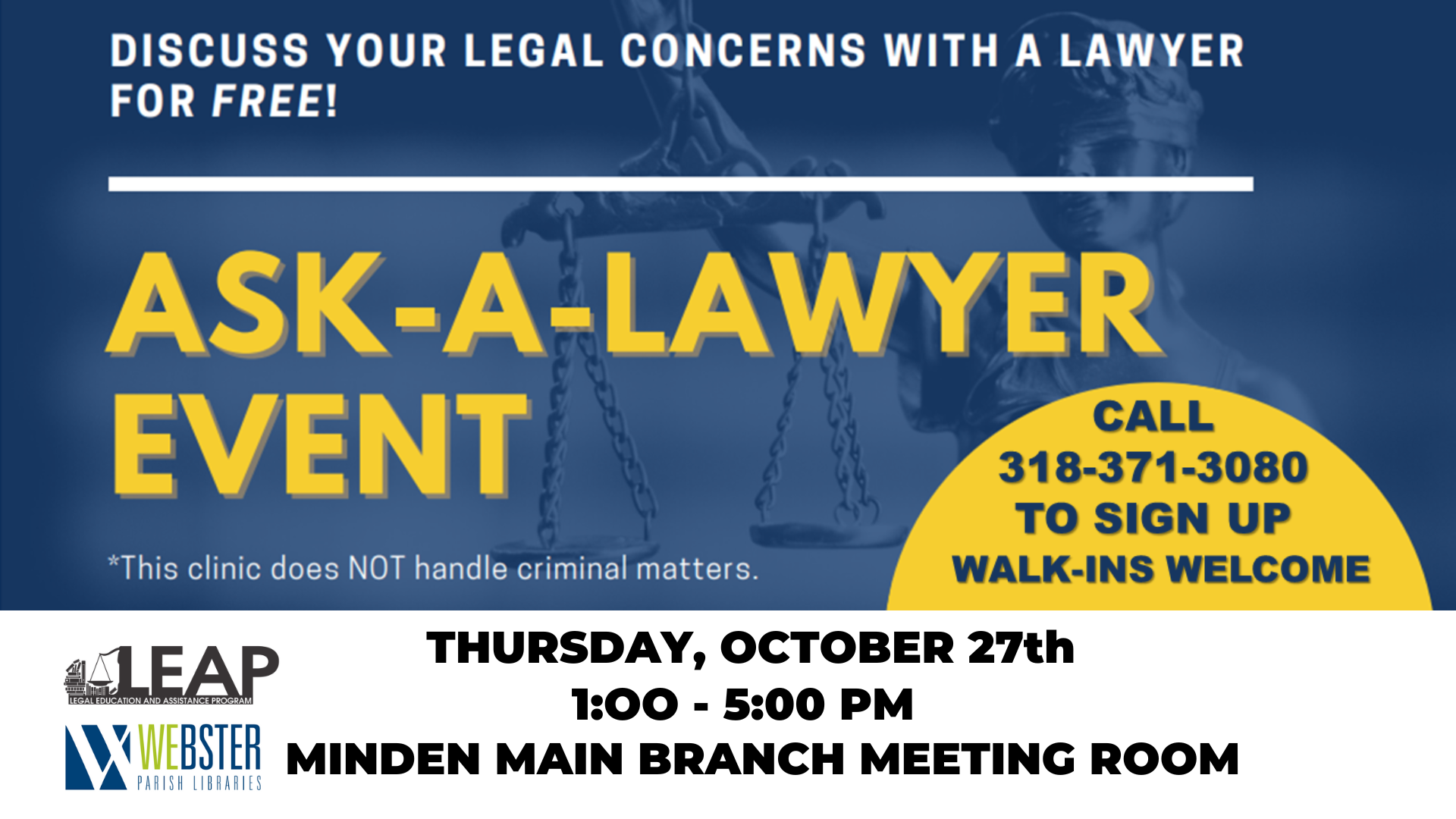 Webster Parish Libraries – Minden Branch has partnered with the La. State Bar Association to host Lawyers in Libraries for In-Person and Virtual Events October 24th – 29th .
Your Webster Parish Libraries – Minden Branch is pleased to announce that it is participating in the ninth annual "Lawyers in Libraries" statewide program in partnership with the Louisiana State Bar Association (LSBA), the State Library of Louisiana, and the Louisiana Library Association. This year, library patrons in Webster Parish have the opportunity to meet with an attorney for brief "Ask-a-Lawyer" consultations in person or over the phone.
On October 27, 2022 from 1:00 p.m. to 5:00 p.m. at your Minden library branch in the Main Meeting Room, a local attorney will be available to provide individual consultations on legal issues at no charge. He will not solicit your employment because you consulted him. Those interested in a one-on-one consultation can sign up in person at your Minden branch in the reference area. Presentations from other attorneys on legal issues will also be broadcast daily throughout the week via the "LSBA Louisiana Lawyers in Libraries" Facebook page. Presentations on the "LSBA Louisiana Lawyers in Libraries" Facebook page are free to access and open to all.
This attorney-library partnership is a critical one in a state where nearly 20% of the population lives below the federal poverty line, with many more just barely making ends meet. Many people need legal assistance but cannot afford an attorney or don't know where to start. The Lawyers in Libraries program allows participants to get basic information on their legal issue and be connected to further free and low-cost legal resources. Attorneys can answer questions on a wide range of civil legal topics depending on their areas of practice which may include: issues concerning seniors, successions, wills, living wills, power of attorney, bankruptcy, lawsuits, accidents, collection matters, divorce, evictions, contract disputes, insurance claims, oil and gas problems, foreclosures and Social Security disability payments. (The program does not address criminal matters.)
Janetta Robinson, Webster Parish Libraries employee, orchestrated the event in the years prior to COVID-19. "Public libraries are natural starting points for people in search of information and services. Library staff can provide direction to available resources, but not legal advice. The Lawyers in Libraries program is a great benefit to patrons needing legal help, especially in areas without a legal aid office," stated Robinson. Thanks to the combined efforts of the LSBA, LSBA members, the State Library of Louisiana, LLA, Law Library of Louisiana, legal aid partners, local bar associations, and other community partners, the success of Lawyers in Libraries has only grown over the years. Since its launch in 2014, attorneys have assisted over 5,000 Louisianians and reached patrons in every parish in the state.
For more details or help finding an event in your area, visit www.LouisianaLawyersinLibraries.org. The Louisiana State Bar Association assists its more than 22,000 members in the practice of law. The statewide association, as part of its multi-faceted mission, promotes and maintains access to justice initiatives for the state's residents, assists the Louisiana Supreme Court in its regulation of the practice of law, upholds the honor of the courts and the profession, and supports programs that increase public understanding of and respect for the law.