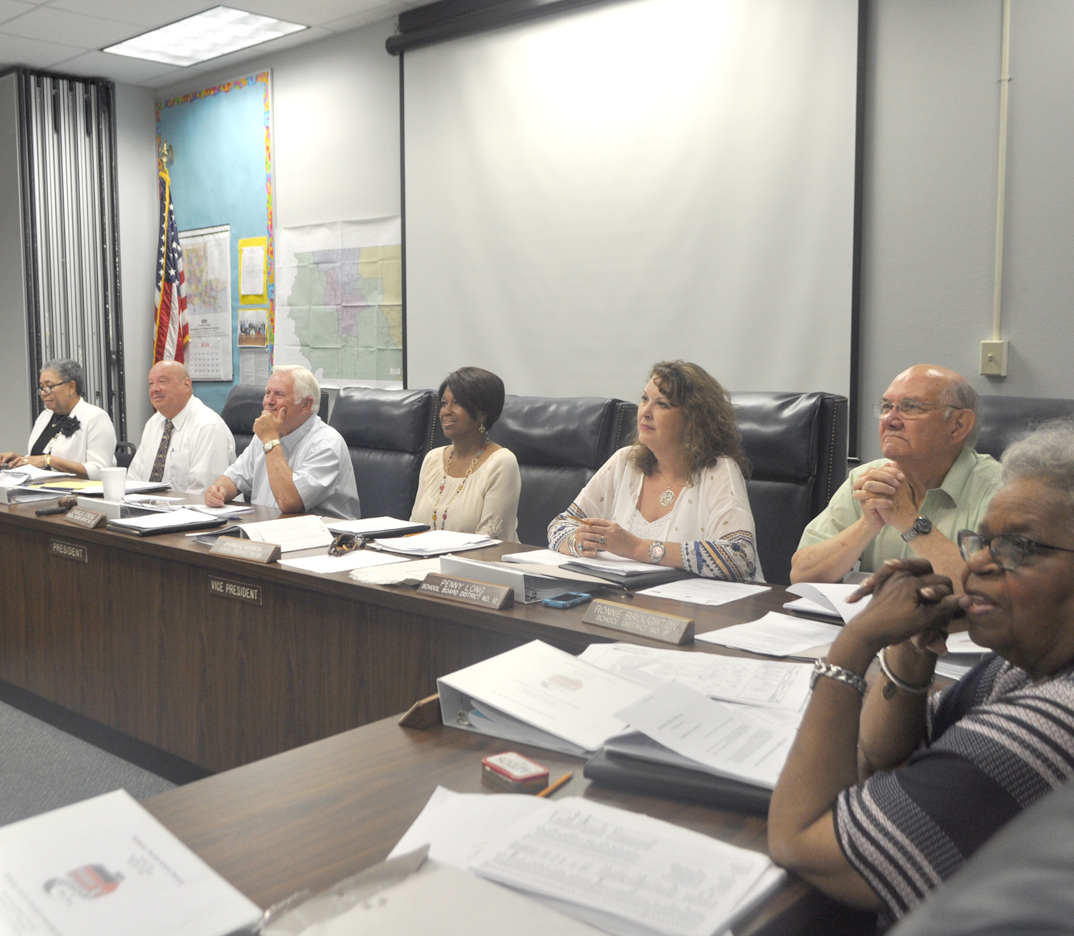 Traffic control is still a concern among administrators at both J.A. Phillips Middle School and Webster Junior High School.
With construction about to begin at both campuses in the coming months, WJHS Principal Bewanchi Sheppard still had concerns about traffic control with the addition of at least 200 students. She says extending the covered walkway all the way to Gymnasium Drive has been discussed.
"We talked about extending the shed to the stop sign on Gymnasium Drive," she said. "That way, those buses can go out farther. Especially on rainy days, parents will hold the driveway up because they don't want their babies to get wet.
"Buses aren't the problem," she continued. "The problem we have is with cars when it's raining. On rainy days, we have our kids being picked up in addition to the little people that come from the other schools. Traffic will back all the way back into Highway 80. My worry is the traffic flow adding to pick up."
When the school was built, it was designed to allow buses to double up on one side of the breezeway while car traffic dropped students off on the other side. However, bus traffic has been single file for the last two years, she said.
Superintendent of Schools Dr. Dan Rawls says the buses were made to line up single file, because at the time, he said a child was almost struck.
"When you're loading and unloading buses and cars at a school where the children are so small, in a truck like mine, you can't see them," he said. "They don't know any better. It's not that we don't have duty teachers and parents, the children just don't know any better."
Using Gymnasium Drive, the road that runs behind the school, was also discussed Monday. Transportation Supervisor Buster Flowers says Gymnasium Drive is broken up now from years of bus traffic and now disuse. It would take additional funding, although it would not be a part of the original bond issue, to redo the road to make it safe for bus traffic.
"The ideal thing would be to bring the buses off Fincher Road onto Gymnasium Drive," he said. "It would have to be reworked and culverts put back in it."
He suggested swapping the buses and the cars on either side of the breezeway, because when the project is complete, there will be additional parking for the cars.
He sees no issue with traffic flow at Phillips, he said. Phillips is a transfer hub where students get off one bus and get onto another to go to their respective schools. Flowers says that hub will be split between Phillips and J.L. Jones Elementary.
Architect Perry Watson took the board through the construction timeline, saying that the project would begin with renovations inside both schools with little to no interruption to students or class time.
"We don't feel like there is going to be an issue with students, maybe moving a classroom to another location for a few days to get in some equipment and so forth," he said. "We feel good about the work at Phillips. At Webster, one area is the lunchroom, and really that's a pretty simple project."
It will take about four weeks to fill the sunken portion and make more room, he said. Simultaneously, they will outfit the new computer lab, which, like Phillips, is already set up for computer stations. Other renovations include the addition of bleachers in the gymnasium, and on the first floor they will take a partition out of two classrooms to expand for special education and enlarging the restroom to accommodate their needs.
The air conditioning project for the gym at Phillips is expected to begin soon, but it may go into the beginning of the school year before it is completed. School starts Aug. 8.
Following the approval of the board Monday, advertising for bids will begin July 21. Another meeting has been set for 2 p.m. Aug. 25 to open and select a bid.