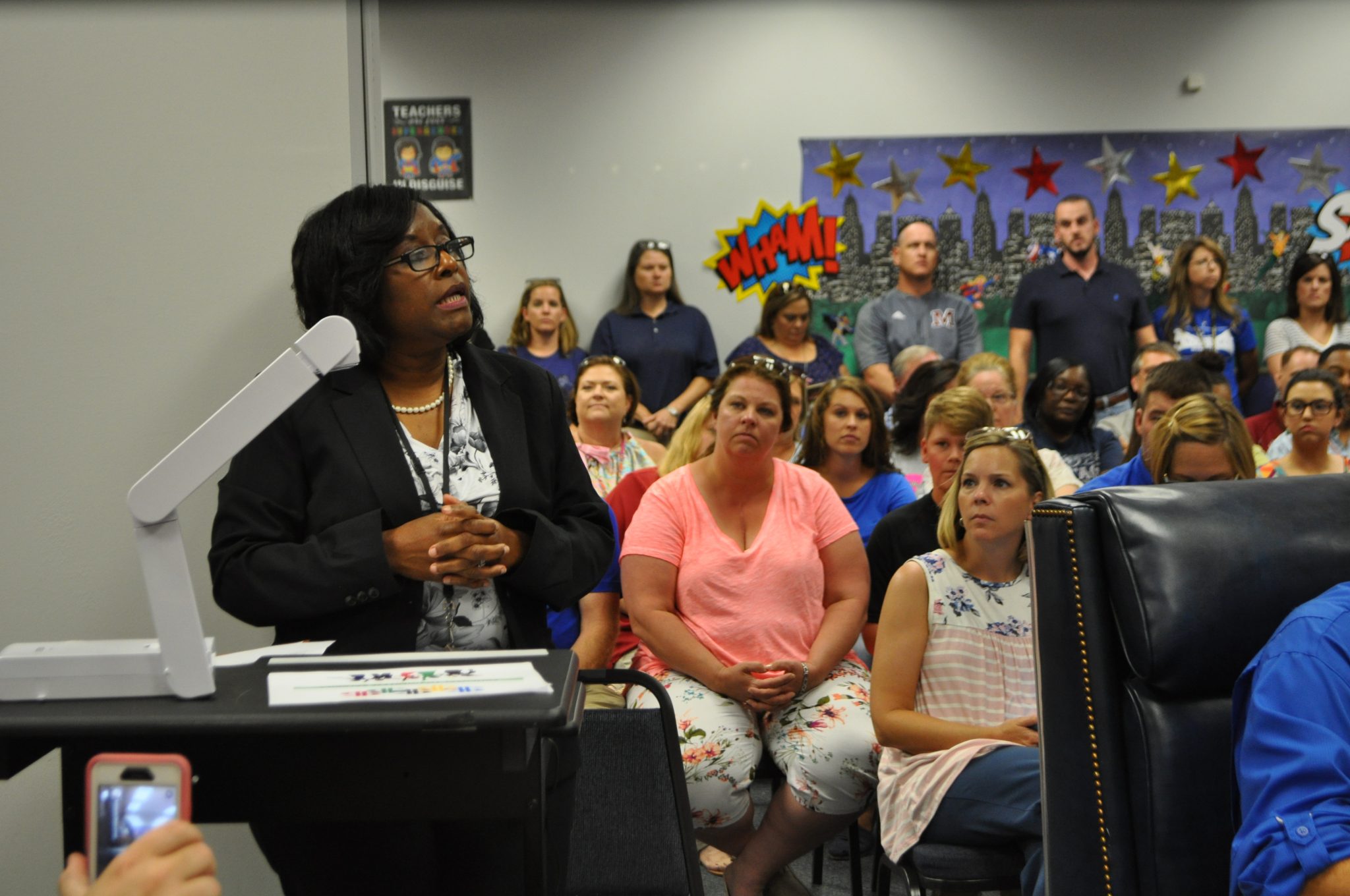 Teachers and employees applauded the Webster Parish School Board Thursday night after they voted to unfreeze their pay.
Caroline Croad, a Minden High School teacher, said she saw employees leaving the meeting happy and felt appreciated.
"I think everyone was glad to hear appreciation and recognition of the burden the employees have carried," she said. "Even though nothing can be done about the losses over the years, the morale boost and getting back on track with steps is enough to make this a huge win for everyone involved in our system."
Daniel Blell, a chemistry teacher at Minden High School, said the board's decision is a move in the right direction.
"There was no way they could go back to the old schedule," he said. "That was a pipe dream, and everybody hopes it will get there one day, but it's not. We need to keep moving again, and this is a step in the right direction."
Finance Director Crevonne Odom said they will be able to move some money around to make it possible for them to see more money in their paycheck in November – it will come in the form of an extra check at the end of October.
"We can't jump to where everyone would like – and that's to jump to where you should be had we never been frozen – we cannot financially do that," Odom said during the presentation.
To unfreeze pay, it will cost the board about an additional $450,000, which includes pay and benefits.
In order to make it work, Odom said they will take about 25 percent from what they pay in utilities. On average, the school board pays about $1.5 to $1.7 million for natural gas and electricity each year.
She took 25 percent of that amount, which equals close to $450,000. The parish-wide maintenance tax would pay for up to 25 percent of the utility expenses if needed, she said.
"To help unfreeze salaries, going forward in the future, some of the costs that normally run through the parish-wide maintenance tax would run through the individual district maintenance taxes to help keep the fund balance from being depleted," Odom said.
After the meeting, Superintendent of Schools Johnny Rowland Jr. said he's elated for the employees, because over the last seven years, they've made so many sacrifices.
"What we're seeing now is the hard decisions that were made, the sacrifices that were made by many of employees – quite honestly some of the suffering they went through – we're now seeing some of the benefits from that," he said. "We've turned a corner in Webster Parish, and we're really excited about what lies ahead for us."
When hard financial times hit, the school board was forced to freeze salaries. Employees were told it would be a certain amount of time, but before Thursday, it was seven years in the making.
About two years ago, the Webster Parish Association of Educators began talks with then-Superintendent Dr. Dan Rawls on a solution to unfreezing teacher pay that was never fully realized.
While some areas were quickly resolved, such as Compass, a tool to "help" teachers define student expectations, talks stagnated at teacher pay. Much of it dealt with the lagging finances of the school board.
Blell said with the solution they presented, everyone made a sacrifice, and everyone hurt.
"This way, nobody is hurt," he said. "This is good."
Croad said she felt the morale boost.
"Employees left that meeting happy to serve Webster Parish," Croad said. "There was no better way to kick off the school year."