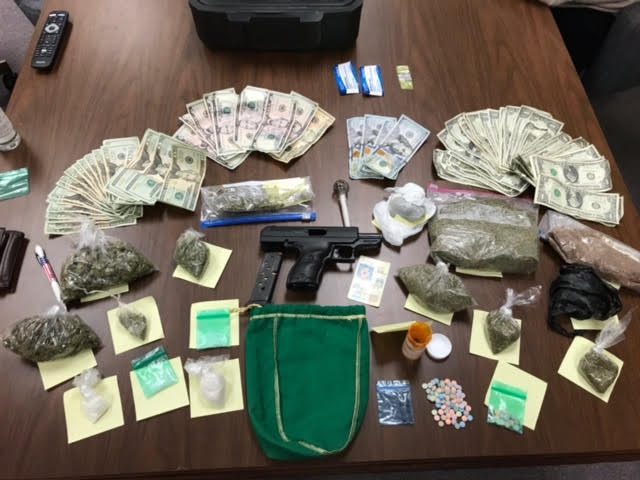 One David "Buddy" Wayne Thomas, 35, of Minden was arrested Thursday night as a result of a drug bust conducted by the Webster Parish Sheriff's Office. Thomas was arrested for driving under suspensions, multiple counts of possession of controlled dangerous substances, possession of firearm by a felon, and possession of controlled dangerous substances in presence of a minor.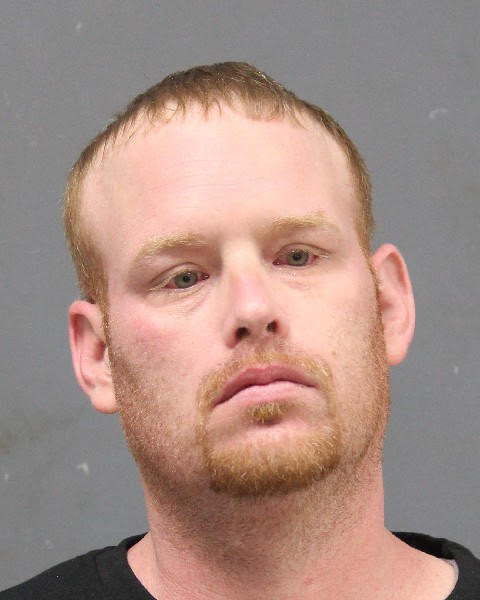 "Our narcotics guys are working hard every day," said Webster Parish Sheriff Jason Parker.
"This guy we got last night, he has been one of our main targets in the parish, and we were able to set up and do some surveillance on him last night."
Thursday night a Deputy was contacted by Narcotics Detectives in reference to Thomas operating a vehicle with a suspended license. The detectives had also received numerous complaints regarding Thomas and his narcotics activity.
After driving over to investigate, the Deputy "observed the vehicle stop and improperly pulled onto the left side of the roadway. After observing this infraction, Thomas pulled out onto Lewisville Road where the traffic stop was made," according to the arrest report.
"As I approached the vehicle on the driver's side, Thomas rolled the window down and I immediately detected a very strong odor of natural marijuana coming from inside the vehicle."
During the stop it was confirmed that Thomas' license was suspended. Thomas admitted to deputies to having smoked marijuana. It was confirmed through dispatch that he was a convicted felon.
Also inside the vehicle was a female passenger and two minors approximately three and five years old. David admitted during an interview with detectives that everything in the vehicle belonged to him.
During a search of the vehicle the deputies, "located several bags of synthetic marijuana which totaled approx. 232 grams, several bags of natural marijuana that totalled approx. 81 grams, several bags of methamphetamine totalled approx. 33.6 grams, several ecstasy pills totalling 92 pills, 2 suboxone strips, 1 suboxone pill, 9mm high point pistol, and several empty baggies."
This is just one of the many narcotics related arrests that the WPSO has been able to make in regards to since taking office.
A statement from Sheriff Parker and Chief Deputy Haynes reads," Since July 1st 2020 to present the Webster Parish Patrol Division , Narcotics Division, and Criminal Investigations Division have been working diligently to help fight the war on drugs in our parish. Over these last five months our units have made over 50 narcotics arrests, seized 5 vehicles, one utility trailer, and numerous firearms. These arrests stemmed from traffic stops, distribution buys and possession charges. They have seized approximately 2100 grams of illicit narcotics which included marijuana and methamphetamines. The street values of these illicit narcotics were approximately $210,000. These units have also seized approximately 21,250 illegal prescription pills valued at approximately $106,250 with a total of all narcotics seized of $316,250."
In an interview with Parker, he stated, "I mean, we've only been in six months and we've been able to accomplish this."
He was also quick to credit the DEA and Louisiana State Police for their cooperation in helping make these arrests possible.
"The narcotics background that I had, my experience bringing the resources in from the DEA and State Police, it has helped us out a lot," said Parker.
"We're kind of shorthanded as far as we have three full-time narcotic agents for the whole parish. We can make that phone call and have a dozen or so agents over here to help us on a case or investigation that may draw out, you know, two or three days. So it's not dipping into our budget or our funds here in the parish. It saves the taxpayers here money to be able to use their resources, which is a whole lot more than we have."
"And we're able to bring those resources to help put drug dealers like this right there in jail and keep our citizens safe. Now, are we going to be able to wipe everything off? There's just no way. But if you're dealing drugs here in the parish, we will make it very inconvenient for ya'," said Parker.