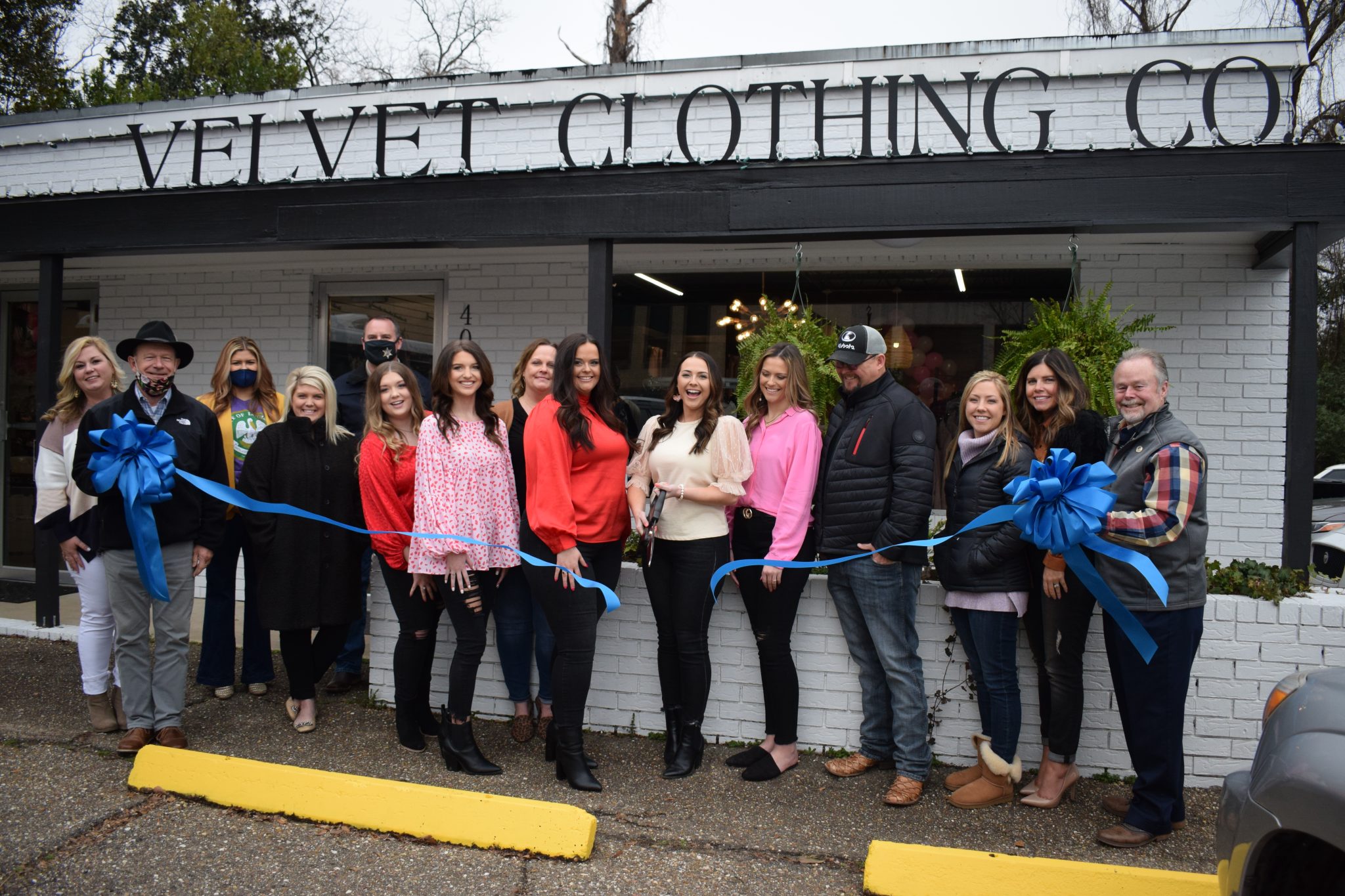 A Ribbon Cutting was held at Velvet Clothing Co. in order to celebrate their joining of the Greater Minden Chamber. Located on 406 Broadway St, this shop describes itself as a locally owned clothing boutique offering boho chic clothing for the fearlessly authentic woman.
Countless community figures gathered at the shop to welcome them into the Chamber's local business community.
First to offer his congratulations was Webster Parish Sheriff Jason Parker, saying "I'm so excited for y'all. I mean, y'all are in a good location. You got to the MPD right down the street and you got us right here. Probably the safest location in town."
Next to speak was Mayor Terry Gardner who had gotten to know Misty Robinson, Owner of Velvet Clothing Co., and her entrepreneurial spirit when she worked for him in the past. "But, you know, when she worked for me several years ago, I saw then that she had a good work ethic, she was ambitious, and she was hungry to invest in our city. If we could do anything at City Hall for you let us know," said Gardner.
Speaking on behalf of the Chamber, Jennifer Spurlock said, "I've been a customer for a while, so we're so excited that you finally joined the Chamber, and welcome you to a group of entrepreneurs and business owners that will continue to support you for a long time."
Offering a more personal welcome given that her church had previously used the building as a food pantry, Serena Gray with Webster Parish Tourism said, "I guess what I have to say today is a little bit more on a personal level. The quality of what you have and the integrity behind your business is obvious. So you moving into this building I don't think was coincidental. Our church used to operate a food pantry into this building, and prior to that, it was until bail bondsman's place, so money has always been flowing through this place one way or another."
"We changed the nature of that with the food pantry, and so God's hand is on this property, and we just know that he's going to bless your business. And we're very excited to see what you have turned it into. Because while we were in here, with all the onions and artichokes that we would have, it smelt like Doritos for some reason."
"I'm so glad it looks like it does now. I know there were a lot of hands in building what it looks like today. You really have put some excellence in here, and so we're very excited and we're just declaring that the money just keeps coming in those doors like it always has."
After being welcomed by the guests of the Ribbon cutting, owner Misty Robinson spoke to thank everyone for their support, and to thank the people that helped her along the way.
"It has been a journey, and God has blessed every step of this business. I have the best employees, and sisters, I'm sure if you shop here you know all of them," Robinson.
"They are my hands and feet. They know what I'm thinking before I'm even thinking it, I promise you that. I have the best family, the best church family, and I'm just very blessed to be where I am today, and I cannot wait to see what the future of Velvet holds, and I want to thank everyone in the community for all of their support."